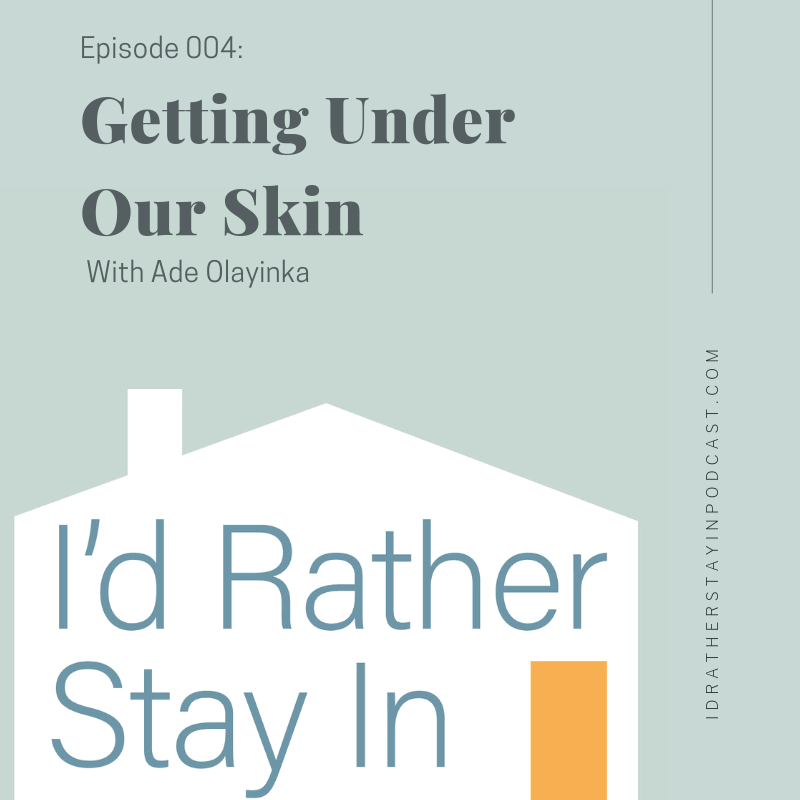 Hello! Welcome to Episode 4 of I'd Rather Stay In. This week, we're diving into the topic of Skincare with special guest Ade Olayinka (@adethinks).
Where does Ade do most of her research on skincare?
Ade spends a lot of time following Gothamista and Caroline Hirons on YouTube. Caroline Hirons has a number of cheat sheets on her website that are also helpful.
She also makes use of Google Scholar to find studies or review articles on various ingredients or skincare concerns.

Unless you are looking at the ingredient list with a critical eye, you are kind of blindly following whatever their marketing is telling you.

-Stephie
Ade's rules for a basic skincare routine
Always wear SPF! Keep it in your bag to make it easy to reapply. Supergoop! is a great brand. SPF setting sprays and powders make it easy to reapply over makeup.
Get into a good cleaning routine. Ade likes a double-cleansing routine but notes that it isn't strictly necessary. She also encourages you to stay away from cleansing wipes for the most part.
Get into a good hydrating routine. A hydrating toner is a great place to start with this.
Rotate serums based on your skincare needs. You may have different needs/concerns at different times, so use products designed to address those.
Where to get started
In addition to following Gothamista and Caroline Hirons, Ade notes that Reddit can be a good source of info for the "adventurous" (specifically r/beauty and r/AsianBeauty).
She also recommends seeing an esthetician. Schedule a facial, be super talkative, and ask a lot of questions.
Ade's travel skincare tips
Decant products (toners, serums) into small glass bottles with droppers. You can find these at Whole Foods or Amazon if you don't save them from products you've used.
Do a full skincare wash/hydrating routine before you leave for the airport.
Consider using a hydrating mask, such as the Summer Fridays Jet Lag Mask, during your flight.
Ade's favorites
Ade is super excited for Caroline Hiron's new book that will be releasing soon.
Her favorite places to purchase products are Sephora, Ulta and Target.
Favorite brands include: Pixi Skintreats, The Ordinary, The Inkey List, Fresh, First Aid Beauty, Hada Labo, and Tatcha. She notes that The Ordinary and The Inkey List are great "bang for your buck" products for beginners.
Other stuff we mentioned in this episode
Jackie Aina on YouTube really sparked Ade's interest in skincare.
Megan and Stephie both love Grove Collaborative for all sorts of natural household items and Megan likes the Rooted Beauty Purifying Facial Towelettes.
This Cat is C H O N K Y is possibly the best group on Facebook.
Binge Mode is a truly excellent podcast for anyone who loves Harry Potter, Game of Thrones or (in their upcoming season) Star Wars.