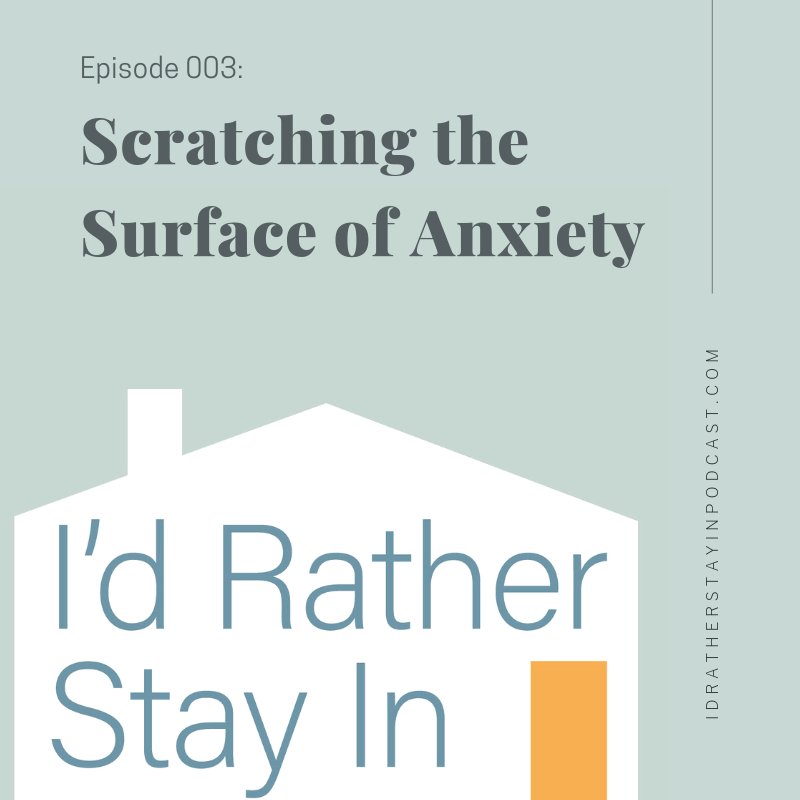 Hello! Welcome to Episode 3 of I'd Rather Stay In. This week, we're discussing something that hits close to home for both of us: Anxiety.
Facts and Figures
We checked out the Anxiety and Depression Association of America for some stats on anxiety:
Anxiety disorders are the most common mental illness in the U.S., affecting 40 million adults in the United States age 18 and older, or 18.1% of the population every year.
only 36.9% of those suffering from anxiety disorders receive treatment
Anxiety disorders develop from a complex set of risk factors, including genetics, brain chemistry, personality, and life events.
It's not uncommon for someone with an anxiety disorder to also suffer from depression or vice versa. Nearly one-half of those diagnosed with depression are also diagnosed with an anxiety disorder.
Many anxiety and depressive disorders are more likely to affect women than men
Additionally:
"Generalized anxiety disorder, per the DSM-5, has a maddeningly self-contradictory list of symptoms: It gives rise to both restlessness and fatigue; both lapsed concentration and profound tension of the muscles. In this conflicted state, the mind and body team up to deprive the sufferer of sleep, and to induce irritability."
This article from The New Republic discusses the "age of anxiety" we appear to be living in.
Stuff that helps manage our anxiety
Stephie finds some solace in systems and routines. She has historically used the Erin Condren LifePlanner, but Megan wrote a whole blog post on how to choose a day planner.
We both use various forms of CBD. Stephie likes the vape pens* from Vesl Oils while Megan likes the Not Pot vegan CBD gummies.
Stephie owns a weighted blanket from Gravity Blankets that helps her sleep more soundly.
Megan uses You Need A Budget to keep track of her finances and lessen the anxiety related to money.
Both of us have tried mediation at various points. Calm and Headspace are both good apps for guided mediation.
Other stuff we mentioned in this episode
Megan has recently started listening to "Terrible, Thanks for Asking" from American Public Media.
Last Week Tonight clip about bias in healthcare:
---
*Note that this episode was recorded prior to the various reports regarding vape pens. Vesl has confirmed that they do not use Vitamin-E Acetate in any of their vape products. We also always recommend purchasing any and all CBD products from reputable shops/retailers. And above all, always use your own best judgement regarding the products you feel comfortable using.