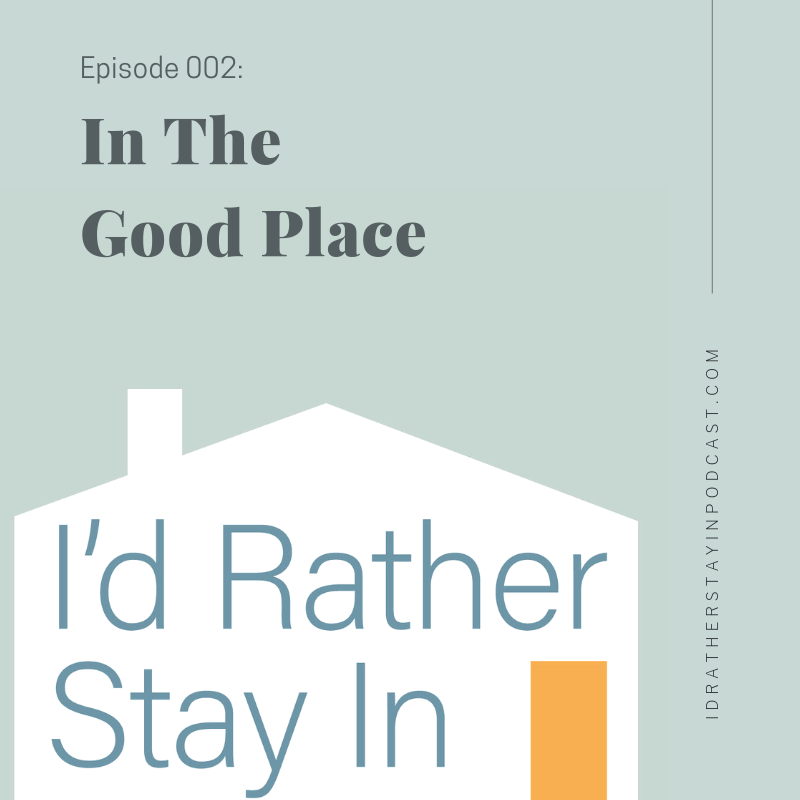 Hi friends! Welcome to Episode 2 of I'd Rather Stay In. This week, we're diving into one of our favorite TV shows: The Good Place.
Welcome! Everything is…Amazing.
We are huge fans of The Good Place because Mike Schur brings his magic ability to create a show you can watch again and again – and still find something new to enjoy.
It's so much more than a just show about people in Heaven. It's as complex as humans are, with everything from butt jokes to debates on Kant and Kierkegaard and everything in-between.
Take this clip of "The Trolley Problem" from Season 2 as an example of the philosophical debates present throughout the show:
And we can't forget one of our favorite Season 3 moments, "Jeremy Bearimy":
Seasons 1-3 are on Netflix now. Season 4 premieres on September 26, with a 1-hour special that includes clips, interviews and additional footage airing September 19.
Other stuff we mentioned in this episode
You can check out some hilarious bloopers from each season on The Good Place YouTube channel.
We love listening to The Good Place: The Podcast. Be sure to check out the episode with Lin-Manuel Miranda.
This article on "What 'The Good Place' Has Taught Us About Life and Philosophy So Far" is a great recap of…well, exactly what the title says. As is this one about the accuracy of the show's philosophy lessons.
We happen to think that the show's stars seem like they're pretty great people in real life. Follow them on Instagram: @kristenanniebell, @teddanson, @darcycarden, @williamjacksonharper, @jameelajamilofficial, and @mannyjacinto.