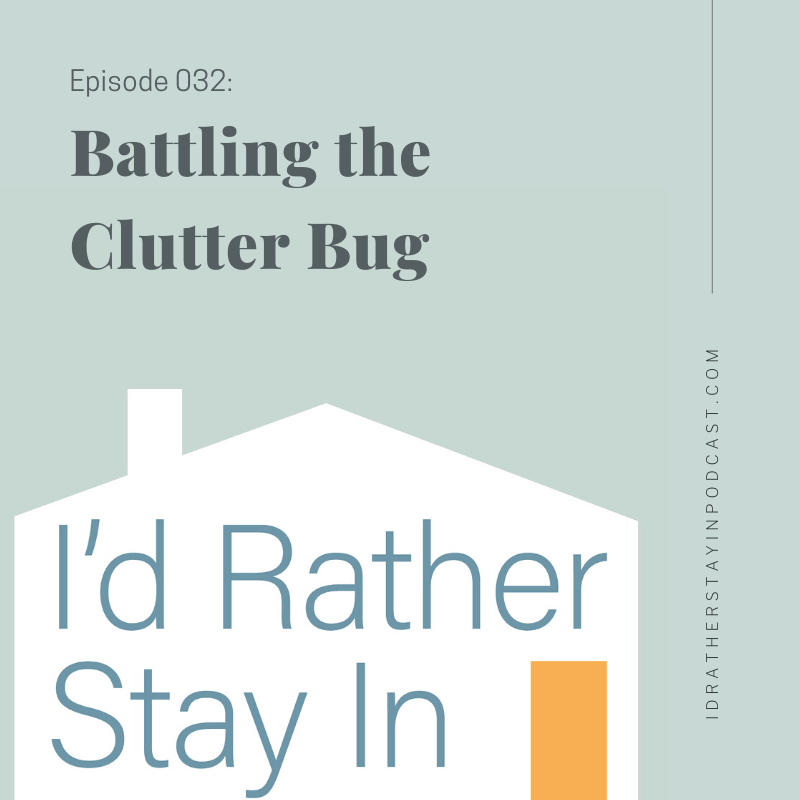 Hello! Welcome to episode 32 of I'd Rather Stay In. This week, we're talking about organizing, cleaning, and generally battling the clutter bug.
What did we take away from Marie Kondo & Tidying Up?
Stephie's favorite Marie Kondo takeaway is the folding method. It's amazing. Use it on your t-shirts forever.
Also, no. Marie Kondo does not want you to throw away everything you own. She just wants you to be more mindful about your consumption.
Marie Kondo herself also admits that her method doesn't really work with little kids.
(Also, the KonMari shop is super cute.)
Why do babies come with so much stuff?
Stephie is currently battling how to avoid "empty calorie" baby toys and having a lot of baby "stuff" that doesn't serve a real purpose or that you can really live without.
It's a hard thing to navigate when you have family and friends who want to buy your baby gifts and you want to be mindful about the toys and items you bring into your home.
Why do husbands keep so much clutter?
Look, no shots at our husbands, but they insist on keeping shit like 50-foot-long ethernet cables. "Just in case."
Old electronics. Textbooks from college. Rewritable CD-ROMs. And all.of.the.cables.
Anyone else struggle with this?
(No, we aren't going to talk about how many notebooks we both have.)
Where to buy organizational stuff
Look, we love IKEA. We buy all kinds of organizational stuff at IKEA. Megan uses their pegboards and various accessories for her craft station.
IKEA forever.
Also, think outside the box when buying organizational stuff. Buying something to hold your spices? Look at things that aren't necessarily marketed as "spice racks" – they might be perfect for your space.
And get yourself a label maker.
Capsule wardrobes
We're really into the idea of capsule wardrobes. Being able to get dressed with zero effort? We're here for it.
Catch our fashion episode with Kim Monaghan for more takes on capsule wardrobes.
Other stuff we mentioned in this episode
In Illinois, we can now purchase cocktails to go.
We also had some amazing pear cocktails at Odd Duck in Austin. Such a good restaurant.