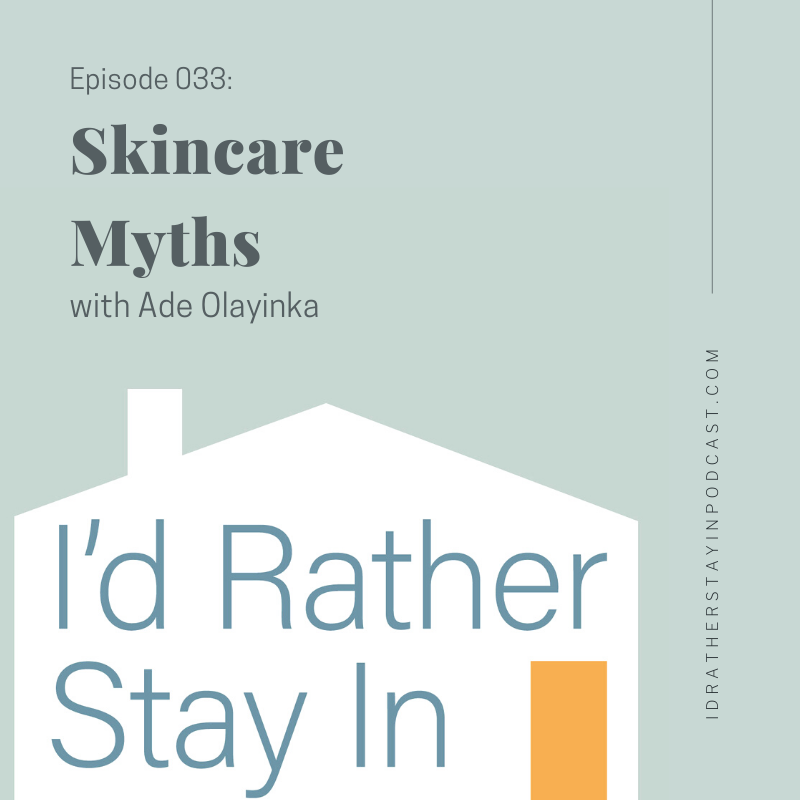 Hello! Welcome to episode 33 of I'd Rather Stay In. This week, we have invited back one of our favorite guests, Ade Olayinka, to bust some skincare myths.
What is a retinol?
Retinols are vitamin A products. The correct term is "retinoids" or "vitamin A products."
Retinoids help treat acne, aging concerns, and hyper-pigmentation.
They work by speeding up "turnover" of your skin cells. This makes way for a new skin cell growth. They also hamper the breakdown of collagen and thinning for layers of the skin where wrinkles start.
Are all retinoids the same?
Nope. While they all do the same general thing, they aren't all the same. The active ingredient can vary greatly so the product works faster and is recognized differently by your skin.
(Think about it like espresso versus coffee!)
That said, all retinoids can make you dry and peely and you MUST use SPF when using retinoids.
How do you know if a product is working?
You should know pretty quickly if a product is BAD for your skin or harming your skin.
Ade likes to try products for a couple of months or 2 menstrual cycles to determine if something is working well for her skin.
Retinoids are almost certain to work, the length of time just might vary depending on the strength of the product.
Just because you can buy something over the counter, does that mean that it's safe for your skin?
Nope. Every brand formulates differently. Research before you buy to know if a product is gentle and generally safe for your skin type.
Does a higher concentration of an active ingredient mean that a product is better?
Not necessarily. BETTER is better. You feel us?
Think of it like this – if you work out too much or too hard, you can get injured and hinder your progress.
A super strong product could actually harm your skin and set you back.
Ade thinks of skincare as a long game. Slow it down, start with a lower concentration to see if a product/ingredient works before trying a slightly higher concentration.
Can anything actually get rid of wrinkles?
Topically, the closest thing you can use to reverse the signs of aging are retinoids/vitamin A products. Vitamin C and peptides can also help boost collagen and skin structure to reduce the appearance of fine lines and wrinkles.
But really, the things that reverse aging instantaneously are fillers. (By the way, botox is more of a preventative tool!)
Are "clean" products always safer or better for you?
Nope! Here's why.
There are some good product lines out there that are natural/organic AND science led, such as Josh Rosebrook or Jordan Samuel.
But for the most part, a lot of that marketing is bullshit. They push on ingredients that have been proven to be safe for years and vilify them using misinformation and misinterpretation of data. (This is fear mongering!)
There are some great natural brands out there, but as always, do some research to figure out which brands are backed by science and not just preying on consumers' fears.
Maybe looking for brands to be cruelty free and to use more sustainable packaging is a better use of our energy.
Does expensive = better?
There are more and more great budget brands that are selling great products for affordable prices. (The Inkey List, The Ordinary, and Naturium are a few.)
There are also really expensive brands selling you products that don't actually do anything.
But if an expensive brand is also backed by strong science and research, then those products may actually be worth the higher price tag. (SkinCeuticals, Medik8, and Kate Somerville are examples.)
Should you "feel the product working"?
Usually this could be a red flag that it might be harming your skin (with very few exceptions). But in general, you should not "feel the product working."