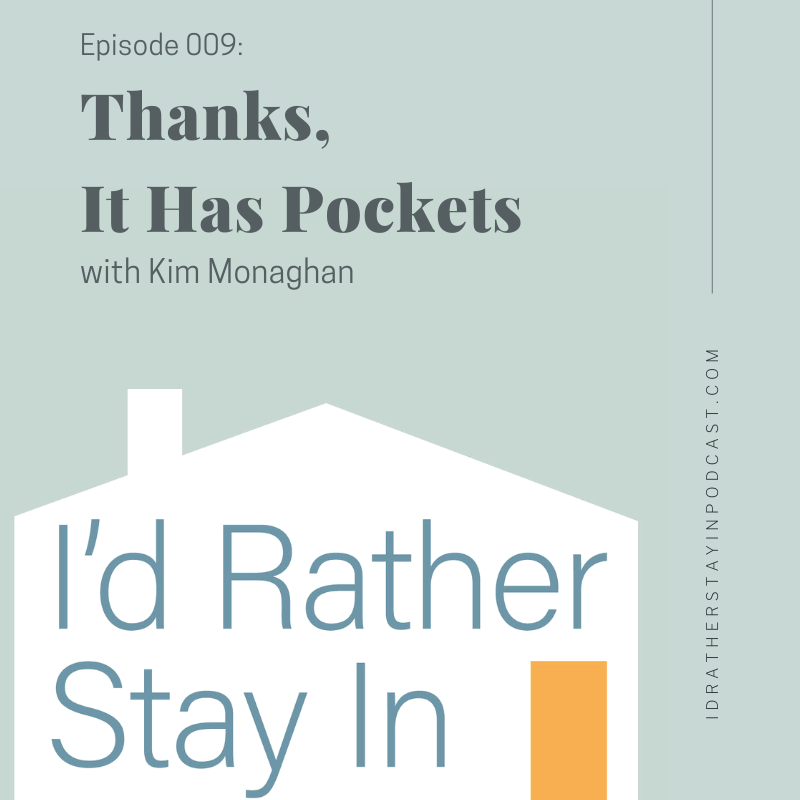 "When clothes don't fit you, it's not you – it's the clothes."

-Kim Monaghan
Hello! Welcome to Episode 9 of I'd Rather Stay In. This week, we're welcoming Kim Monaghan of The Wardrobe Refinery (@thewardroberefinery) as we talk about women's fashion.
Kim's one fashion rule
At Kim's shop, The Wardrobe Refinery in Minneapolis, she has only one rule: You can only buy something if you really love it.
Why are women's clothing sizes all over the map?
Two things are going on here:
One: As women, there is a greater variety in our body types, making it harder to make one piece of clothing that fits all body types.
Two: There's a psychological factor at play with "vanity" sizes, where brands re-number their sizes to make consumers feel better about the number on the tag.
Kim suggests shopping in stores that have a lot of different brands and types of clothing, allowing you to more easily try on a lot of different items to find what fits you best.
Kim's rule for tailoring: If you love it, get it altered. It doesn't matter if it cost you $5 or $5,000 – if you love it, it's worth tailoring to fit properly.
Why has it taken so long to give women functioning pockets?
THE PATRIARCHY!
(No, for real.)
Vox has a great article on "The Politics of Pockets" and the Victoria and Albert Museum also shares some great info on the history of pockets.
Are people starting to fight back against fast fashion?
Yes, but it's a slow process.
ThredUp publishes an annual report on the resale market that shows the steps being made in this area.
We still consume way more clothes than we ever have – on average, we buy 64 new garments every year.
What do we do with excess clothing?
Set up a clothing swap with your girlfriends!
Take items to a consignment store if you are able.
Finally, donate to an organization you feel really good about.
Kim's thrifting tips
Be open to looking at other sizes than what you think you might be.
Feel the quality of the fabric – it's a quick way to suss out what is cheap versus what is good quality.
Take a close look at items you love – especially the inside seams – to make sure there aren't tears or stains hidden somewhere.
Keep an eye on sales at your favorite thrift stores. Most stores are really open about when their sales are.
Kim always goes with a list of what she's looking for but is always open to what crosses her path outside of that list.
What cool things are happening in fashion these days?
Companies are looking to produce clothing that is sustainable and tells an inclusive story.
For example, Wild Isles Swim is manufactured in Minnesota, made from recycled fishing nets, AND is for ladies with big boobs by ladies with big boobs!
Kim is also excited about the growth of the style rental market and how people are just having a lot of fun with fashion these days.
Other stuff we mentioned in this episode
ThredUp is a great place to search for secondhand clothing items.
Arc's Value Village in Minnesota offers a personal styling service.
@WhenThriftersThrift is a great Instagram account to follow. They recently did a takeover with @luinluland, who rents her own vintage closet.
Fashion Revolution was started in response to the fast fashion industry.