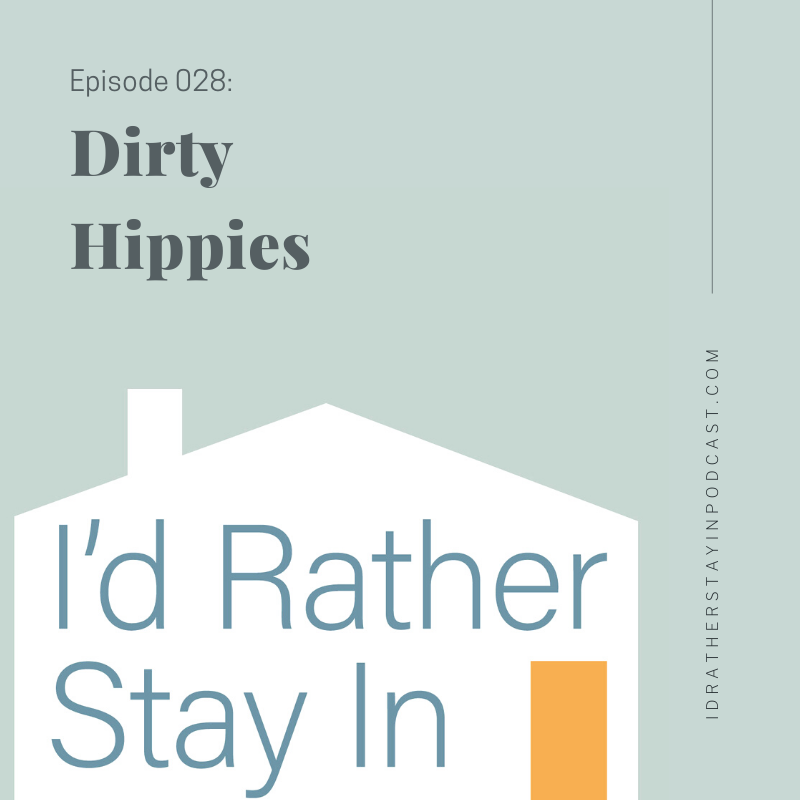 Hello! Welcome to episode 28 of I'd Rather Stay In. This week, we are taking a look at all of the things that make us hippies in this modern world.
This post contains affiliate links.
Ok, but why are we hippies?
Aside from wanting to treat the planet more kindly, we like to know what products we are putting on and in our bodies. That's just easier to do when you're using more natural products.
For ideas beyond what we discuss in this episode, follow @imperfectly_eco_friendly on Instagram.
Body care
Look, natural deodorant is a whole thing and a whole process to get your body used to.
We have both used Native. Stephie now uses a deodorant cream from Meow Meow Tweet (they also make a stick deodorant) while Megan uses a charcoal deodorant from SmartyPits.
There are also some plastic-free alternatives for toothpaste that we like. Megan travels with toothpaste tablets (similar to these toothtabs from Georganics), while Stephie uses the Georganics Tooth Powder.
Some other plastic-free body care products include bar shampoo and conditioner.
Package Free Shop is a great resource for sustainably produced and packaged products.
Stephie has also been getting served ads on social for plastic-free razors (Leaf and Oui the People) and is extremely curious about them.
Other plastic-free products
Megan carries a reusable straw in her bag.
Of course reusable water bottles are a great thing to use. We both have S'well bottles and we appreciate that most airports have dispensers for filling water bottles now.
Hippie healthcare
Guys, we are the conductors of the elderberry train.
We both use elderberry syrup but have also taken elderberry gummies and elderberry capsules (which are better for travel).
We are not quite as sold on essential oils. We are on board with the efficacy of some oils for some uses, but have a hard time with some of the ways people use them.
Foodstuffs
Look, we're freaked out by brewing kombucha at home. So we aren't that level of hippie…yet. Megan will probably never be.
Megan cans a lot, mostly jam and tomato products. If you're interested in learning to can, Megan suggests checking out the Food in Jars books by Marisa McClellan.
We also recommend checking to see if there are any good CSAs in your area. They're a great way to save money on quality produce while supporting your local farmers.
Baby stuff
"Hippie" baby stuff is more widely available and mainstream than it was when Megan's oldest was a baby.
Cloth diapering is actually pretty great – they're just as easy to put on and use as a disposable diaper. Plus, they're adorable.
Cloth wipes are also a great way to cut down on waste.
Our favorite hippie product resources
Grove Collaborative is one of our favorite online shops that delivers to you monthly.
Pact clothing is organic cotton clothing at affordable prices.
Rothy's and Allbirds are shoes we love that are sustainably produced.
Wild Isles makes beautiful, sustainable swimsuits for ladies with big boobs.
And don't forget to shop local!
Other stuff we mentioned in this episode
Stephie has no shame about having binged all of Love is Blind.