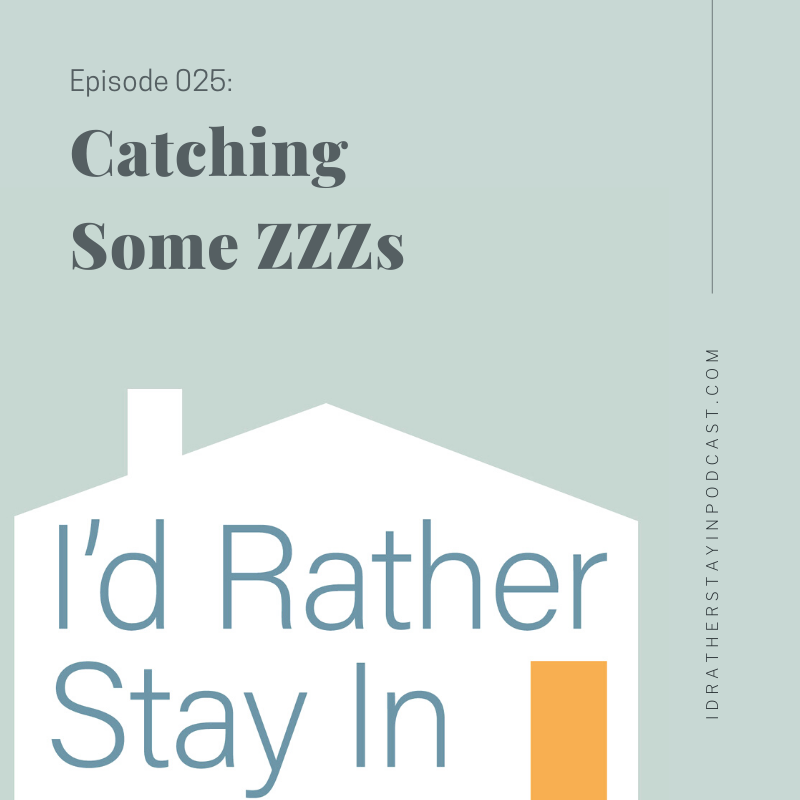 Hello! Welcome to episode 25 of I'd Rather Stay In. This week, we are in pursuit of something we all need: more sleep.
This post includes affiliate links.
Why is sleep so important?
If we don't sleep enough, you don't want to be anywhere near us.
The problem with not getting enough sleep is that you often don't realize that you aren't getting enough sleep. Some researchers liken sleep deprivation to being drunk.
(Don't drive sleep deprived, y'all.)
Our bedtime routines
We both try to get to bed around the same time every night, with varying levels of success.
Megan has a rule about not working after her kids' bedtime (aside from the pod!). She will crawl into bed with a show, a book, or a podcast and a game on her iPad until it's time to go to sleep.
Stephie likes to crawl into bed with a show and a craft – usually crochet, cross stitch or some kind of other embroidery. She has a time when she tries to start falling asleep, but it can take some work to get her brain to shut up enough to fall asleep.
We are both married to night owls, so we almost always end up in bed before our husbands.
Tools to help us sleep better
Stephie likes to use the sleep stories or white noise/nature sounds on the Calm app.
We are also big fans of our Gravity Blankets. Obsessed. Writing love songs about these blankets.
Things like lotions, baths, or tea help get us in the sleepy mindset, even if they aren't necessarily helping us fall asleep. Having a sleepy-time routine can be as helpful as anything for getting our brains ready for bed.
Other stuff we mentioned in this episode
Megan has been reading The Age of Overwhelm, which had some great info on sleep in it.