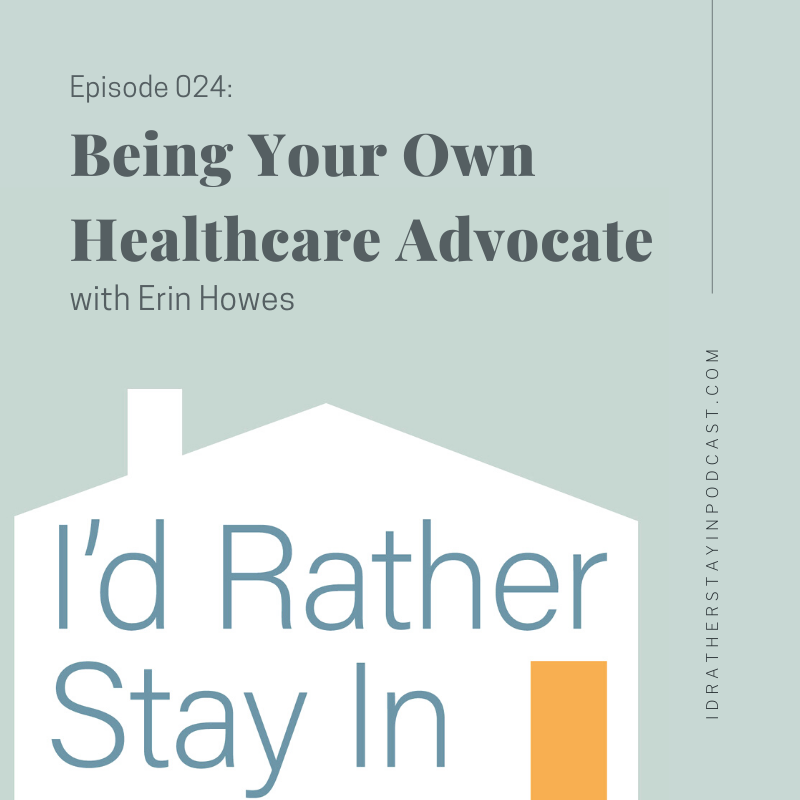 Hello! Welcome to episode 24 of I'd Rather Stay In. This week, we are joined by Erin Howes, MPH to learn all about how to be our own healthcare advocates.
How Erin got into public health
Erin's spent her undergrad studying Spanish and planning to teach. Following college, she did two years of AmeriCorps, which uncovered her passion for teaching about healthcare and showed her a need for that work.
She eventually went back to school for a masters in public health and the rest is history.
Why do we need to advocate for ourselves when it comes to our health?
Young, seemingly healthy people are usually the worst self-advocates and live their lives as "business as usual" until something terrible happens.
But you have to start thinking of yourself and taking care of yourself – you are the only one who will truly take care of you.
Build your team of trusted providers so that you have people to go to if something does go wrong. Otherwise, you'll find yourself struggling to navigate an impossible system when things are bad.
Doctors are also humans. They are fallible and we cannot take everything they say as gospel. We need to be practiced in asking hard questions and pushing back to make sure we are getting the best care.
So how do we advocate for ourselves?
Understand your insurance coverage or lack thereof. Reach out to your HR department or call the number on the back of your insurance card to fully understand the benefits provided.
Start building your team of trusted providers, starting with a primary care provider (PCP).
Make that appointment! Many times, you can do this online (perfect for us introverts).
And remember that you are the customer. If you are not being treated with respect, take your business elsewhere. (But also, be kind while you are being strong.)
Write down any questions you have before you go to the appointment. If you think of questions later, give them a call or send in an email.
The more you speak up, the easier it gets to do so.
What if you don't have insurance or are under-insured?
Look for a Federally Qualified Health Center (FQHC). A quick Google search will help you find one near you to get good primary care on a sliding scale.
FQHCs are also held to a very high standard of quality control, so you will not need to worry about the quality of care you will receive.
They are also never allowed to ask about paperwork, documentation status, etc, so it is a very safe space.
Also, VOTE. Go do it.
What are some online or local resources?
Aside from FQHCs, many resources are already available to you via Google or your insurance provider – they are required to explain their benefits to you, so all you need to do is ask.
Planned Parenthood is also a great resource for specific care related to sexual/reproductive health and wellness.
The CDC and ACOG websites are also very robust and full of info.