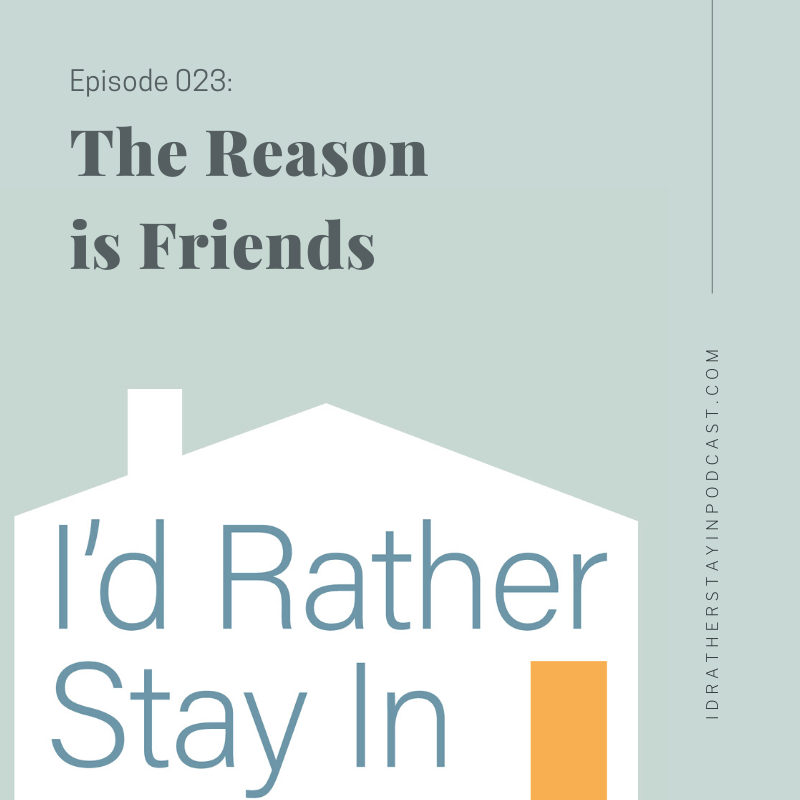 Hello! Welcome to episode 23 of I'd Rather Stay In. Today we are talking about friends and friendships as adults.
How have we made our close friends?
Both of us have made a number of our close friends on the Internet, be it through blogging or directly through social media.
This works especially well for Megan because she can think about what she is saying before she says it – and also avoid the dreaded small talk.
There are so many groups online for people who enjoy any number of hobbies or passions, making it a lot easier to meet people who share your interests or experiences.
How have life changes impacted our friendships?
Megan and her husband moved to Texas right after getting married, which definitely changed her group of friends simply due to proximity.
After having kids, some things about friendships changed for Megan, but she worked to push back against the stereotype of only having friends who were fellow moms. She does have friends who don't care about being in different life places and who are flexible about how Megan's kids might impact their plans.
Later-life besties
We have seen a misconception among some younger groups that you're supposed to find all of your lifelong best friends in high school or college. Maybe the young Instagram influencers with their "squads" are to blame?
Either way, Megan didn't meet many of her best friends until her mid-30s. Stephie was in her mid-late 20s before she met several of her closest friends.
Point being: You WILL find your people. We promise you.
Also, let's drop the expectation that all friendships must be going at full speed 100% of the time. There are going to be periods of our lives where we are more emotionally and physically available and other times where you might go for weeks without texting each other.
Friends who fill the gaps
As Stephie's therapist taught her, we can't expect our spouses (or significant others) to fill every emotional need we have. We need friends who can help fill those gaps and stand in the different roles you need in your life.
Activities to rekindle your friend "romance"
Stephie loves to do craft nights with one of her girlfriends.
Megan enjoys hikes/walks with her friends.
Stephie has volunteered with her friends – a good way to hang out and do some good in your community as well.
Megan also likes to go to the plant store and then plant the little plant babies they purchased together.
But don't forget that drinking wine together on the porch is just as legit of a friend date as going out together.
Other stuff we mentioned in this episode
Watch Grace & Frankie on Netflix. You'll love it.