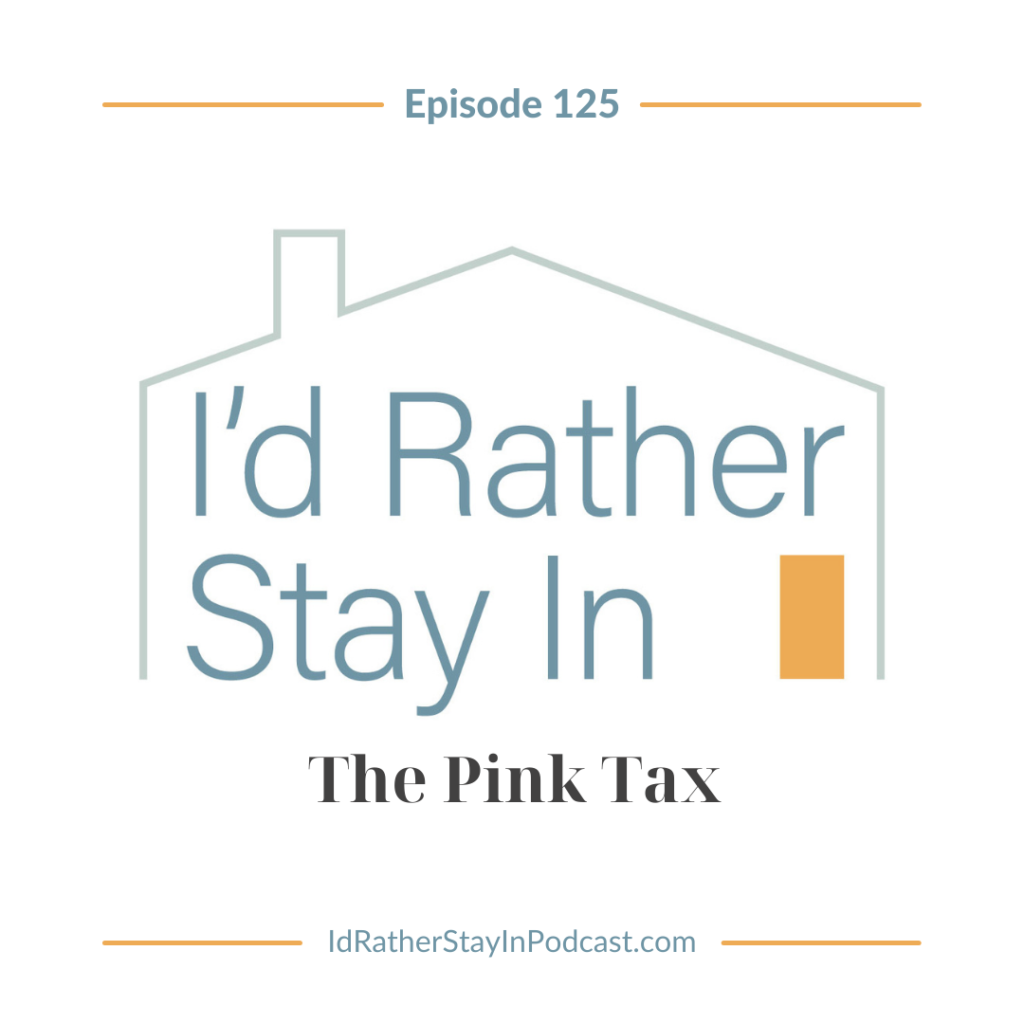 Hello! Welcome to episode 125 of I'd Rather Stay In. This week, we're yelling about the pink tax.
Episode transcript
Megan
Welcome to I'd rather stay in with your host Megan Myers and Stephie Predmore. This week we're chatting about the pink tax. Stay tuned. Do you love listening
Stephie
to I'd rather stay in and want to support the podcast? Well now you can visit our website or the LinkedIn or Instagram profile and click Buy me a coffee or visit buy me a coffee.com/irssi podcast for the price of a cup of coffee, you can help us cover the costs of creating this podcast. There are no monthly memberships and you could support us at whatever level you like, whenever you like. Whether you buy us one coffee, many coffees or simply continue listening as always, are so grateful for your support
Hello,
Megan
Hello.
Stephie
How's it going? Again?
Megan
It is going pretty good. It is delicious. The cold in the morning. So I like it.
Stephie
Yes, we're like finally, finally getting into like, even if it's warmer in the afternoon that like Christmas morning and I Yeah, love a crisp morning. No, I took edie to school. Like it was I think it was Friday. And we left him as I said, like I'll say crisp, it was crisp in the morning. It wasn't cold. It wasn't like quite chilly. It was just nice and crisp. And she walked out she goes cold. Like, I will accept that from you because you're 2 and you don't have the vocabulary to be able to say that it is chilly or whatever.
Megan
But that's okay. I'm sure my child tomorrow because it's supposed to be like a really warm again tomorrow. He will be like, Why is it so hot? It was cool. Every time the weather changes. He's like why is this happening? I don't understand. It was cold yesterday, and now it's hot. What? Why is it hot? If it's cold? The day before? I'm like I I don't know what to tell you. Aside from the fact maybe you should pay more attention in your science classes.
Stephie
Yeah, I don't I will say that I you know, for I suppose for kids who like lived most of their lives in Texas where, like, you don't have quite the extreme fluctuations. It's probably a little confusing. But also you lived up here for
Megan
like two years now. We'll also even only lived in Texas, he was the same way. So he would be like it's December. Why is it 80 degrees? I'm like, I don't know. Because we live in Texas, Texas, and also global warming like I can't. Because the world is on fire. Anyway. Short story is that we
Stephie
love fall. Yeah. It's the best I got my sweatshirt on. I feel like I bought a fuzzy blanket for a nice bed like a big one to put on for the fall and winter. And so I put it on last night and she was so excited because she loves to be cozy. And I went in there this morning. And she usually asks me to like lay down with her for a few minutes before we like get up. Just like my mom lay down. And I was like, Can I get into your blankie with us? Because yes, so cozy. Yes, it is so cozy. So that's how
Megan
I know that my kids are my kids because they also really appreciate a good cozy blanket. Yes, mom doesn't seem to care that much. But whatever. We get new blankets that like oh,
Stephie
I know that there's honestly I'm like trying to think of like what is better than a brand new brand new blankie and I'm not coming up with much right now.
Megan
Yeah, I'm thinking like them not coming but much. Taking the brand new blanket and like sitting outside on the porch where it's like just slightly cold enough for the blanket where you're comfortable with like,
Stephie
like a hot drink or in a book.
Megan
Yeah, so best
Stephie
so so good. I love it so much. I have been in over this last week and a real re listen to the maintenance phase archives. mood. I just put like on like a three day maintenance phase Bender where I've listened to every episode, like every episode they put out in every bonus episode they have, I've listened to literally all of them already. And I was just like popping around the archives like listening to some of my favorite past episodes because I guess I just wanted to like, feel angry about I don't know if I just wanted to like feel something. I don't know what it was, but I love Aubrey and Mike so much. And I was like, I want to listen to some maintenance phase. So maybe it's because I knew we were going to record this episode and that was like getting in the mindset to yell about some shit.
Megan
I mean, I don't really need a lot of prompting to yell about some shit. I do hardly appreciate a maintenance phase. relisten Yes, yes, yes.
Stephie
So that's where I've been in the last in the last week but I do feel Actually prepped especially this morning when they put out their goop episode The episode
Megan
not listened to yet. I will. I mean, by the time this comes out, I will have listened. But I always comes out Tuesday mornings, and then I never really have enough time to listen to it before you and I record because I, when I listened to ministry, it's like, I need to listen to it. Because first of all, they always have really good jokes. I don't want to miss anything. But also there's they just started like really Smart Insights and all that and I don't want to miss I can't do I can't multitask.
Stephie
I can't multitask. I can, I can listen while I get like ready in the morning, or while I'm like washing dishes early in the car driving, but I can't listen to it while I'm working. Yeah, and the only time the only thing. The only work that I can do while I listen to any podcast actually is. Like if I'm editing photos or something where I don't have to be like typing. Yes. If I have to type can't do I can't do it like words and do words and words. I can do words and music. But I can't do words and words. Decide to do like pictures and more. Yes.
Megan
But I can listen to music and type. Yes. Because I'm not
Stephie
actively listening to like, what the words are. I don't have to actively process the words I just hear like London Malala. And so all of that to say, um, we're gonna yell for a while about the pink tax
Megan
yes this week? Because why not? It's always a good time to talk about paying tax to be honest. Yes.
Stephie
Which we started to get a little bit about a few episodes. We're like, well, we're just going to actually come back and just make that a full episode. So this is this is that. Before we like dive too much deeper, I would say that if I had to guess probably the majority of our listeners already know what the pink tax is. But for context, if there's anyone who does not know what the pink tax is, Megan, can you define that for
Megan
us? So yeah, I would say the majority, I'm sure the majority of our listeners are probably women. So that's probably why they already know probably what it is. The pink tax is not an actual tax. So it's not to be confused with the tampon tax, which also exists. Yeah, and is also ethnically a pink tax. But not
Stephie
not the same. It's a different kind of paycheck. So it's to confuse the matter.
Megan
So the pink tax is the concept of the fact that women automatically pay higher prices for things because companies decide they need to cost more so like clothing for women will cost more or vitamins for women will cost more than things for men. Even though in general, they are like the exact same thing. Like soap, for some reason sometimes costs more for women, even though it's literally soap. Yes. In a different package. Yes. So they did some studies, and they have done many multiple studies about this over the years. And it turns out this is really annoying. If you do the math on all the things that we pay for, like over the course of a year, women spend approximately $2,100 more a year on these items.
Stephie
That's a lot more than I thought it was going to be yes.
Megan
And so that works out to you know, like, you know, like $80,000 Over your lifetime.
Stephie
That's like just shy of 200 bucks a month. Yeah, that's a lot of money. Yeah.
Megan
Yeah. And it also includes it doesn't include it's not just products though it also includes like services. So yes, before ACA women automatically paid more for health care even though it didn't always include like obstetrics yes um, but sometimes you know, women I think I'm actually not positive on this whether it's still true or not but I believe for a while women paid more in car insurance as well in some companies Yeah,
Stephie
I think it might be in some companies because they don't think that whereas data driver Yes.
Megan
Yeah. And if you are a woman you know that you know when you go to accept your
Stephie
cellphone unless you're a teen and the teen boys
Megan
Okay, well, yeah. Like if you go to get your car fixed, then you automatically get the pink tax because they think you don't know what you're talking about
Stephie
so that they can just like just say, and like here, we're going to charge you more haircuts,
Megan
haircuts definitely cost way more which is bananas
Stephie
because like you can because you most of the time, in a lot of salons and there are a lot of salons out Are Changing this but I would say probably the majority of salons and like small town America, like you still go in and you book either a women's hair cut or a men's haircut. Yes. And it doesn't matter if you're a woman with like a pixie cut like, or if you're a man with long hair. Yeah, it's still a man's haircut or a women's hair cut and the man's haircut is slick. 20 bucks and the women's is easily
Megan
double. Sometimes it depends on where you live. There are some places where you if you are a woman with short hair, you can get the men's haircut, but it's still called a men's haircut, which is ridiculous. Yes. So that is the general overview. Before we like we weren't I don't think we were trying to get into specifics at the get go. But that just makes me so angry that we
Stephie
that here we are immediately things. Um, yes. So we in preparation for this episode, we went yesterday to our local Meijer. Which if you don't have Meijer where you're at Walmart, so it's kind of like, it's like, it's better than Walmart, I would say. It's a better shopping experience, Walmart. But I would say like a lot of the products are like in the prices or Walmart ask.
Megan
Yeah, well, I would say more. I would compare it more to Walmart just because it's like, they have like a huge grocery side. And then they have like everything else a thing. They have all the kitchen stuff. They have clothing they have, you know, their general household items. They have fish.
Stephie
Yeah, exactly, exactly. It's more than like Target, which is a little bit more limited. So we went to our local Meijer and we compared some things, and I took some pictures. And most of the things where we found the differences were in the like personal care items. So like shaving deodorant, stuff like that. And I would say that the biggest thing that we found was that the majority, like for example, deodorant, we looked at, we tried to compare and we tried to compare apples to apples. So like, I looked at degree deodorant, and then I tried to find the same degree deodorant for the men, and then the same one for the women so that we could compare like, the apples to apples. So for example, the degree ultra clear, black white, which is like the anti white marks and yellow stains, okay, for the men, and that is a 2.7 ounce stick of deodorant, and it was $5.19. For the women, it was still $5.19 but it was a 2.6 ounce package.
Megan
Which doesn't sound like a big difference but it does add up over time
Stephie
it does add up over time. And that was the same for the other one that we looked at that I found the same was the degree advanced 72 hours motion sense. They're the names of these are ridiculous, but I just want to I just want to be like super clear about which ones we looked at. And again, the men's stick was 2.7 ounces for $5.19. And the women's, again, same degree advanced somebody to our motionsense was again 2.6 ounces for $5.19. Also, like the shape of the women's package.
Megan
Oh it's like the ergonomic like fits in your hand. It has
Stephie
like that, like it looks like like a woman's body. Yes, we're like tux.
Megan
I love that. It's my favorite.
Stephie
It makes so much sense for deodorant. Um, the other way so that we also compared Gillette men's razors and razor blade refills to the Gillette women's now the Gillette men's let's just be like super clear. When you're just like if you don't if you don't really know what you're looking at, you don't actually see Gillette women's because the Gillette women's is now branded as the Venus yes it
Megan
has Gillette in like tiny letters. Yes, but there are you know, it's that brands that are made by Gillette. I'm trying to remember because of Venus I remember when the Venus like came out was a big deal and it was a huge huge deal. There were so many ads for it and I think I think it's because and I honestly don't know if this is true or not. I feel like before
Stephie
Venus your desire
Megan
I feel like before the Venus came out, they did not have replaceable head razors for women. It was just the really crappy plastic ones. But I don't remember I mean I was like probably a teenager when they came out.
Stephie
Yeah, it was like I was pretty young when they came out. I remember I also remember the Venus coming out like coming onto the scene, but I don't remember what was there before it because I think there was like
Megan
started shaping the Schick intuition. Maybe it was before or maybe it was at the same time. Yeah, but the one I remember using before the venous was like, it was like wide. Yeah. But I can't I can't remember what the brand of that one was. But it was a wide one because apparently, like, I don't know why I'm literally everything was clear
Stephie
to me. But yes, it was, it was it was unwieldy. Okay. So, I, we compared the so Gillette to Gillette and we looked at the five blade razors and the three blade razors. So the men's the five blade razor, which is called the fusion five, Gillette Fusion five and the initial razor, it comes with a razor and then two blades, like refill head refill head things, yes, thank you. And from what we could tell on the packaging, all of the men's razors were had a metal handle that's important. So, the men's was what I just described for 1199. Then we come over to the women's and it is the Gillette Venus, the five blade razor is the Gillette Venus Deluxe smooth platinum and it comes with the handle and the two and then two replacement head things. And because the men's had a metal handle, we looked at the Women's metal handle, there were plastic handle options and metal handle options for women and the metal handle one was 1569. So again, the men's was 1199 and the women's was 1569 for the exact same thing. And then when you look at the three blade razors, so the men's is the Gillette Mach three again, seems to be a metal handle, and it comes with the handle and then the to refill blades. And the women's is the Gillette feet Gillette Venus smooth and and that one did not have a metal handle option. It just only had a plastic handle option. Um, the men's was 1049 and the women's was 1049. But again, the women's was plastic handle and the men's was a metal handle. And then so then we looked at the replacement razor blade packs, which is like really where they gouge you. Yes, it really is. This is really like I've been using men's razors for years for this reason, because I figured this out a long time ago. So the replacement razor blades for the five blade razors, the men's the fusion five replacement cartridges, there's eight cartridges in a pack, and the eight pack sells for 2899. The Women's is four of the five blade, it has six cartridges for 2939. So the women's is $4.90 per cartridge, and the men's is $3.62 per cartridge. That is a huge difference, a huge difference. When we look at the three blades, which again was the MK three or whatever for the men's again, so that was a 10 cartridge pack for 2499. And then the women's was an eight count for 2099. So again, the women's was $2.62 per cartridge, and the men's is $2.50 per cartridge.
Megan
Also the packaging and naming of these is just like the men's one is like black and silver with some green and blue and then the women's one is light blue and pink
Stephie
or purple or Scotland and it's like again it's got the body shape. Yes it's shaped like a woman's a woman's body. It's It's
Megan
strange. The men out of the men's naming convention is like very manly and like three Mach three fusion
Stephie
turbo
Megan
and the women's ones are just like talking about how smooth and sensual you will be. You because it's all about like being an appealing woman. Yes. And the men's one is about being a man.
Stephie
Even I have on like one of these pictures you can see like the Meijer brand in the back and even the Meijer women's Aurora. Also, you know, and I have to think like for a lot of these brands, like the brands that we were looking at, I have to think of like, if you are a non binary person or you're a gender fluid person, or you know, your gender nonconforming in any sort of way, I would have to think that purchasing these items must be like really
Megan
like a fraud decision. Yeah, like a really hard decision. It makes you feel like you're committing to
Stephie
intergender literally a razor or is literally deodorant, I will say like, I was thinking about this this morning as I was in the car that a lot of the like more natural brands have are the ones that have the gender neutral packaging. So like native deodorant is has very gender neutral packaging. If you think of like, like, method, Mrs. Meyers, Dr. Bronner's, like those are all like much more like, quote, natural or like kind of hippie dippie brands. And they all have pretty gender neutral packaging, they don't really have like a women's or like, a men's like the native deodorant will have like a different color font on the package based on like, the scent of the deodorant, but there's no like men's version and women's version now will be more expensive. They
Megan
are very expensive. Those are I think the native is, like $11, I believe, is supposed to five, whatever, for $1 or something like that. Exactly. But I have seen certain cases where and then I don't think this is the only this is native that company I think is the store where target or other stores, they will put the native, they will split up a native based on what they think the sense should be. Yes. And they will sometimes make the women's one cost more simply because of the scent, or whatever it is. Yeah. So it does happen even with things that are technically not gendered in any way on their own side. Yes,
Stephie
exactly. So all of that to say like, this is just like, really, it's such a racket. Um, we also notice, so we took a look at, like body wash and shampoo and stuff. And this one, it gets a little harder because there are so many different like niche brands now. And there's
Megan
so many different, like, there's so many different needs, especially when it comes to your hair. Yeah, and skin. Everyone has different textures of hair, and you have different acne needs for your skin or moisturizing levels. So there's such a wide variety, it's really hard to compare a one to one Yeah,
Stephie
and finding like that apples to apples comparison is a lot harder. But the stuff that we did notice like for example, we we saw like a swab for men and like a lot of the times when you see like dove or swab or something like that. They're mensline. For example, this was like all the swab stuff that we found for men, swab men and their dark blue packaging. It's all three in one. Yes, apparently men can only handle buying one product, they don't have time staffing, they just are so busy. They don't have time. So it's shampoo, conditioner, and body wash all in one because you definitely whatever. Okay, don't get
Megan
me started. But then, you know, none of those are working very well,
Stephie
literally. And then we live with men's I often smell and so we can tell you, they're not working very well. And then if you go to the suave, like in the women's section, where everything is pink, and again, the packages are shaped slightly differently. Like the package sizes are the same and the prices are the same. But the women's products quote women's products are either like a two in one so a shampoo and conditioner but AB but not very often. Not very often. That's really hard to find. Or it's just shampoo or it's just conditioner or it's just body wash. So like even though the individual product is the same price and the same size, it's only supposed to meet one needs,
Megan
so you're automatically paying twice or three times as much.
Stephie
Exactly, exactly. Um, the other one where there were a couple instances where like we took a look at multivitamins, and for the most part they were the same we did find one brand for truly organic Women's multivitamin real fruit gummy and then organic men's multivitamin real fruit gummy, where they were the same size package. They were, you know, in theory, just like the women's version and the men's version. And the women's was 1799 and the men's was 1499,
Megan
which is very strange. And I do understand the actual need for men's versus women's vitamins because there are different things our bodies need. Yes, but it was very weird that that one was so different and
Stephie
there was right and there wasn't like anything that was very clear as to like why one was more expensive. Now, I will say that nature's truth, vitamins. It was the opposite actually, that the men's multivitamin gummies and the women's multivitamin gummies. The men's actually were $2 more interesting. I found that interesting. Because so the men's multivitamin, it says men's multivitamin plus b 12, d3, zinc, and then the women's is the women's multivitamin plus collagen. But again, like just the layperson, like maybe on like an individual level, each of those vitamins like those three vitamins somehow cost more to add to the thing versus a halogen. But like, just as a layperson, there's no way of knowing there's no way of knowing that. So you're like What the fuck, this makes no sense. So I thought that was interesting. And then we did take a pause, we did take a little stroll through the stationery, because obviously we would and we did notice a couple instances. So we found the Bic highlighters. So they are the big bright liners. The meat the with a chisel tip, the standard package has five highlighters in it. Just your typical neon yellow, green, pink, orange, blue. And that was five for $2.19. And then the exact same brand, big bright liner, same chisel tip, same size, everything same like ergonomic grippy handle and whatever that has. This one here has six in the package, but they're in pastel colors. So there are pastel yellow, pink, purple, blue, green, and orange. And that was $4.79. So you get one more highlighter, but it's over double the price. And I swear I'm happy. pastel colors,
Megan
pastel ink costs more, even though they're all synthetic. So I'm not really
Stephie
sure exactly. And again, like this is like, does the pastel ink really cost that much more to make it doesn't feel like it cost double? To make pastel II think right? You would think it would cost less because it's not as vibrant. Right? Exactly. Like isn't there less pigment? I don't know. I don't know the science behind it. But like again, this is just like a layperson looking out and being like the pastel, which is ostensibly meant to attract girls and women, right? is double the price of the package that's literally like your regular ass highlighters. Yep. So those are just some examples that we found. And that was just one store that we went to we did not Trump all over God's creation. Right? Yeah, we, we could have done this experiment at like every store and we probably would have found similar results and also like slightly varying things.
Megan
Yeah. And we didn't look at clothing we didn't look at like kids toys, things like that. So but there I mean, those things do also occur in those categories. Yes. So what can we do about
Stephie
I don't know I mean, so I like i There are definitely instances where I've started buying the like, quote men's version of things like razors because I'm like, This is fucking stupid. Like I'm going to just buy the men's razors because they're the exact same fucking like they work sometimes actually better than the women's version, which I also don't understand because they're supposed to be the exact same like why is the men's working so much better? I
Megan
think honestly, it's because the women's ones almost always have the little like moisturizing strip that then clogs up the blades.
Stephie
Yeah, it does get like really like. So, like, a personal on like a personal level like, again, like I switched to using men's razors quite some time ago. A lot of the products that I use now are like fall into like the like native deodorant kind of category. where there's not really like a gender adoption, and they're just a little bit more expensive in general. But I mean, I think we also just have to like talk about this stuff, because I've seen like, I've seen tick talkers, talk about this, go to their store, literally show on camera, the stuff that we just talked about, and they still have,
Megan
usually men, I mean, it's always men, it's
Stephie
almost always men in their comments going, that was faked. What? How are we making this?
Megan
I carry around labels for other stores, just whatever in case I go into Target, and I want to stick them on what No,
Stephie
no,
Megan
and I'm sure to probably part of the argument will be that, you know, while men need men have to buy other things, too, that women don't have to buy. And I guess technically that is true. There's not that many of them. There's maybe like, condoms, but also women buy condoms, right? Because you know, men
for reasons, but women have, you know, probably five times the amount of things that we have to buy that men don't have to buy, right? Aside from menstrual products, yes. There are, like speaking of the vitamins, there are so many other vitamins that women should be taking, not necessarily that they have to but that they need to buy that are separate from a multivitamin. If you are pregnant, and you take a prenatal vitamin prenatal vitamins are very expensive. Yes, they are way more expensive than a regular multivitamin. Yep, granted, you are like growing a baby inside your body. And that makes sense on some level, but also, you don't get support paying for that. No. And then if we talk about clothing, women basically have to buy bras. Yeah, if you don't wear a bra, like the world apparently will burn down
Stephie
apparently, like, I mean, they're oftentimes, like, if you weren't certain, like in certain jobs, you'll get sent home if they don't think that your attire is appropriate. And so if you're not wearing a bra, you were likely to get sent home.
Megan
Yeah, so that's a whole other article of clothing. That is expensive, expensive, men's can wear whatever underwear that they want, or none, or none, or just, you know, wear the same pair until it shrivels up and dies.
Yeah, there's just I think it's, it's weird, even like my kids who I try to explain these things to them. And I try to be like, you know, it really sucks to be a woman in society. And they just like, What do you mean mom? Like, let me explain things to you at the dinner table, even though this is a weird conversation, but we're gonna have it, we're gonna get into it. But they still it just doesn't occur to them to even think about those things. They don't stop to think like, Oh, I do have friends who are girls and maybe certain things suck for them. Right? Especially with the teenager now like, I don't know if he's thinking more about that or not. It's hard to say
Stephie
it's I'm hoping it's hard to say what's going on in his head. Yes,
Megan
I'm hoping moving forward. As people are having more conversations about this, I will say, I feel like a Gen Z. elicit the good side of Gen Z. I know there's multiple sides, but they are striving to be good people and to bring awareness to many things. Yes. And I'm hopeful that maybe this will be something that we
Stephie
can say what we want about social media, we have a lot of things to say about social media. But I also think one of the good parts of social media is that we also have like a more of an ability to call companies out when we see this stuff. And again, sometimes it's not the individual companies, sometimes it's the stores so I do think that that to a degree is like an important distinction to like, really kind of take a critical look like is this the actual company or is it the store that I need to call out but also just like being able to call it out like being eight like when I remember like the ln monologue about the big for women pens, the
Megan
Amazon reviews for the bic for women pens are amazing.
Stephie
I mean, yes.
Megan
Also if you Amazon reviews can be the worst and the best, just like every other part of the internet if you go Kemmerer I don't know if this still happens or not. But during the was it the 2008? Election 2012 election? With Rick Perry, and his binders of women, the binder reviews on Amazon.
Stephie
I love it. Yes. So like we I mean, we have the ability to call things out when we see the bullshit, and say like, Did we really need this pink pen for women? Right? Did we really need this thing for women in this way? Like, does this need to be priced this way target does this need to be priced this way Walmart like bringing attention to it, calling it out when you see it. And like, if that happens, enough, companies will make changes because they see that their customers are pissed off. Right? So we do have the ability to like, make small changes just by speaking up about things. Um, can we yell for a minute about I know that this is we were talking about the pink tax in relation to like things for women. But can we also yell about feminine hygiene products for a minute?
Megan
I mean, of course,
Stephie
I just like, I don't think that men in general. And this is a very general statement, I'm sure that there are dudes out there who have lots of women in their families that have had to go to the store and buy these products. And so they do realize a little bit more. But speaking generally, I don't think that men understand how fucking expensive period products are. And you have to buy them all of the time. Because you have your period every month.
Megan
Yes. For like, 90 years. And for
Stephie
lifetimes. Yeah, a long time. Oh, yes. I mean, I am getting rid of my uterus, and I will have had my period for 22 years. By the time I get rid of my uterus. And like, I'm only 30 I'm only going to be 34 Yeah, so like, in theory, I would have still had like, another 1520 years to go before would have naturally gone away. Right? Like do the math. That's a fucking long time. Yes. Um, and so and like, depending on how your period is, you may need multiple products and multiple boxes of them.
Megan
Yes, because you have to worry about you know, the light ones or the heavy ones or the wings and the overnight and
Stephie
the blue, the blue. Like, if you use tampons, I can't just leave that and all day or OSHA get toxic, toxic shock syndrome. And like, am I wearing a dress like I gotta wear something different if I'm wearing like colored pants versus my dark colored pants versus
Megan
and also you need to buy more underwear. Sorry, it's just a fact.
Stephie
Lots of you need more underwear. Lots of Mondays.
Megan
You need to have your period underwear. Yes. And I don't mean like the thinks underwear. I mean, like the underwear you wear when you are on your period.
Stephie
Yes, it's 100% Every woman knows. Yes. It's the old underwear that you thought about throwing away and you're like, No, this will be my period on Yes, yes. It's the underwear that like your grandmother would have said don't wear it. Because if you get into a car wreck and they see your underwear. Like you that's the underwear you say for when you're on your period. The least of my worries if I'm in a car, I mean yes, I thought that was a very strange thing to say. But it's whatever. Um, and these are medically necessary supplies and we have to pay out the fucking ask for them. Yes, we pay so much money for the stuff that should
Megan
be free. Yes. And there was a shortage recently where this price is just went like skyrocketed. Yes, like $30 Yes,
Stephie
that was the same time that the formula shortage was going on, which is a whole nother thing that should be free as well as diapers. All of these are medically necessary supplies. You can't just not have diapers. You can't just not have
Megan
sold your baby over the toilet. Right? You
Stephie
have formula to feed your baby. You can't just not have pads and tampons. Like these are things that you have to have. And we're charged at the ask for them. If you have a uterus, you're just automatically gonna pay out the ass for this stuff. And I will say like I have seen a lot more in recent years. As of making things like menstrual cups more accessible and like educating on those and like, there's, you know, a lot of organizations that will have menstrual menstrual cups for, you know, people that have lower incomes and like, can't afford to buy useful things are not good. Like. And that was probably I would say, like, of reusable period products, like, the menstrual cup is probably the most accessible just in terms of like, you don't have to have like, really rely on like a really reliable like laundry. Yeah. You know, whatever, like you would with like the things underwear or reusable pads or something like that. But there's but not everyone can use a menstrual cup.
Megan
Yeah, and you do still have to, like, have the time and the day to go and like clean it up.
Stephie
Yes. And like, depending on like how heavy your period is, you might still need like other products, other products. Yeah. So it's not like a Oh, well, that is the solution. So this is mostly just me yelling, because this is the thing that should it be accessible to everyone? Yes. For free for free? 99. Yes. And I mean, like, they're they there are statistics about how many girls in like developing countries miss school every month, because they literally don't have period products. So they can't go to school, right? Like, this is an actual This is an actual problem. This isn't just like a stuffy, he's yelling about something just cuz she wants to yell problem. So this is one of those where like, I don't necessarily have a solution, but it is something that I think we need to think about and be advocating for. And maybe someday they will be free. Probably not within our period lifetimes. But right, maybe for our kids or grandkids.
Megan
Yes, I think I think the main problem is capitalism. Because obviously, I'm sure the argument would be well, you know, can't be free because these companies have to make money. Like, well, then it should be subsidized by the government or something like that. I just worry. There's so many things to think about. Because I'm worried that if they do, it shouldn't be free. And I'm also worried if they do make it free. We've talked about this in a previous episode. How in school when you add up or like they had the worst? Yes, possible. Oh, tampons and pads? Like toilet paper of tampons. Yes. That will be what they offer for free. Yes. I mean, I'm sure that's what will happen. And it's it's better than nothing. Yeah, but it's not great, either.
Stephie
Yeah. So in the meantime, I do think it is worth like, just keeping in the back of your mind, if you are a relatively like financially privileged person, that this is probably not something that you have to worry about on a monthly basis. Like you'd probably just go and buy your tampons and don't think twice about it. But it's worth keeping in the back of your mind that that is not the case for a lot of people with uteruses, especially unhoused populations, and, you know, other low income populations. So, there are a lot of organizations that you can donate to, there's lots, like, I think there's just pretty much a perpetual need in homeless shelters for pads and tampons and things, especially pads. And so if you have the opportunity, and you have some extra income, you know, maybe make a donation, take some stuff to your local homeless shelter. You know, like I said, I'm getting rid of my uterus, and it's not something that I'm going to have to worry about in a few months. So I will probably go buy a bunch of stuff and to get to our homeless shelter because I'm not having to buy it for myself, but I might as well like, put that money towards providing it for somebody else. So you know, maybe you're maybe that's what you do. Or I saw somebody recently on Tik Tok, where every year for her birthday, she asks family and friends to like, send her period products. And then she puts together a big donation and she has an organization that she donates to. So it's just worth like keeping in the back of your mind and thinking about how you can donate just even locally. I know a lot of people are like, Oh, I have to send it to the countries in Africa, the children like yes, there are needs in other countries but there are absolutely needs in your town. Get to you. I don't care where you live. There's a need in your town. Yes for these products.
Megan
And also even if you do want to send them overseas, there are organizations that are in place. Yes, that will take your money and do that for you. Please don't just start sending
Stephie
tampons in the mail. Wherever like to find an organization on the ground. You could support
Megan
Yes, these are their organizations that already have everything and they have the infrastructure in place. They already have their ways of probably getting wholesale pricing. Yes. They already know what to do. Just give them your money. Yes,
Stephie
exactly. Exactly. And I mean, that is also worth noting like, even for like local organizations, like go on their website and see what they're asking for. Like if a local homeless shelter, they are probably asking, like, hey, just bring us pads, tampons, like, they are probably going to list the things that they need the most. Yeah, as well as other hygiene products, toothpaste, deodorant, all that kind of stuff. But double check, because they might say like, Hey, we've got a lot of this thing. But we really desperately need this other things, like hop on their website and double check before you drop stuff off. Or you go out and you buy something specific. So anyway, that's that's our yelling rant.
Megan
Yeah, for today. And I will note that in New York State, I believe it currently is illegal to have the pink tax. But that is just one state one state out of 50. So have a way to go.
Stephie
Like when California announced that they were going to be doing like universal free lunches, and I was like, well, but also can we bring that everywhere else? Thank
Unknown Speaker
you. Right, right.
What's bringing us joy this week?
Stephie
Yeah, you know, it's fine. Meghan was bringing you joy this week.
Megan
So I believe I've mentioned before that our library also has video games. Yeah. We went to the library this weekend, and I got more books that I don't have time to read. But we also got a video game called Cat quest. So it's, it's actually cat quest and cat quest two. It's a double game bundle situation. And it's very fun. The first one is just a one player game. The second one is a co op game. So one of you is cat and the other one is a dog. And they're it's very cute. They are the graphics are cute. You like it's like a little quest. So it's kind of you know, like any adventure game. There are so many dog and cat puns throughout this game. Oh my gosh, it is amazing. They just find every way to work in like, purring or barking or like I don't like all the name place names are like the barking the hills. Yes. Instead of hurry. They say furry. Very, very cute. I love that. It's been very fun to play together.
Stephie
Love. That's adorable. What is bringing you joy. Um, I so I am making a lot of Christmas presents this year, way ahead of the game ahead of the game. And I finished two of them last night. Nice. Very excited about this. Now will I peter out and not finish all of them by Christmas? I don't know.
Megan
I mean, you also have varying surgery and you have to recover. So you don't have to do a whole lot.
Stephie
Exactly. So I'm thinking I'm I am thinking that I'm going to have a big chunk of time where I get a lot of reading done and I get a lot of crafting done. Yeah. So because these are not like on your feet crafts. This is not like quilting. Like this is like embroidery and cross stitch and my feet up. Yeah, I have to have my Fitbit things I can like sit and do in bed. So I yeah, I'm like feeling really good about that. Nice, very exciting.
Megan
I always have really great plans to make Christmas gifts. And then I it's not that I don't even peter out because I don't usually start. I'm usually like, oh, this would be like I'm gonna get this thing. And then I'll like maybe get all the supplies, but then I just won't actually start doing it. Yeah,
Stephie
yeah, I've been there. I've definitely been there. But I'm on a roll so far this year, knock on wood. So
Megan
I think you just keep going and then you'll be done before October starts and then you'll be set.
Stephie
And kind of that's kind of what I'm hoping. Also. I have like because I'm doing like a lot. There's a lot of embroidery stuff that I'm doing. And so I have a lot of floss and then fabric and stuff like that. And so they're not costing me a ton of money. Yeah, they're like fairly economic, economical projects. So that helps to go to the store and get a lot of stuff. So anyway, it's been fun. I'm very pleased with the ones that I've done so far. Very happy with
Megan
this. If nothing else, it's it's making you happy. So exactly. You know,
Stephie
they're no win win.
Next week's episode
Megan
Yeah. Next week, we are going to have a special guest to talk about owning a bookstore.
Stephie
Very excited about that. Until next time, listen to us wherever you get your podcasts and leave us a review on Apple podcasts. You can also follow us on social media at irssi podcast or send us an email at I'd rather stay in podcast@gmail.com We'd love to hear from you.
Megan
Bye
Transcribed by https://otter.ai