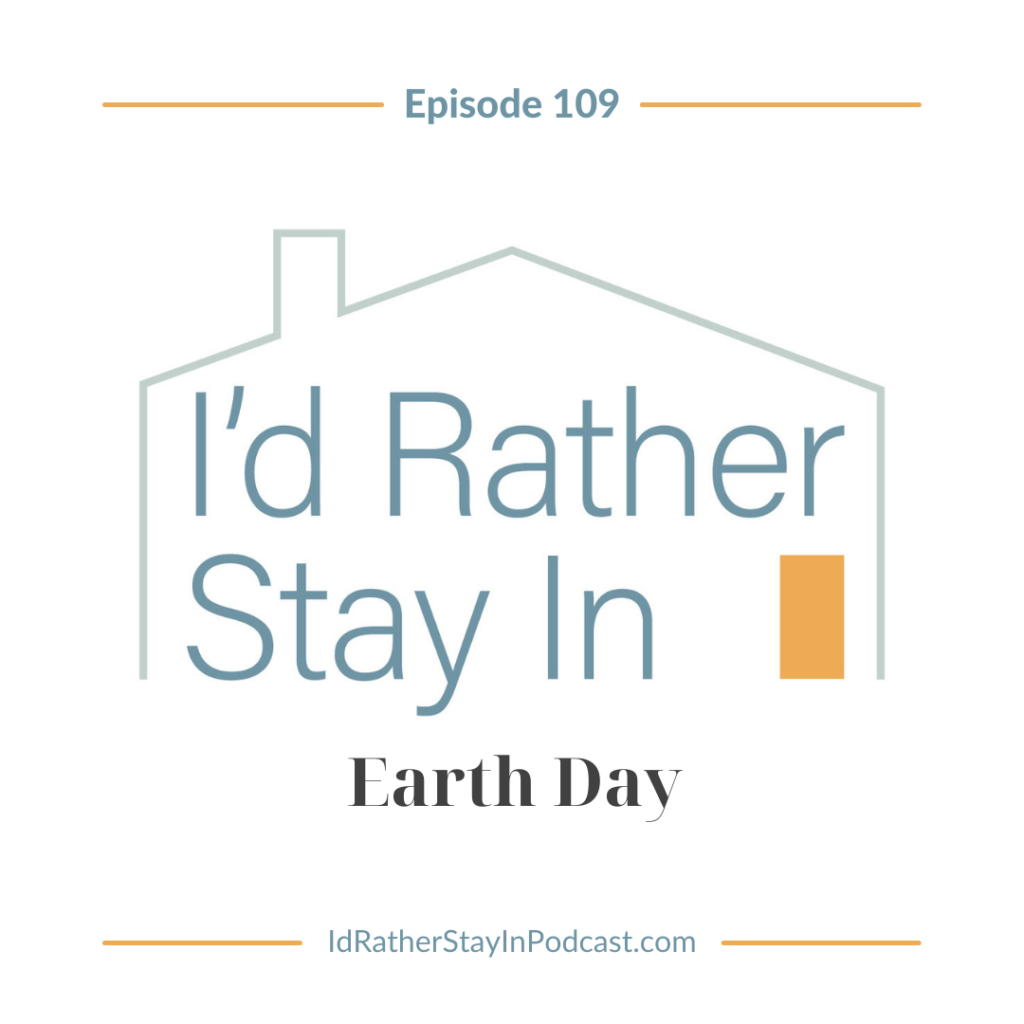 Hello! Welcome to episode 109 of I'd Rather Stay In. This week, we're musing on Earth Day.
Episode transcript
Megan
Welcome to I'd rather stay in with your hosts Megan Myers and Stephie Predmore. This week we're talking about Earth Day. Stay tuned.
Stephie
Do you love listening to I'd rather stay in and want to support the podcast? Well, now you can visit our website or the LinkedIn or Instagram profile and click Buy me a coffee or visit buy me a coffee.com/irsipodcast. For the price of a cup of coffee, you can help us cover the costs of creating this podcast. There are no monthly memberships and you could support us at whatever level you like, whenever you like, whether you buy us one coffee, many coffees or simply continue listening as always, we're so grateful for your support
Unknown Speaker
Hello,
Megan
hello. What's up? It is springy. That sounds very original and everything. But um, we planted all those tulips in the fall. And now we have some tulips coming.
Stephie
That is exciting. We finally have a bunch of daffodils. And then we had some nice weather yesterday and now that we have like green stuff out and the weather was slightly warmer my allergies came in like a wrecking ball. Like this is super fun. So yes, it is spring because the allergies are here.
Megan
I mean, you just have like sexy singer voice.
Stephie
Yeah, I got something. I've got a lot. There's something happening here. I don't know. Okay, Megan. So, as you know, tick tock is a deep, dark rabbit hole. And last week, I fell, I came across this video came on my FYP. And I didn't you know, the algorithm is just so good every time. And it was this gal with big boobs, who was showing how she uses this body tape that she got on Amazon. So she can wear like spaghetti strap stuff and like backless stuff. And we've talked about my boobs more on this podcast than I probably ever would have guessed when we started this two and a half years ago. But we all know that I struggle. And so I ordered the body tape, and it came the other day and I'm very excited to give it a try. So now I need to buy something that I would need the body tape for. So have anything because I always buy things where I can wear a regular bra. But there's all this cute summer stuff. And I'm always like, Oh, I have summer FOMO because I can't wear cute spaghetti strap stuff because I need my like Mega bra. So anyway, that's my story.
Megan
I mean the ravages test it with like a basic tank top.
Stephie
But I don't even have that. Because
Megan
I will say I watched her videos and wanted to not look comfortable at all. And to like I saw one where she like had an outfit on with the tape. Yes. And it did not look like it was helping as much as I would have thought it was something to like
Stephie
not have my nipples be like, I mean, that's really all I need.
Megan
They make plenty of things for that, that do not involve the day.
Stephie
But I don't know I'm excited to give it a try and just like see what it does, because then it could open up like a whole new realm of just like nice special occasion outfits. So true. True. You know me I gotta try it out. It's for science. Just make
Megan
sure you have some like oil or so like
Stephie
Yes. I saw that she learned that from the comments. She was like oh you guys are smart.
Megan
Look, maybe you want a rash on your chest but
Stephie
so that was that was my latest tick tock deep in the realm of tick tock purchase that had to do with my boobs this time.
Megan
Buy a lot of stuff on tick tock I you know why tick tock? I
Stephie
am I am the we've talked about how I am particularly subset susceptible to influence or marketing for many reasons, and I am the target audience for these true these things. But she wasn't paid to talk about it. It was just her old thing saying this works for me as a person with big boobs and I was like I've got big boobs. I struggle sometimes. Because you know, the 90s Closer back and there's all these like little like tanky things and I'm like, Oh, that's cute, but ah I'd have to wear a bra with. I don't want to wear a strapless bra. The tape might look uncomfortable. But strapless bras are worse. I can guarantee you so
Megan
that is true because it's it's just it's just bad. They're just bad. I have been looking actually at everyone's bridgerton K route. There's been a lot of things about corsets Oh, and not like the full ones, but like the short ones like not they have a special name that I can't remember they're called. And apparently, those are very comfortable. And actually, they're better for you because it like distributes it. Oh, across your body and it doesn't rely on your shoulders.
Stephie
Because I'm feeling like, yeah, that hunchy back pay me.
Megan
But the way like the course is works like the evenly distribute the weight across your chest and back instead of just like, yeah, hoisting them all up to your shoulders. Like
Stephie
it's like a it's like a I mean, it's a booster, but it's not like all the way down.
Megan
Yeah, but it does have like, the threads and stuff. And I think that's right. Yeah. That makes sense. Yeah. So I've been looking at like how to get those, but you can only really find them on Etsy. Oh, is there like individual people making them there? Does not. I mean, there are corset makers, but there does not seem to be that particular kind.
Stephie
Interestingly, I found better like lingerie from like UK brands. Oh, yeah, for sure. Which I don't really know why that's the case.
Megan
Um, I don't know. But I did think like when I was in France, and we went shopping, I did feel like the laundry in like the French even like department store was like better. Yeah. And I don't, I don't know, like,
Stephie
does. Why is Why is America low key suck that because we're cheap, maybe? I don't know. We're cheap. And we make everything for stick figure. Girls with no boobs, which is fine. If that's what you are. You deserve to have good undergarments, too. But also,
Megan
I mean, I would say that other countries do that. I don't know. It's
Stephie
weird. I don't know. Anyone tangent. Here's our underwear tangent for the day. Now.
Megan
They said boobs a lot. Let's talk about the real topic.
Unknown Speaker
Earth Day,
Megan
Earth Day is coming up.
Stephie
Yeah, Meghan wanted to talk about Earth Day. So
Megan
yeah, so Stephie Do you have any thoughts? Memories of Earth Day? Like what are your first what are the first things you think of when you think of Earth Day? I
Stephie
think of being an elementary school. Yeah. And learning about reduce, reuse, recycle. And are you know, the little triangle arrows? And I feel like you learned about like, trees and stuff. And maybe you read The Lorax
Megan
maybe you like had a field trip where you like when to park and clean up trash? Or like even planted trees. Maybe one year at my school. We like planted tulips in front of the school. Nice. I guess that wasn't for Earth Day because that would have been in October but yeah.
Stephie
It's all very surface level though. Yeah. And I mean, I I grew up in small town Midwest. So we certainly were not talking about things like global warming.
Megan
Oh, no. I mean, so I think we definitely weren't we definitely weren't really talking about global warming like as an issue but I feel the same as you as definitely like it was huge in elementary school. Yes. And I feel like part of that was like partially because you have a captive like childhood audience and whatever I was trying to find some information to see if there was like a like big campaign like for elementary school students.
Stephie
Oh, sort of like the like the Earth Day version of like dare I don't want to do that anymore. Nature dare No, they don't do dare anymore. Thank goodness.
Megan
But it was definitely like it was it was so big in elementary school and
Stephie
sort of like this very simple. Also similar to the like, Did you do the Jump Rope for Heart? Yes, they still do. Yes. Okay.
Megan
Um, so one of the things that I realized is that Captain Planet came out in 1990. He was my
Stephie
first husband. I I was obsessed with Captain Planet before I was obsessed with Aladdin. It was married to Aladdin. I was married to Captain please.
Megan
Sure. Sure that makes sense. But I think I mean that it's so weird because like, on the one hand, like did Captain Planet like contribute to this weird Elementary School obsession we had with reduce, reuse, recycle or to the Create Captain Planet? Which came first like what like yeah, which came first? Did they do it to make kids more think more into it or did they do it because kids were more into it? It's really hard to say very interesting to me the whole and also I was looking at catch planet like the IMDB listing you To Catch a planet cast was stacked. Like, like Jeff Goldblum did a voice. Meg Ryan did a voice. Dean Stockwell did. It was insane.
Stephie
That's amazing. No idea. Well, we we had absolutely no idea. Yeah, I don't know what I was. I don't know why I was just like in love with this buff blue dude with green hair, but I was just really, really into that. Oh, LeVar Burton.
Megan
Yeah, I mean, it's a better world burn everyone temporary falling in love with a cartoon Fox from Robin Hood. Like,
Stephie
you know, I mean, there was my mom. My mom was in love with Mighty Mouse. Sure, she was a kid. So he was a very strong mouse. John Ratzenberger oh my gosh, this is a stacked cast. Martin Sheen, my god, yeah, see, banana pants,
Megan
I need to bring it back. But I also remember, like, in a weird, this always makes me laugh in one year. It's either fifth grade or sixth grade, we did a big like Earth Day project, like, I think they would be doing like a fair or something at our school. And each class was doing like a presentation of some sort where you would like talk about whatever thing you wanted to talk about related to the environment, basically. And we, you could do like, you know, posters, and you could like, decorate a part of the room or whatever. And then you do your presentation. And I remember there were my group of people. And then another group, and the other group was like, the more popular girls. And we were both trying to, like claim the same area. Oh, a huge drama. But some jets, right. And so we ended up with a smaller one. And we like decorated the shit out of like, the corner of this room. And I'm like, looking back on it. I'm like, we used so much paper. And like, like sparkly paper and like glitter and tissue like to talk about the fucking rainforest. Like, what, what and also like, every class did this, they already use, like, we use so much shit
Stephie
instead of like using like recycled materials or something
Megan
like that, in the end, just be like, maybe we could do a video or like some sort of thing that was not like, let's waste all these resources to save. Right? Ridiculous. Oh, and also, that was the same time where everybody would be like, you know, aside from recycling, it's like, get a jug of like an old milk jug and fill it with sand or rocks and put it in your toilet tank and it'll save water when you watch.
Stephie
I'm sorry. I'm sorry. What?
Megan
These are the weird kinds of things that we were taught because it like takes up room. It takes up room in your tank, so there's less water that fills Yes. So when you flush your you, you'll waste less water.
Stephie
What if? What if you've got some stuff that really needs to go down?
Megan
I mean, I guess you're screwed. I don't know. They don't think of those things
Stephie
that this is that is one of the most nonsensical war lights to save the planet that I've ever heard.
Megan
I mean, we all turn off the water when we brush our teeth now, like
Stephie
except for my toddler who insists on having it running and I'm like, girl, she'll learn you were raised in the 90s this would be a very different story for you.
Megan
She's not quite old enough yet know like when she
Stephie
likes to stick her toothbrush in every five seconds and mostly suck the water out anyway, because she's too
Megan
but we did have that face. I do remember that. Yes, they do learn eventually
Stephie
to actually brush and suck the toothpaste off.
Megan
It doesn't help that that toothpaste is like strawberry.
Stephie
Like it tastes good. She's like more toothpaste I'm like no,
Megan
but then also you're supposed to like turn off the shower. Like you would put the shampoo in your hair like you would get your hair wet that
Stephie
was off the shower that was happening for me
Megan
I don't think almost anyone would do that because aside from like pretty sure psychopaths the on off thing can like I don't know if it I can actually mess with your pipes or not. It's who knows but then you just like freeze. You would be cold, which isn't going to be a selfish thing. But yes, you're gonna be cold but also like if you have pipes where it takes a while to get the hot water up to then you like Why
Stephie
yes, no, do like also can we we also have to talk about the fact that like, Okay, so we're learning about like, reduce, reuse, recycle blah, blah blah, but also, again in my small town There were no there was no recycling.
Megan
Yes, we're gonna get to that.
Stephie
Oh, okay, Mega. Mega has information for us. Let's let's skip ahead then.
Megan
I don't want to skip ahead. Oh, okay. Okay. Okay. But also, do you also remember like, this is one thing definitely. Tic Tac or like, people that are like, especially my age have like a visceral reaction to seeing like a six pack soda thing? Yes. You're just like where the scissors I've got sea turtles, they're gonna have the dolphins and the birds and everything. Which also brings me to more recently how like, saving the planet is a layered issue. And that's part of the recycling thing. Where like, yes, the the plastic soda, things are stupid. And obviously we should just like a lot of places have gone away done away with those like they don't exist anymore. Like you can't even buy a six pack of soda anymore. They're much harder to find. You can buy maybe like the little ones you can buy but you can't buy like a standard one. They only come in 12 Pack. Well,
Stephie
I like a lot of times no, like, if you get like a six pack of beer. They have those little like snappy tops. Yeah, instead of the
Megan
ring thing. Nice. Yeah. But do you remember? I think if you see the right. I think it was right before COVID When we all freaked out about straws.
Stephie
Yes. Oh, yes. And all the restaurants got rid of their plastic straws. Yeah, and replace them with like, either the like bamboo ones or the stupid paper was it dissolved in your drink? Or nor they got rid of salts entirely, which is actually there's like a disabilities accessibility problem with exactly like I actually had a cus I had a customer that because we don't have any straws at the restaurant that I work at. And I had a customer who was like, Can I get a straw and I was like, I'm so and luckily she had like, she happened to have a plastic one in her purse. But I was like, I should just like keep some in my car. Because like, yeah, trying to explain to like, I know, we don't have straws. Like we should have them. Because it's accessibility thing. Like it's just a whole.
Megan
Yeah, I mean, we're all freaking out about the sea turtles. Yeah, eating straws and dying, which is a problem, obviously. But yes. You it's like the it's a thing where you try to fix one thing and you just create this cascade and other problems. But especially in the comes to the accessibility aspect where like, people never think, right of people who like might need straws, because that's the only way they can drink out of a cup, right? Either
Stephie
live in an able bodied world and right ableist world. And so we're like, why would anyone need a straw? It's just nice to have thing, right?
Megan
Either you like can't because you're, you know, you're old and it's hard to hold a cup or you have like an actual like a disability other than, you know, being sold. Like a sensory issue. There's so many reasons why you might need a straw. And we're just like, all panicked. No one can have straws. So luckily, like we've walked that back a lot. And I feel like people are trying to find like this medium, but like straws. Like a huge example. I feel like it just
Stephie
got so blown out of the water so quickly, very fast.
Megan
It was like we all use straws. And then the next day, no straws. Guess, which is so funny. But like, I do
Stephie
things I do like right and I do I personally do like, like a lot of the coffee shops know like Starbucks, and like I know our local coffee shop like the ice drinks now have a different lid on them. So you can just like drink out of them. Yeah, like, like you would the like hot coffee cups or whatever. I actually prefer that. But I do also appreciate that they do still have straws. And they will ask you when they hand you your drink. Would you like a straw? Yes. And then you can say like yes or no, yes, that's what I do appreciate that. Yeah,
Megan
because a lot of restaurants that we go to, will still just give you a straw. Yeah. And I don't need a straw, right? Most of the time, I would rather just drink out of the class. Same. So if they give you a straw, then they have to throw those stones away.
Stephie
So can we talk about the people that like want a straw because they don't want to put their mouth on the glass, but they're drinking the liquid that's in the glass? Like has that have you ever thought through that? Like, have you You're laughing but that means you've encountered those people that are like, I need a straw because I don't want to put my mouth on the glass and I'm like yeah, I think a touching the glass be drinking the liquid that's in the
Megan
Okay, well, the only people that I've encountered that have asked for that is because they don't want to ruin their lipstick. Oh, no, not like they don't want to touch a dirty cup.
Stephie
Yeah, it's like they think that it's like not clean enough to put their mouth on and I'm like you're literally drinking the liquid. That's,
Megan
I mean, that's another issue. But as you were saying, like your town did not have recycling. No. And a lot of places still don't have recycling. A lot of restaurants don't really have recycling somebody was showing how they were at a restaurant I guess in the head two bins, like one was recycling and one was trash and then they lifted up the thing and was the same trash can like is because yes, they don't have recycling for their business.
Stephie
I mean, I was drunk that was likely that was in like college like I they had like all they made such a big deal in college in the dorms, but like, oh, we have recycling and we have to recycle. And we're so green. It's sustainable, blah, blah, blah. And then like, it turned out that it was all going in the same bin. Yeah, like once they took the trash out, and there's like, they literally put it all in the same bed. And I was like, okay, cool.
Megan
Well, it's also not just because they might not have recycling facilities, but also people get really confused about what is actually recyclable and what is not.
Stephie
Oh, you mean, like my husband that constantly says that certain things are recyclable? And I'm like, No, it's not. And he's like, yes, it is. I'm gonna put it in there anyway. And I'm like, You're fucking up someone's job.
Megan
Well, yes.
Stephie
So sin planet.
Megan
So if you've ever been in a Whole Foods, they have like 12 bins. It's like, very compact. It's only like four. But it's definitely like landfill recyclable. regular trash, I guess. landfill and regular trash are the same. But as regular trash, compostable, recyclable food waste, they're all like, separate. Yes. And you have to like take your little like lunch tray and like, figure out what, where the hell everything goes. And it's very confusing. Doesn't make any sense. Because in your brain, especially at home, like okay, I eat a yogurt. Okay, yogurt comes in a plastic cup. That should be recyclable. It is recyclable, but only if you completely rinse out all of the yogurt that is inside of it. Because if you put things into recycling that have food on them, it's like contaminated and they can't recycle it. Right. And then there's other things like like pizza boxes are not recyclable,
Stephie
because they have the grease on them. Unless you lease on them peel off the part that has the grease or like just take the it's very complicated.
Megan
And then like plastic bags, you can't recycle at your house. Like some places you can take them and they'll supposedly recycle them for you. And then we not at this house. But at our one of our old houses for a while we couldn't recycle like magazines, like you could only recycle non glossy paper, right? So anything that was glossy just had to go in the trash. But it were like, but it's paper and the like, but it's not really paid. Like paper. It's got plastic on it, like but you can recycle plastic too. And they're like, not really.
Stephie
It's complicated.
Megan
And it's really complicated. Yeah, and all these individual businesses, like they have to pay to have all their recycling processed, yes. And then there might not be a place in the town that they live in. So then it has to get shipped somewhere. And then they have to do something with it. And even though recycling is better for the environment, it costs a lot of money to recycle things, not cheap. And that is a huge sticking point for people who don't want to recycle. Because it costs a lot of money and also to recycle things, uses fossil fuels. Yeah, which like everyone freaked out about it
Stephie
well, and then there's things that like you can only recycle in very, like very special, special specific circumstances. And like some companies will have like special days where they collect those items. But it only be like once a year, like we've had Aiden's infant carseat just like sitting in our house waiting for target to have one of the like, carseat recycling days. Yeah, like a year and a half, because I feel horrible just throwing it in the trash. And it's expired. So I can't like give it to someone else.
Megan
And you're not even supposed to do that anyway.
Stephie
Right? So I'm like, just like waiting for but the target only does it like once a year maybe. But it's not like a consistent time of year. Sometimes it's spring, sometimes it's fall. And they haven't done it for a while. While I there's like no info on when the next one is happening. Oh my god.
Megan
We don't live in a town that has like one of those dedicated baby stores. So we can't take it there. Right? Because most places will take it like all the time. Maybe not all the time. But they take it more often than target right? But like, there's so many,
Stephie
right? I have a dead microwave. It's just been sitting in my house for literal years, because I don't know how to properly dispose of it. And I can't figure it out and it's too confusing. And then I get ADHD paralyzation and I just like leave it there for another year before I start to google it again. vicious cycle. It's a vicious cycle because I'm just so confused because I like want to be a good steward of the earth. and dispose of it properly and not just like put it in a landfill also, because sometimes they just won't take that stuff. And then I then I, it just piles up elsewhere. Yeah. And then I'm like, why is it so complicated?
Megan
I feel like a diver making a complicated, like, they just make it hard to. It's just hard on so many levels because they make it really easy to replace things. Hmm, and not really easy to fix things. Which is maddening. And it's not just like, oh, you should like, Darn the holes in your socks, right? Like, or like fix a hole in your jeans kind of situation. Like, you could do that. Right? No one's first of all, no one's turning holes in their socks. Because socks are cheap. Unless they have like amazing socks, we're not going to fix yourself.
Stephie
They were like handmade socks. I have some hate socks, I have some holes, I should darn in those because I spent like hours making that but I'm not gonna Dart holes or have like my Puma workouts,
Megan
right? I have like some nice wool hiking socks like I would. But like your microwave, like, in theory, maybe you could have fixed it, but
Stephie
I spent $20 on it at Target to begin with. Right. And the next one I bought was like $30 at Target and it was going to probably it would cost more than both of those combined to fit to fix another one like, exactly if I had like, especially because like, it's not like, okay, like your KitchenAid mixers, like those. It's, I mean, it's not like easy to fix. But there's it is there are things you can do things you can do or like there's places like when you have like a nicer appliance, even if it's a smaller appliance, like the nicer brands, a lot of times you can send them in or you can buy replacement parts. But if it's just like your first microwave out of college, you're buying the $20 target microwave, and it's not probably worth fixing, right? Or like your $8 toaster or right because it costs it does cost a lot of money to fix things. It's like it costs money to it's just like getting clothes like tailored to like fit you if you've lost weight, or you get a hammy down or something like that, like a lot of times, it will cost more money. And people don't always have that money to buy the nicer thing, or then fix the nicer thing. So it just becomes like an elitist thing to get things fixed. Yeah.
Megan
And if it doesn't cost money, it costs time, like I was trying to repurpose. I'm trying to repurpose the shirt that I have. And I spent at least five hours removing a sewn on decoration on it. And like I'm happy that I did it. But also, I spent so much time No, I
Stephie
have a pair of jeans, I want to do some like really cool like I've been I've been on visible mundane tick tock, and I've got a pair of jeans, I really want to do some like cool, like visible mundane stuff on because I think it would look really awesome. But then I'm also like, this will take me so much time to do and like yes, I can do it. Well, like I'm watching TV at night. But then I'm like, this takes this pair of jeans out of my rotation for like three weeks while I do this project.
Megan
Right. So let's talk about the socio economic aspect.
Unknown Speaker
Oh, yeah.
Megan
Adhering to like Earth Day principles, because this has been driving me crazy a lot lately. Especially now that like, yes, climate change is a problem. Yes, it's something we need to do need to work on and solve. But there's a lot of people out there who are just like, it's just so easy to do these things. And you know, like, maybe for you it is
Stephie
those people they say that are usually
Megan
you have resources. Yes. And you're probably white? Yes, to be honest. Yes. And so you can make these changes, you can very easily turn your diet into a meat free or meat light diet because a you know how to cook, you've put in the hours to teach yourself how to cook be you can buy all the ingredients that you now need. Because you can't rely on meat. And you probably don't want to eat fucking beans every day of your life, right? You have the time to put into making all of those things that can take longer. You have the ability to throw the food away if you have children or other family members who aren't going to fucking eat it. Right? Because I don't care who you are. Every parent has been there you feed your kids something and they don't matter if it's something you spent a long time on. Something you spent a little time on.
Stephie
Doesn't matter if they know or not. Or Or there'll be like my child yesterday who begged for me to slice up an apple for her in the 15 seconds it took me to do that decided she didn't want it anymore. And then took the apple slice and took a bite off of it and then leaned over and spit it out on the floor for the dog like sure very specifically spit it on the floor but the dog get it I thought it was hilarious.
Megan
I mean, at least the dog ate it and that dog ate it. There's like there's like if there's a if you can, like compartmentalize certain things in the world, there's like a special compartment floating above the earth. That's like half eaten banana and half eaten apple slices. Crushed cool. blue plates?
Stephie
Yes. The right color. How dare you feed them on the blue plate with the green cup? What it should have been the green plate with the blue cup that you actually don't own a blue cup, but they're asking for a blue cup.
Megan
You're the worst mom ever. Those things that like you already have to deal with these decisions on a day to day basis? What am I going to feed my kid or extended family that they're actually going to eat? Yes. And when it comes to trying to make good choices for the environment? Yes. You can't always do that.
Stephie
Or like, Okay, so let's like, for example, buying things in bulk. Okay. So yes, while buying things in bulk, and I don't necessarily mean like Costco, bulk, I mean, like, rice and beans, and pastas, and like it from the book section of the grocery food, grocery food, the food section of the grocery store. And like putting it in your own container, or whatever. Um, yes, in many cases, doing that is cheaper than going and like buying a box of pasta. But those sections like bulk foods sections only really exist at like, nicer grocery stores. Yeah. And that's not always accessible, especially in lower income areas, which are often considered food deserts. So like, that's just not an option, right? Getting there, you know, get or get like getting across town to get there. Could there could be so many like barriers to that. Also, this reminds me of the there's someone that we know that when the war on Ukraine started, and the gas prices started going up, and people were like, when people like wouldn't shut up about the gas prices going up. This person was like, well just go, everyone should just buy electric cars.
Megan
Look, we could do a whole episode on electric cars, and how a Tesla at the end is fine, but the beginning, like actually, it's way worse than the environment because of all the minerals and needs to make a Tesla bad like,
Stephie
but not even just like hybrid cars, not even fully electric cars. They're expensive.
Megan
And even if you can buy a used one, which you usually can't, because people don't usually sell them. It's not like they're cheap. Right? So the people who need the cars like are not gonna be able to buy that. And also, you have to have the ability to plug it in.
Stephie
Yes. It's not just like,
Megan
you can't just plug your house
Stephie
la it has to be Yeah, you have your they have to come install a thing your house like that. There's so much nonsense here. Like it. I'm very happy for the people that have electric cars, it's great hybrid cars, electric cars, if that's your thing, if you have the financial ability to have that, okay, fine. That's great. But like, just the whole the very statement of being like, well, everyone should just go buy electric cars. It's better anyway. Like, the privilege dripping?
Megan
Was? Yes, we're like everyone where people are like, well, everyone should just go be vegan, like, Well, I mean, I don't know if that would help anything. You can't just go be vegan, right? That's not you can just go just buy
Stephie
organic food. That does not, it doesn't. That's not how it works. Yeah, there are there are many, many are many things that we can all want to do. But there's so many different barriers to everyone doing them.
Megan
Right. Right. Like even even, you know, you and I who like, like to buy stuff from the farmers market or from one of the local farms we use CSA from like, we'd love to do that. Because we like to support them. And we have the ability to do that. But also, that is only for like nine months of the year. Right. So I wonder if you're supposed to do for those other months, right? Where like, even if you get financial assistance because farmers markets do take snap, which is great. But you still have to feed yourself those other times, right? And so even if you're trying to live the best way you possibly can For the environment during those times that you have those access, you're not going to always have access. Right. And the other thing about hybrid cars is that you're gonna go like 150 miles on them before you have to charge them again,
Stephie
I have thought this through many times, I'm like, how do you take a road trip? In a hybrid? Vehicle? Yeah, I have to rent of one, right?
Megan
My next door neighbor's at our old house, they have a leaf, which is a fully electric car. And they have another but they have another car. And so they could take the leaf like, you know, John's around town, but if you if they wanted to go to like Dallas, or to San Antonio, even like, you'd have to take the other car, right? Because
Stephie
it's not like, okay, my car is out of gas. It will take me five minutes to fill up my entire tank of gas.
Megan
No, it takes you like three hours to recharge your car. If you continue on your trip. Yeah. If you can find charges, if you can find where you
Stephie
are. Right? Like I because I have asked Alex this. I'm like, wait a second. How does this work? How do you find charging stations? Do they pop up like gas stations do on Apple Maps? Like, how does this work? He's like, Well, I think if you have a Tesla, that there's like an app or something that shows you like where the things are, but it takes a while to charge and blah, blah, blah, blah, blah. And I was like, oh, okay, so the basically the end of the whole, like, end of this is they're terrible for road trips, and you should just rent a car. And he was like, yes,
Megan
yes. And also, I think some of them like they're not, they're not all compatible with each other. Yeah. So you have to have like, all of them. If you're like a, like a grocery store that has
Stephie
stations, it's like having an Apple versus an Android.
Megan
Apple versus I use your charger? No. But also you need all the dongles Yeah.
Unknown Speaker
Where's my car's dongle?
Megan
I mean, I think you'd probably be better served for most people to buy just a more fuel efficient car. Yeah, if you're going to like a we have two cars, because we do whatever. And the one car, we basically just use for bopping around town because it's a small car, the gas mileage is great. It's actually great for long trips, it's just smaller. But so we don't like I don't know, we don't like make a big deal about all of that. But it's also like, we could afford to have two cars, right? We can. It's not just like paying for gas or paying for the car. Like we can pay the registration fee on two cars and pay the insurance on two cars like that. And I'm sure some people will be like, well just have one car. Like, that's great in theory,
Stephie
depending on what like your family dynamic is and where you live,
Megan
can go just go rent a car for the second car if you need to. Yes,
Stephie
right. Because there's lots of places where you can just take public transportation, but like, if you don't live in a big city, that's not necessarily the case. And some big cities have terrible public transportation. So it's, there's just there's a lot of, I just I think, I think like the bottom line is people love to say like, well just do blah, blah. Yeah. But there's, it's not always as simple as we'll just do. Blah, blah. Yeah.
Megan
And there's so many layers to all of that. So some good things that came out of Earth Day. Okay, good things. Okay. So the first Thursday was in 1970, okay. And also the environmental protection agency was created the same year later, the senior good or bad environment you
Stephie
can feel however you want to about the EPA.
Megan
So air pollution went down because we used to have leaded gasoline, you know, like gases later, labeled as unleaded still. Even though all gases unleaded, yes. I don't know why they haven't changed. Yeah, I guess people would just be too confused at this. But they started phasing out leaded gasoline in the 70s. Okay, and so the air pollution, like sulfur dioxide, nitrogen dioxide, like those all have gotten out a lot because of that. And lead levels, obviously. And also, we don't use like, leaded paint anymore, that's led us that people die. The level of like, PCBs, I remember one of the things I remember from elementary school was that we like talked about chlorophyll or carbons and like, all that stuff a lot. I like, did a weird science speech competition where I talked about PCBs if it's great, um, but those went down. Weirdly, we are I mean, not weirdly, but we are producing a lot more garbage than we used to, which is not great. But there are things that are going down. So there are certain changes happening. And then there are a lot of different programs that started as sort of a result like people have environmental education now there's all the Is civic programs and educator networks. And there's like green schools now. And there's funding for the green schools like farm schools and things like that. And there's the Clean Air Act, Clean Water Act and interspecies act, there's also the Paris Climate Agreement. So there are like, some good things that have happened. But my takeaway on all of our ranting, basically, is that humans are selfish. Yes. And I don't know how much we're actually going to be able to change if we've had earthday since 1970. And like, right, a lot of things have gotten worse.
Stephie
Well, am I right? Or am I I guess my question too, is like, of the things that have gotten better? How long did it take for them? How long did it take? For those to be like a significant statistical change? Right? Do you know what I mean? Like, okay, so we got rid of like the lead and the gas like those things? Like, was it an immediate difference? Or did it take like 1015 2025 years to really see that difference? And see that change? Because I think that that happens a lot to where we're like, oh, we're gonna get rid of the straws. And then tomorrow, we'll see a difference. And we're like, right, we don't. And then we're like, oh, because it, it takes a long time for some of these changes to like, make an impact, which doesn't mean that we shouldn't be doing them. But also, like, I don't know, it just, it feels like there's just a lot of nuance to it. And do we have the time for the nuance? I don't know. I mean,
Megan
no, because everything is like,
Stephie
falling in 30 seconds. Like, we want
Megan
instant accreditation. And I think that's probably one of the reasons why the straw thing, like happened so quickly, because everybody was like, oh, like not using straw like I can do that. I could not use a straw. But also, like, most people went back to using straws whether they wanted to or not, like whether it was like a thing for them where they needed to. Like we're always aside from not you know, humans are not necessarily evolving, but like technology is evolving and society and all these other things. And we had COVID And what was the best way to protect yourself from COVID? A disposable mask, right? And so now they're like millions and millions of disposable masks, floating around in oceans, and in landfill
Stephie
fudges the streets real depressing,
Megan
because we're trying not to die. Yes. So
Stephie
which do we want? What do we do people
Megan
die now or if you die later, so that's part of the issue like I would like to live now. So I apologize to anyone who thought we were gonna have like a happy Earth Day,
Stephie
I'm pretty sure at pod point that they know better. I think they know better by now.
Megan
For further listening for further listening, please refer to Michael Pollan episode.
Stephie
Yeah, that actually is a really good more like, you want more ranting? From someone else besides us?
Megan
But it is related? I do think I mean,
Stephie
I don't think I will say like, I don't I don't think that there's anything wrong with us as individuals, not you and me as individuals, although yes, you people, people, as people as individuals, humanity, the collective people, collectively, the royal we, I don't think there's anything wrong with us like making small choices, right? on individual level, right? Are those small choices going to save the world on their own? No, but if I can, like, purchase, you know, if I, if I'm looking and I can purchase the tube of deodorant that's in the cardboard tube, or I can purchase a tube of God and the plastic tube, and I choose to purchase the one and the cardboard tube, because that's one less piece of plastic that I have used. Okay, that like, at least I can feel good about that purchase. And maybe it's a lot of it is just like you feel good about it. Or if like, I can choose to purchase something from a company that offsets their carbon footprint and their shipping, or the same thing from another company that doesn't and I choose to go with a company that offsets their carbon footprint with in their shipping. Then cool, like, those are like very small things. And again, like maybe it's mostly just like they make us feel good. But I don't think there's anything necessarily inherently wrong with making those choices either. I think that we just have to remember that like, what is an individual choice for us as individuals may not be the choice that another individual can make, and that that's Okay, because there might be other factors at play. So like, don't be shaming people. Mind your own fucking business. Do what works for you and leave the rest.
Megan
Yeah. Yeah, I think just acknowledge the fact that like, it's not always easy to make those changes, right? What might be easy for you might not be easy for someone else, right? We're not even gonna get into the whole, like, corporations are responsible for most of their its
Stephie
pollution, right? That's a whole different it was capitalism all along. It
What's bringing us joy?
Megan
really was. So instead, we will end with some joy. Yay. Stephie. What about you,
Stephie
um, I am in the process of bringing my blog back to
Megan
the logo. So pretty.
Stephie
I know, I'm so excited. Susannah did my new branding and my new logo, and I love it so much. And when we finished recording here, we're going to work on getting that new site live. And I'm excited about it. And I have a new camera that I'm still playing around with and learning how to use. Yeah, so that is making me happy. I'm excited about it. I you know,
Megan
I think it helps, like, for those of us who have been in the industry for so long, like, having a shiny new Sony a new logo, like something that's just like, kind of, or like a new camera, like, like, it's funny, like you're doing all these things at once. But like normally, when you're like kind of feeling about it, like I'll be like, Oh, I just need to like, buy some new napkins and then I get excited about it again.
Stephie
So it's like, I don't want to work out. I'm gonna buy some new workout leggings. Yeah, I'm like, I like keep my workout. Simple, similar idea. Similar idea. So that's, that is me right now. Megan was bringing you joy.
Megan
Okay, so this is really stupid, but probably
Stephie
not. But try me. Anyway.
Megan
I have mentioned before how I, when I do certain cooking, I like to wear gloves from just feels better on my hands. And then I don't have to like wash my hands 1600 times while I'm cooking. So I started I had started using foodsafe gloves. And then I the other day when I needed to do dishes, I realized I have dish gloves. And so I wore my dish gloves to wash the dishes. And it made the dishwashing so much better. So much more enjoyable. Not like dishwashing is enjoyable, but it was like it wasn't like oh my hands are getting disgusting. And like I have to touch the dirtiness of the pan and whoa, whatever. But I was able to like put my gloves on. And they're soft on the inside. So they felt nice. And just like wash my pin and like stare out the window while I wash my dishes. And it was like oddly soothing
Stephie
to name your 50s housewife with your little gloves
Megan
barefoot in the kitchen. I never wear shoes in the kitchen and horrible. Yeah, so if you hate washing dishes,
Stephie
get some gloves. Just try a scrub daddy sponge.
Megan
I'm not impressed with the scrub daddy sponge is just a spy. It's just this. But I will say wearing gloves while doing dishes. I feel like it's a game changer for me doing dishes.
Stephie
I mean, if this thing that makes you like not hate the chore, I am all for it. Yeah, because you have to do the dishes have to get done.
Megan
They have to get done. So and if my husband's not home, then obviously they're never gonna get done. Right if I don't do them, so, but I mean, I am lucky like he does most of the dishes because I do most of the cooking. Right. But when he's gone, I honestly have to do it. Um, so yeah, it's,
Stephie
uh, I mean, maybe I should totally get on that because it would probably say like my manicures lasts longer. But
Megan
yes, it would. I mean, I don't really have that problem because I don't get them that often. But yeah, love it. Get the ones that like have the have a coating inside that makes them soft, perfect. And they know what goes on into yours or, I don't know,
Stephie
actually, she would tell the people whatever gonna keep that
Megan
secret, the kind they sell at the grocery store.
Stephie
They're not fancy. She just got them at the grocery store. Okay,
Megan
they're probably like Clorox brand or something like that. You know, whatever kind fits on my arm. But they're long, too. Oh, they don't like they're not like little short gloves.
Stephie
To my elbow. You don't end up with like water, dishwater? Like splashing up your elbow and then like dripping inside of them. Because that would be real gross. Yeah. I mean, that's like when I wear my gardening gloves that I end up with like dirt inside of my gloves. And I'm like, How did
Megan
I know? For sure they actually I started getting ads for camera with a call now. I was getting 1000 ads for them. They're like their sleeves.
Stephie
Oh hook
Megan
that you put on for gardening Oh, and yard work and stuff, but they, they just go up to your shoulder. Okay, and they don't cover your hands. So you still have to wear gloves. It's like a compression sleeve for gardening. Yes, but it's supposed to like, like, if you're working with things that like scratch you, like, I guess so you don't get a sunburn. But also in the advertising, they have people wearing tank tops and then the sleeves and I'm like, You're, you're gonna get like a weird or sunburn.
Stephie
I feel like that. I feel like that was really more of like, you're like, I don't know, chopping down a thistle bush or something like, Yeah, I'm scratching your arms. Yeah.
Megan
Or like, I guess like if you stick your arm into like, you know, a cucumber plant or whatever. You gotta scratch up your arm scratch I don't know. But you still have to wear gloves. Yes, cuz they but I feel like if you were that and the gloves and they definitely wouldn't get stuff in your gloves, but I bet I probably would. Oh,
Stephie
I'm pretty talented.
Megan
I also always get dirt in my shoes.
Stephie
Always I have to I have a pair of old like running shoes that are my guardian shoes. Yeah, because I everywhere, dirt everywhere. Like it's there's like some there are certain people that can garden outside, like all day, and somehow they still aren't that dirty. I can just like think about going outside the garden and somehow I'm covered head to toe in dirt or I have to just like strip off the minute I like get in the back door and like run up and take a shower, like throw my clothes in the laundry immediately. It's just a nightmare. So whatever. It's my, my, my particular brand of talents. It's for my clients.
Until next week, be sure to rate and review us on Apple podcasts and listen to us on your favorite platform. You can also follow us on social media at IRSIpodcast or send us an email at idratherstayinpodcast@gmail.com We'd love to hear from you. Bye
Transcribed by https://otter.ai