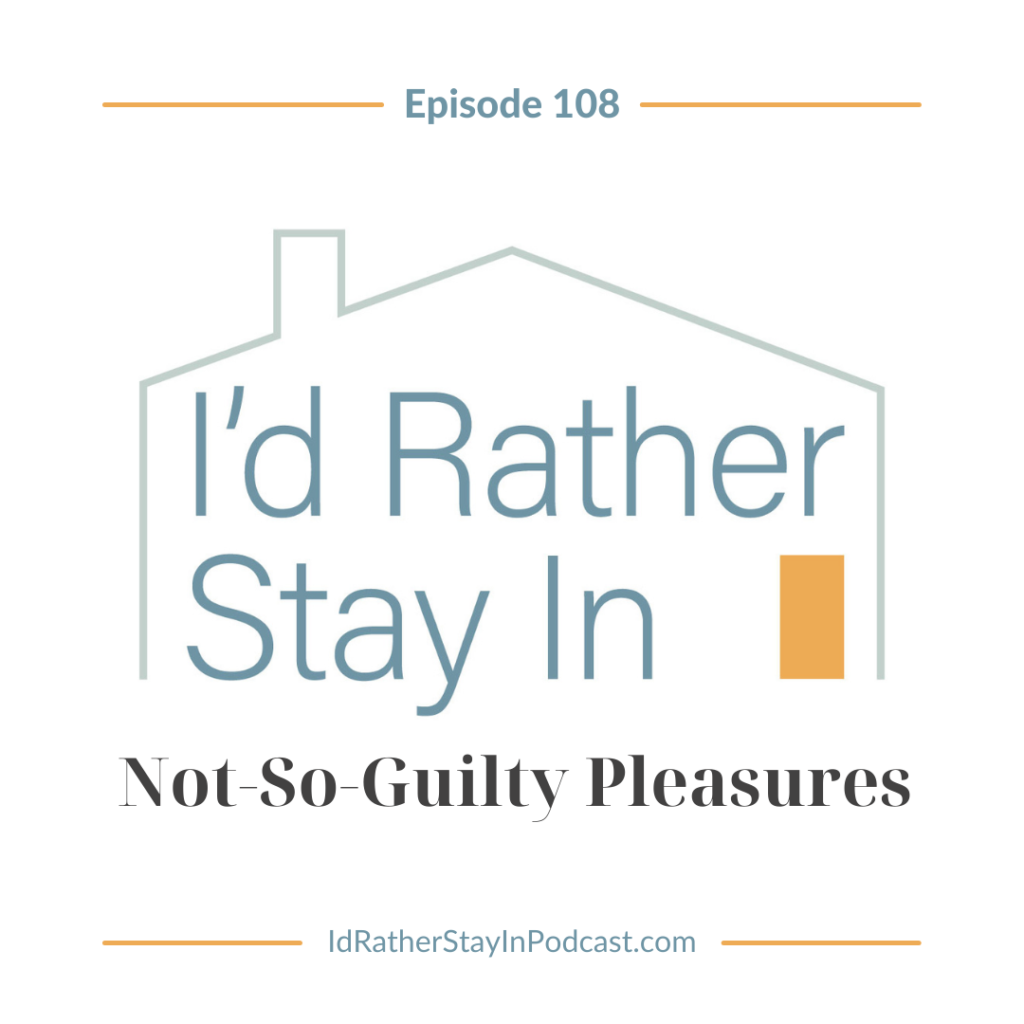 Hello! Welcome to episode 108 of I'd Rather Stay In. This week, we're dishing on all of our guilty – or not-so-guilty – pleasures.
Quick links
Episode transcript
Megan
Welcome to I'd rather stay in with your host Megan Myers and Stephie Predmore. This week we're chatting about our guilty pleasures. Stay tuned.
Stephie
Do you love listening to I'd rather stay in and want to support the podcast? Well now you can visit our website or the link in our Instagram profile and click Buy me a coffee or visit buy me a coffee.com/irsi podcast. For the price of a cup of coffee, you can help us cover the costs of creating this podcast. There are no monthly memberships and you could support us at whatever level you like whenever you like. Whether you buy us one coffee, many coffees or simply continue listening as always, we're so grateful for your support
Megan
Hello, hello.
Stephie
What's up megan?
Megan
Both of my children got glasses are
Stephie
so cute and their glasses. I will not tell them that I think they're adorable. And their glasses when I see them. I will just tell them I think that they look really good in their glasses. But they are adorable in their glasses.
Megan
They were so like at first they were like I don't want glasses. I don't want Max was not as much but Reese was. It's like glasses raw, which we have been tying them for years. Both of your parents previously wore glasses. You will definitely need pairs blind. Is
Stephie
that okay? Yeah.
Megan
And so Max gonna think from the school that said like, Oh, hey, we had like a test if you
Stephie
failed your eye tests. Yeah. Well, that's how they figured my knowledge. Cuz Yeah, like,
Megan
he needs to have like a real test, which is funny because we he had an eye test last year and they said he was fine. gives me pause a little bit. But um, so we just I said just have both of them go, I'm sure recently designs check to he always says he can't read certain things like, yeah. So they went and they have the same prescription. The glasses came in yesterday, and they come home and they're like, Mom, we were so blind. He wore them home. And then they would like take them off. Like on the car ride home. Like we couldn't see any.
Stephie
It's amazing. I'm like, it's like a whole new world to you guys. And
Megan
they're like, yeah,
Stephie
they're like, trees have leaves on, like individual leaves.
Megan
Like, wait till you go to school tomorrow. And you'll be able to like read the board. Because reset. Then he also said like, oh yeah, in math class. I sit in the back. And I can't read the board. I'm like, how are you?
Stephie
How did he make it to 14 without saying and he never
Megan
gonna say anything? I guess. I don't know. Oh my god.
Stephie
This is incredible. Well, I look forward to the report after school. Oh, my God, our friends have faces. Wow.
Megan
Yeah. Yeah. It's a whole it's a whole thing. But they were pretty happy with them. They they don't. I think I think it's you know, long gone are the days where it's been like, your glasses. I'm gonna be a nerd. Well, I mean, the
Stephie
so. And like, the glasses have come a long way since like, even like we were kids.
Megan
Oh, yeah. Cute style Max glasses are like, really frosted. They're really lightweight. And the frames are really thin, like blue metal. So they like look pretty cool. So if I was a kid, and I needed glasses, that would be very happy. Paint options.
Stephie
So I was making it I kind of made me giggle a little bit because Reese's look a lot like Alex's glasses. Yeah, he thinks Alex is just real cool. So
Megan
I told him that and he was is because I have a beard. I'm like, Yes, that's definitely why
Stephie
it's all about facial hair. You have Yes, yeah. Speaking of which, my hair my husband's hair is not like long enough that he can technically put it in a ponytail and I'm I feel about that. So real feelings about that. Like really wants to grow his hair long and I told him okay, fine, whatever, but you have to keep your beard trimmed short.
Megan
Yeah, that's one of the other Gansa cuz like a full mountain man
Stephie
right because like right now his hairs out a link that he like does need to trim his beard a little bit and so he's got this real like Game of Thrones-ian. Like I just like Oh, buddy. Yeah, that's fine. But he also has like really great hair. So he actually has like the perfect hair to wear along if you wanted to. Just like low key annoying as a woman like your frequent if you're like, freakin annoying, she have perfect hair. So I'm like, whatever. It's not a battle. I feel like fighting at the moment. So yeah,
Megan
Bob has really really wavy hair. So like whenever he grows at long it just ends up being a Farrah Fawcett-y. Like, Oh,
Stephie
do you know how Many people pay for that like a lot of money to get their hair to look like that. It's just rude. So I thought this week, we could just have a little fun and talk about guilty pleasures.
Megan
I had a really good dream about Chris Evans the other day, but I don't think that's what you mean.
Stephie
I mean, I don't know that we can't mean that. I'm just saying, like, that works. Um, Megan, what do you what do you consider to be a guilty pleasure? I mean, besides Chris Evans.
Megan
I mean, look, he just seemed like a really nice guy. It was just a nice, it was really just like a nice person. He
Stephie
just genuinely seems like a delightful human. Um,
Megan
so I will say, first of all, I don't really like the term guilty pleasures.
Stephie
I don't know that we need to feel guilty for our guilty pleasures. I wanted to talk about that. Like, do we need to feel guilty about that? I don't think so. I think so. Especially food. Like, let's be very clear when it comes to food. We don't ever need to feel guilty about the food we're eating.
Megan
No. Also, if you hear stuff, the dog has joined us for the recording today. My hair some sniffing snort written around. Yeah. Um, yeah, I agree. You shouldn't feel guilty about food. I hate that. You see, like a recipe like guilt free, blah, blah, blah. Like, no, I do not feel guilty when I eat food. Because I love food. Yes. And food makes me happy. So
Stephie
no, yes, exactly. Same. That
Megan
being said, it is a useful Descriptor to say guilty pleasures.
Stephie
So yes. If you don't know what you mean. Yeah, there's not really like a good alternate phrase to use that conveys the same idea. Yes. Because I was thinking about this, like, what else can you say?
Megan
I don't think that there's another term that really, really encompasses it. So yeah, like kind of stuff. We
Stephie
mean, socially, are saying guilty pleasures, but we don't feel guilty about it.
Megan
Right. Um, I would say definitely, like watching a lot of a show. Yes. Like, just can't like, I mean, I was not like our friend who watched all of bridgerton One day, two days, because I just I only watched it at night. So stuff like, like watching shows, like bridgerton or, like rewatching the good place or anything like that. That is something that I would consider a guilty pleasure. I think partially because, like, sure there are more productive things that I could be doing. But why but why?
Stephie
These These things make you happy. See, I don't know that I would consider like I thought I did. I did power to Richard said not quite as fast because I had to work with Friday and Saturday nights at the restaurant, but I did I finished the last episode last night. I've many thoughts. I'm mostly how do they make the season both as as odd I put it both more chaste, and also dirtier than the first season? It's, it's okay, anyway. Um, they're just so beautiful together the leads were just so beautiful together. Um, I just want to look at them. Like it just um, I would consider in terms of like TV, like the bachelor franchise is definitely guilty pleasure for me because I know I shouldn't like it because it's horrible. And yeah, I for the most part quite enjoy it. A lot of reality TV falls into that, like love is blind. You know how I am about my reality TV? I don't there's certain reality shows I'm not into like I'm not I'm not a real housewives. Like I'm not into any like the Bravo shows really. I'm more into like the bachelor some of the Netflix reality shows. And I definitely like I'm like, This is terrible. These are terrible. I should not like these. And yet. I enjoy them.
Megan
I mean, there is a reason why they are so popular and have been running for so long. It's so you're not alone.
Stephie
I am definitely not alone. This is correct. This is correct. Yeah. So I don't know. For me, those are more like my guilty pleasure shows. Or even like, like there's some shows that are on I've been on Netflix that are just objectively not good. And yet I'm like, I'm still watching it. I don't even know sometimes I get to the end. I'm like, did I even like this? Can you think of one a Jenny in Georgia.
Megan
I watched Oh, I couldn't I couldn't even get to the first episode. I watched the
Stephie
first hole For the whole first season of it, I thought I got to the end I was like, did I just enjoy that? really unsure I don't know that I would watch another season maybe I would. I don't even know I just got to the end I was confused about how I felt.
Megan
I think that was like that with like Mad Men when I think it was, you know, maybe halfway through the series where I was watching it and I like I really enjoy like the costumes and the whole like, oh, the set decoration and all of that part of it. I'm like, these are all terrible people. Sir
Stephie
why? Right. There's like no character where you're just like really rooting for them. Because yeah, well just Loki, Taro.
Megan
And it was kind of like, down down. Now we kind of turned into that to where I was like, I don't like anybody on this show. And the plot is kind of stupid. Now. Why am I watching? I ran its course. It did. Yeah, I couldn't even watch the movie. Like I fell asleep.
Stephie
Yeah, I cuz I recently I like not to like maybe in the last couple of years did a rewatch on Downton Abbey. And I only made it partway through the last season, I think and I didn't make it to the movie. Like I just like trickled off. Yeah. And I don't know, at some point, I was just like, Nick.
Megan
Oh went downhill when they got rid of Sybil. Who's the most interesting character on the show?
Stephie
Yes, that was and they got rid of her pretty early on. It was definitely. And then they killed off Matthew. And then it just really just was like, Well, okay, yeah, kill the people off and you should have kept them.
Megan
Oops, yeah, you kept the worst sister.
Stephie
I had the same I have the same problem with How to Get Away with Murder. Like,
Megan
I never watched that one. It's, it's that
Stephie
one is it's a it's a Shondaland show. And it's, it's one of those where, you know, those shows for like, the first season is really interesting. And then by the end of the first season, like you think they've solved their problem, but then they just keep getting themselves into more and more problems. And you're like, I don't know how you're going to get yourself out of these problems. And like the problems just like keep sort of just like re circulating. So that's this almost the same thing every season.
Megan
have kinda like scandal.
Stephie
Yes. Yeah. Very similar. Yes, I
Megan
have the first season. The first season of scandal was amazing. And then after the first season, you just like
Stephie
yeah, I think I made it through like three or four seasons of How to Get Away with Murder recently. And then I just sort of like trailed off because I was like, Well, this is getting less interesting because at some point, I guess you guys have to get yourselves out of all of your predicaments but I'm not sure I'm interested in getting there. I don't know. Yeah, those those are definitely shows where I'm like, I still like you started off so strong. And now I'm not sure I can consider this good anymore. That's why the shows that end well are so rare, right? The good places and the Jain divergence of the world are so rare. I mean,
Megan
if you're making the money, I guess you know, you want to keep making the show. So
Stephie
true. That's true. What what would be some guilty pleasure movies for you?
Megan
Oh, hmm. That is a good question. I feel like I don't even watch movies that much anymore. It's all it's all shows are like limited series nonsense stuff. Ah,
Stephie
we can't say the Twilight was a guilty pleasure because we don't know that. I enjoyed it. But we maybe felt guilty about watching it. I don't know. We're conflicted.
Megan
I honestly cannot think of one right now. I'm trying to think because like, my favorite movie is Amelie, but that's not like a guilty pleasure. That's
Stephie
just that's just a pleasure. Yeah. For me, it's it's ones like it's like a lot of like early 2000s like teen movies. Oh, she's the man
Megan
one of my husband's most favorite movies ever is can't hardly wait. Yeah, like stuff like that. Or you're just this was on TV the
Stephie
other day and watch one anything with beverage anything with Amanda Bynes in it? Like, absolute guilty pleasure? Yeah, I like that kind of stuff on like, these are objectively bad movies. I rewatched. John Tucker must die recently. I just so really had and it's just really it's so like, not only is it a bad movie, it's just like, low key kind of high key offensive and a law. Yeah, I'm like, Oh my gosh, this movie would never get made now. But
Megan
it's so funny to me because I know there were tons of like, bad movies made when I was a teenager but like, you and I are not that far apart in age, but like the age difference in terms of when we were teenagers and when all these movies were coming out like when you say like you watched all the Amanda Bynes movies like that was a little bit past you passed. Yeah. And I feel like they just got like, during that period, they were just really really bad. Horrible. And when I was a teenager, we got like Romeo and Juliet. We got clue.
Stephie
You got like, good one cool classic. Yeah. Good movies. Yeah. Like maybe they weren't considered like good when they came out. But now they've like because of this like cult classic following.
Megan
Yeah. One movie that was we were talking about with our friend Caleb a little bit was the movie teen, which, which is definitely a guilty pleasure, because not good.
Stephie
But I haven't seen this one. And it might need to be like on our next edible evening viewing.
Megan
I still think that needs to be showgirls, because I have not seen that. And I do enjoy. But it is it's it's the timeless tale of a girl who learns that she is descended from a witch
Stephie
I read the story that has been replayed over and over so many times that
Megan
it was made in like the late 80s or the early 90s. And so there's like they're trying to like work in the popularity of hip hop into it. And like the wishes. When she's old. There's only like, it's the teenager, it's not the witches, but it's just a lot happening. And it's amazing. And everyone needs to watch this movie. Similarily the craft also is a movie that you need to watch it it's a very different vibe. But also as you re watch it, you're like, What? What was how there was a point in the craft where it's movie is super old. So I don't care if I'm spoiling anything. Where the crazy lady's stepdad dies, and he has like a life insurance policy. And the life insurance policy pays out like, I don't know, like $250,000 which I guess obviously in the 90s Like that was more money. Yeah. But I still remember the time when I watched it. I was like, that's something it's a good amount of money, but it's also like not a ton of money. But they go in like, either rent or buy like this crazy, like a penthouse apartment. You get all this fancy furniture and I'm like, What? What did that is not how money works. That's not how it works. But like you're gonna be out of money tomorrow. Yes. It's not what you're supposed to do with it. Of course. That's the thing we're like fixate on like it's fine that like snakes are coming out of the walls. That's totally normal. But this money thing but you properly have to live on that lady.
Stephie
Oh, Megan, your mind is such a special place. I love it so much. Sidebar. I just got a text that my Instacart shopper replaced chopped dates with cherries.
Megan
Um, uh huh. Yeah.
Stephie
Not the same thing. Uh huh.
Megan
The other day our friend said that she had her Instacart shopper replace whatever salad dressing she was asking for with salad cream. Yeah, like the British salad, salad cream. And I have a lot, a lot of questions because first of all, not in the same aisle. No, they're in like the import aisle. Yes. And also, you know how many I mean? I'm sure everyone listening has been to a grocery store. Do you want me kinds of salad dressing
Stephie
yet? You can even be like a small grocery store. And they're still like a huge like, oh, like a 50 kinds of sounds. Like you if you don't have the poppy seed dressing. There is a another poppy seed. Like, there's it's not like there's not going to be any salad dressing whatsoever. I also had the same questions like What journey led this person from the legitimate salad dressing aisle to the Import section of British salad cream.
Megan
It's a lot to unpack in my brain in it. It's too much to think about, honestly, because I cannot I can't figure it out.
Stephie
Yeah, so apparently I'm getting dried cherries instead of the chopped dates that I needed. So I will be making a detour to the store on my way home today to buy chop dates for the recipe.
Megan
I used to consider Instacart a guilty pleasure because it made my life so much easier. However, things like this, make it so not worth it for me. I
Stephie
It was like, Okay, I'm going to save time. I just don't feel like running to the store. This is gonna be while I do this while I'm recording the podcast, it'll be great. I'm like multitasking. And now it's just cost me extra work. And now I'm annoyed.
Megan
Yes. The only way to get around it is that the only thing that I can do is go in there and be like, like, you have to go in manually to each item and go do not replace
Stephie
Exactly. Well, and it like didn't cue me because it had like three things that it was like, Oh, we're running low on three things, like and so I chose the replacement, the very specific replacements for those three things and the dates were not one of them, which leads me to believe that the person had no idea what they were looking for. Oh, for
Megan
sure. I can guarantee you the grocery store has dates, whether or not they are chopped. They will have dates. Yes. In the produce aisle. Yes. By the bananas.
Stephie
Usually by the bananas, or by the bananas, but yes, they are usually by the bananas. No, no, no little plastic container. Yeah, yeah. Uh huh. Yeah, well, anyway. Yeah, I agree with you on the Instacart guilty pleasures, and now it just enrages me. So I only I, I should probably just cancel my subscription to it. But I paid up through like another eight months or something. So just keep on keeping. For now, I don't know my goodness. Um, okay, so we don't feel guilty for anything that we eat. But for this again, for the sake of understanding what we're talking about
Megan
food that you should not like, but you do. Yes. And he's mac and cheese.
Stephie
Oh, 100%. Um, last night, it was Marco Polo, queen with Kathleen and Ade. And Kathleen was making her kids a box of Annie's mac and cheese for dinner. And she like set her timer for, like 10 minutes. And I was like, oh, it's only eight. You should really only be used for eight minutes cuz otherwise gonna keep pushing because if you and if, unless it's the shells because the shells there'll be slightly less mushy. But if it's the elbow then you only need like six minutes and then I go I clearly have made way too many boxes of Annie's mac and cheese. The fact that I can rattle all of this off to you off the top of my head is maybe a problem.
Megan
I think it's fine. He didn't you need to know the standard cooking times of macaroni and other kinds of pasta. I think that's totally normal. As someone who cooks a lot of pasta,
Stephie
noodles, um, the other day, on the way home from work, I had the most intense craving for McDonald's french fries. And so I went through the McDonald's drive thru and got McDonald's french fries. I like don't eat pretty much anything from McDonald's except for French fries, and sometimes a coke because their coke does taste different. But yeah, those are I'm like I they're, they're ridiculous. And I shouldn't love these, but they're very good.
Megan
Sometimes I get a craving for also, almost never eating McDonald's pretty much only like we'll eat it on a road trip sometimes for breakfast. Yeah, because their breakfast food is pretty solid. Yeah. In terms of like, you know what you can get on the road? Yes. Um, but sometimes they get like a really mad craving for chicken nuggets with honey. Hmm. Because I like that's what I would eat when I was a little kid. And like, there's just something about the way the batter that they use on the chicken with the honey is
Stephie
like it's a solid. It's a solid pairing.
Megan
It's a solid solid parent and sometimes you just got an itch that
Stephie
yeah, have a chicken nug Yeah. McDonald's fry. I mean, I like there's other fast food like we don't eat a lot of fast food but there's other fast food places that are like my like go to because they I know that they won't make me sick because I do have a problem with like fast food. Yeah, my stomach. But McDonald's fries are still pretty much the winner for me. They're just like the right they're like kind of skinny. They've got the right saltiness.
Megan
Yeah, a lot of places are still good. Don't really salt their fries.
Stephie
It's so it's the most disappointing thing ever. If you're like, especially if you're on a road trip, and you feel like pulled away from the drive thru, and you reach into your fries, and there's like, No, they haven't salted them at all. That is the most disappointing thing that could happen to a person. Well, you and I can really How's a can of Pringles.
Megan
That is true. And again,
Stephie
like, first of all, they're not really potato chips.
Megan
They're potato crisps, I believe, or something. I have to call them something specific because they are not a slice of potato right?
Stephie
They've been like, read forms of like a mash. About Your like this shouldn't be good yeah I can't stop eating them like once I get going that whole can will be gone oh yeah like I can't I can't keep them in the house the other thing that I have a hard time keeping in the house is cheese it's like boxes of cheese it's will just disappear in no time flat
Megan
I mean that's because of my kids I can't have a we don't have cheese it's I mean we do have cheese it's like my son we like half the box in a city and then the other half the box the next city I mean it's only because he'll pour them into he smartly pours them into a bowl.
Stephie
I do now but
Megan
a big bowl and yeah, fills it as high as you can. Yes. And he's like I only took one bowl like you're using a cereal bowl. So
Stephie
I mean if you cut the pie in half it's only two pieces right? Okay.
Megan
Um, I will say pretty much anything sour cream and onion flavor. Oh my god the best. Oh, sorry, kind of sour cream and onion chips are the best chips. Hands down. Also, the heb variety of sour cream and onion chips is 1,000% better than the Lay's version and I don't know how it's just so much better.
Stephie
This the second to that for me are the cheddar sour cream flavor.
Megan
Would you like those are so good? Yeah, I do like those a lot.
Stephie
I get very excited cuz I never buy them for myself. And I get but I get very excited when I go to like a party over there after them. Yeah, like the variety pack. Yes. Yeah, like Oh, yes. Yeah, the variety packs of chips were like they have all the good flavors and then there's like just the plain potato chips and no one takes the plain ones.
Megan
You know what I would say is a brilliant move on Frito Lay as part is that they started making different kinds of variety packs. Yes, so now there's like a Doritos variety pack. There's a cheddar variety pack there's a spicy variety packs, you can choose which one you want so you don't get stuck with the plain potato chips.
Stephie
One of our one of our quote guilty pleasure foods that we like to do at home is make nachos with Doritos. Solid. We used to we used to do have to eat regular tortilla chips and then have to read O's. And it's one of those where you're like this is I'm going to have heartburn. I'm going to have heartburn after this and I don't care.
Megan
Yes, I will say one year we took that to the next level. And we made nachos I don't recommend this we made nachos using talkies
Stephie
you could ever resist birthday when you're ready for my son's birthday because
Megan
he that's what he wanted. He wanted nachos with like queso and talkies that's what we did. And it was great but it was also terrible
Stephie
terrible idea afterwards you wanted to die truly what your what your kids guilty pleasures are as anything from Taco Bell
Megan
oh my god kids love Taco Bell so much not I mean Max likes it but Reese just like every single moment yes we're having for dinner and no matter what I say he'll be like Taco Bell Taco Bell
Stephie
I've written so it's true every time
Megan
he I got him a gift card to Taco Bell for Christmas. And he he actually like used it we he spent some of it on food for like the rest of us which I thought was really nice because I was like oh like you could have saved you know the rest of this and had like a second meal and he's like oh well whatever cuz I guess whatever you ordered ended up costing like $12 because he orders so much food because it's
Stephie
$12 at Taco Bell's menu
Megan
it was like a a box situation
Stephie
oh yeah one of those giant like variety box things he was like yeah variety
Megan
packs that comes with like a kind of like a chalupa and tacos and nachos and a drink and they also ordered something here like a chicken case of DHEA on the side. Which costs it's actually one of the more expensive things on their menu. So yes, they he loves Taco Bell so much I don't get it. It's weird like I guess I like talk about when I was a kid but yeah, he really loves it.
Stephie
And just thinking about it makes me need to pull my pants. Like it's just not that's like what that is. That's like the what like one there's a couple like fast food places I can never ever eat. That is one of them. I cannot eat Buffalo Wild Wings like everything from Buffalo Wild Wings makes me horrendously ill it did before I had all sorts of And it does now. Yeah. And I everything from Portillo's makes me horrendously sick.
Megan
Everything from five guys. Five cases okay for me weirdly Yeah, I don't know. I don't know what it is. If I eat like I could maybe eat like the tiniest possible burger that they have there I mean even their tiny burgers are like huge so yes. Yeah, a lot of things which have about like sometimes it depends on what it order but I'm also like, because I did like it when I was a kid so I'm still a little bit of
Stephie
little nostalgia about it but a little bit yeah.
Megan
I just had memories of like going to the mall and like getting talked about the food court.
Stephie
My mom and I because we lived in like a really small town that had an IGA and that was literally it. And so my mom and I would like every few weeks we would go into like the next town that like actually had like Walmart and Sam's Club and like actual grocery stores and stuff and like, do like a big shopping trip for the month. And we would like the the Walmart was next to Sam's and then there was a Taco Bell and so we would almost always like get Taco Bell for lunch. Because I probably because a it was convenient and be it was like dirt cheap. So cheap. So cheap, and we're super poor. So there's a little bit of like, talk about massager, but it's I can't I can't it was like
Megan
79 cents for our taco. And then I think nachos were also like, 70 they were they're like 79 cents or maybe even like 59 cents. Nothing so cheap. You could get like a whole meal for like $3
Stephie
it makes it makes the it makes the McDonald's dollar menu look like they're you're spending a million dollars surely really,
Megan
it's still cheap. It's not as cheap now, but it's still you know, inflation. Compared to like, I mean, we get takeout a lot and like, like getting sushi is like over $100
Stephie
Yeah. Not a cheap Yeah, that's like not a cheap meal. So for sure. For sure. Um, I have like guilty pleasure reads. I love Okay, so I don't like like, like Super Smutty like romance novels. Like I'm not like a Harlequin romance, right person. But just like, kind of somebody novels. I'm like, okay, like my mom and I both really like to read the like Janet Evanovich. Like Stephanie Plum novels, just because they were like, so fluffy. And so not intellectual. Like we would read something like really heavy and then we'd be like, we have to read something kind of, like we have to read something where there's like very low stakes. And you're mostly wondering, like, is she gonna sleep with this hot Guy?
Megan
Guy?
Stephie
I don't know. Maybe she'll sleep with both of them. I don't know.
Megan
That's like all of us do graphic novels. Like she I don't think she ever like it was all about the mystery. And only she never like really got an on with anybody. But there's always like a guy in the background, right? Like what's happening. And so definitely the same kind of situation. There's also a book. I could not remember what the series was called. But I was thinking about this the other day, for some reason. I really don't know why at all. But there was a series that I read that was sort of like it wasn't necessarily a romance, but it was like a historical fiction show. I love the word like I feel like it either started in Ireland or ended in Ireland and like, ended up in like Mesopotamia and they were like ride horses. So there was like about the Scythian people because they like tame horses and I don't remember why I was thinking of this at all, but I think I read them in college and I thought they were just like really amusing. Fluffy, not like super muddy, but like,
Stephie
I'm just like, just fluffy enough to be
Megan
enough and also, like still intellectual because they're based in history.
Stephie
Look at me.
Megan
Do you have like a guilty pleasure like music?
Stephie
Um, any boy band stuff?
Megan
I saw I was gonna say that, like, I've never I was never into like, Backstreet Boys or insync or anything. They were just saying laughter Well, yes. But also No, but also, I was an intern because on the block either, okay, when that came out, like everyone else around me, and I was like, Hey,
Stephie
how am I gonna be like, everyone else likes it. So I don't.
Megan
I was probably a little bit like, these guys are really old and we're like, 10 guys. Um, but the other day I was listening to Spotify. They do like, you know someone to artists radio so it's like music that's like slightly related to that, like, if you like this person you'll like this music. And there was a lot of One Direction.
Stephie
There's actually yeah, their thoughts are absolute bops. Also like, now that I have a toddler, I like kind of really love. Like any of the the, like, Disney song remakes like or where like, like Panic at the Disco did there like the cover of like into the unknown from frozen to Oh yeah, just like fucking slaps Yeah, like any of the like pop punk remakes of Disney songs. I'm like, Yes, please. I'll take some more of that. This is great. Like, following. It's my like, teenage like my teenager ness and also like a toddler now. So this like, I don't know, it's very weird combo.
Megan
One of the reasons I enjoy big hero 6 a lot is because fall out boy did the soundtrack.
Stephie
It's great. It's great, like,
Megan
a movie that Disney does, but like they do great songs for
Stephie
Taylor Swift used to be a guilty pleasure for me. And now she's just a pleasure.
Megan
I mean, we could do a whole episode on Taylor Swift on the wrong the dirty that Taylor Swift was done. It's true. If you
Stephie
have not watched Miss Americana on Netflix. What are you doing with your life? Go do that right now.
Megan
I mean, there was also, like, we talked about how we, we both love Jameela Jamil a lot. And she has talked about how like we were all basically conditioned to hate Taylor Swift. And it's 100% True. Yes. So she is a musical genius.
Stephie
She's great. She's so talented. Yeah, it's great. And the red rides and workouts on red Taylor's version workouts on peloton are great. I have my little badge because I did so many of them. I think I think I do like three of them or something. And I did. I definitely did that. And I got my little badge, the major award. Which is fine, because I never finished the restorative yoga thing that I did. Because the guy was so annoying to me.
Megan
I mean, yes. You get I guess you have to do a certain number to give you for to get any of the badges. So
Stephie
yes, I think I think you have to like actually complete the program to get the badge for it. or some
Megan
such well, you can get like, usually the do like silver or like oh, yeah, I
Stephie
think there's like you can get like partial but that was only a
Megan
week. Well,
Stephie
I did get like a bronze badge because I did to the first two days. And then I was like because I thought okay, the first day, it was a fluke, it's gonna get better. And then I did the second day and almost died of boredom. And but like I had pushed through because I was partly into the workout and I have to finish it now. And then I was like, not worth it.
Megan
Bronze is the you tried.
Stephie
sort of tried. That's the most I ever again. That's like, let's be honest. That's that's pretty good. For me. When it comes to fitness. It's fine.
Megan
It's fine. It's alright. It's fine.
Unknown Speaker
Oh, man.
Megan
I was gonna say plants but plants are not.
Stephie
They're just a pleasure, just
Megan
a pleasure, or just a pleasure. I
Stephie
don't feel guilty about my plants.
Megan
Also, as I was saying, via text the other day, the amount of joy that my lipstick hoya plant has given me
Stephie
guys, guys. She has this plant and the flowers. Only some of them though. Only some
Megan
of them. It must be like a male female.
Stephie
But like there were like two of the flowers on this plant of the many, many flowers that just straight up looked like dicks. They really did it like that. There's just no other description for what these flowers ended up looking like big red dicks. It was really inappropriate. It was
Megan
yes. Because it just kept getting bigger. And I was starting to like be slightly concerned.
Stephie
Like what is wrong with my plants
Megan
because I got flowers on this plant before and they were just like normal flowers and they looked normal. And then I started getting lots of flowers on it, which was very unexpected, because I didn't really realize that they would do that. So apparently the plants very happy with my neglect basically,
Stephie
it was happy to show you how happy it was.
Megan
And it turned out like just like a little bit and then it just keeps getting longer and longer. And I was like oh my god
But the whole process has definitely brought me
Unknown Speaker
a lot of joy just laughing Oh god, yeah,
Stephie
that was a good one. Bless. It's less it's a little hard. Yeah, I seem to Okay. I really enjoy going to the zoo, but I always feel a little bit guilty about it because the animals do look sad. I'm conflicted about zoos. So that's yeah,
Megan
you know what the pleasure activity? I'm conflicted about zoos. I'm also conflicted about museums like History Museum. Yeah, DMS. I went to the British Museum when I was over there. And if you guys don't know, a lot of stuff in the British Museum is stolen. Which you would know if you'd watch Black Panther. Right. But also just in general. So it's very conflicting because it's like you're learning but also.
Unknown Speaker
Yeah. Yeah.
Megan
How can we do this better? Um, yeah. Yeah. With the with the zoo is especially. Because usually, when you go to a zoo, like you're not always you don't often see the animals like in their prime time, like they're happy and playing like they're almost always asleep. First of all, yes. Um, and some of their enclosures look really sad, or really small. And I know a lot of the animals like have never lived in the wild. They were rebuilt, like they were rehabilitated or they're born in captivity. But it's a lot like, makes you think of a lot of existential questions. Yeah, humans and how we screw things up.
Stephie
Yes, yes. Yes. Yes. Yes. Yes. That is absolutely the case. So yes, yes. That that I always like, Oh,
Megan
I do also recognize there's like no other way. I'd probably see a lot of these animals.
Stephie
I know. Yes. It's a whole thing. Yeah. It's a whole thing. Yay. Yeah. Alex hates zoos for that reason. Yeah, I do sometimes make him go because we have a child who loves animals. Yes.
Megan
So loves us. They're fun. And I think if you go to zoos that like, you know, do a lot of conservation work. And like they do work really hard. Yes. To take care of the animals. Like we went to the San Diego Zoo. And that was really nice. And they have a whole separate, like, like a reserve or something. I don't know exactly what it's called, where they like, really, like, take care of the animals and like, have them be out in the wild or whatever. Yeah. So there are places that are trying really hard. Especially like, I think she things have changed a lot in the past, like 2030 years, and zoos and aquariums and things like that where like people are definitely more aware.
Stephie
Yes, I do think that that is true. Yeah. Yeah.
Megan
That's what reminds me of a meme. I saw the other day of how in the 80s Everyone wanted to be a marine biologist. And they didn't and someone was asking why. And the picture that it would company it was a Lisa Frank image of two adorable dolphins lying to the air and brightly colored dolphins. Yes. I mean, the chokehold that dolphins had in the 80s and early 90s I swear to you, I don't know why we were also obsessed with Duff dolphins. Lisa Frank is only partly to play.
Stephie
I mean, now it's now it's like mermaids and llamas.
Megan
I have a mermaids are real.
Stephie
I know. I'm like less weird, but then there's like the llama thing now but I do love llamas. So right it's I'm also like, well, I also can't fall llama stuff because I will buy it all because it's funny how trends come and go.
Megan
There's probably like so many like 45 year old women wandering around with like little dolphin tattoos. My goal
Stephie
is sure that they got like the minute they turned 18 Yes, I am positive that that is the case.
Megan
So when I was a kid Yes, for sure gives me pleasure. Dolphin
Stephie
dolphin. Oh my gosh. Yeah, cuz you're just like, oh, I want to go swim with the dolphins and they're so smart. They're smart
Megan
like people right? Love me,
Stephie
right? That's just not what you writing it.
Megan
I blame seaQuest the TV show where they had a talking.
Stephie
Oh. I'm sure that that did not help.
Megan
He didn't talk. He had like a little thing hooked up. So he talked Yes. Like, you know, yes, but that was part because we were all in love with Jonathan bright, nice. And he tended to be talking with a lot of memories coming up to the surface
What's bringing us joy?
Stephie
of childhood guilty pleasures. Oh my goodness. Yes. Greed, greed. Megan, what, uh, what's bringing you joy this week?
Megan
Um, I got a new pair of overalls. Ooh, great. I like them a lot.
Stephie
Where are they? What you're getting from?
Megan
I got them from Tom lay. They are a store that makes clothes out of reclaimed fabric from other clothing warehouses and things. So their clothes are made in Cambodia. And they like source all the materials from other, you know, whatever other clothing companies are, like, in Cambodia. So like, it's not even, it's not like bad fabric or anything. It's right. It's like cotton and linen. Right? Um, so for whatever reason, this fabric was like no good to those people. So they just reclaim all this fabric and sneaker clothes out of it. And there are they're soft, and I really like that it's sustainable. And taking stuff out of the landfills, basically. Oh, yeah. And also, I really like that it has like, the way that you like, fasten it. It's like just like a I don't know what the part that goes over the strap. strap is the word you're like. It doesn't have like buttons or like buckles or anything. You just like put the slap strap through the hole and then tie a little knot. Oh, nice. Yeah. Which makes it way more comfortable. There's no like metal pieces, right? Metal and
Stephie
then you can like make it the right whatever length you kind of want to Yeah, right.
Megan
Yes. So much easier to adjust. Because you just tie it when you put it on. Yeah. And it's just, it's really nice. I like it. Green color. Oh, so I'm excited for it to stop being cold winter again. Yeah. And I think, Megan
Stephie
earlier that we're in that part of spring where I still have not put my winter coat away, because I'm a little too super superstitious for that. But I also refuse to put it back on. So I just have my like, more like, it's like a warmer jacket, but it's not my winter coat. And I'm just making do with that because I fucking refuse.
Megan
I mean, you never know when it's gonna snow again. A real thing. Yeah.
Stephie
It's true. It's true. Because our Easter and our wedding anniversary is coming up. And those are things that I like, but you could be snowing on either of those days. True. Honestly, any point in April, you just never know, bless
Megan
my children who constantly, constantly like for for years. It's not even like we move to Illinois thing. It's it's just a thing that they feel the need to ask me. Every time we have like two days of really nice warm weather. And then the next day drops by like 30 degrees. And they have to be like, Why is it cold today? And I have to explain that it is weather. And it doesn't just constantly go up
Stephie
tell you how weather works.
Megan
So I told him I told the teenager that if he asks again, he will have to write a three page paper on weather and weather patterns and climate and how all of that works together and how it's not just like it's spring. It's supposed to be warm now. Yes. Bless what is bringing you joy.
Stephie
Um, so one of our friends, she is she dates she just like online or you know, app dating. I don't know what that gets called these days. And she has this very specific problem that is honestly kind of funny to me because it's so opposite of like what Most women experience in their dating lives. And that is like she will go on like a couple of dates with someone and then they will like, proclaim their undying love to her. And she hasn't had this happen in a while and she was like messaging me and our other friend last night it was like it happened again, like I was on a date with everything going on with this guy and like it's fine. But I all of a sudden I looked at him and I go, Oh, no, no, he's about to profess. I can tell. And I'm not feeling it. So she had to, like change the subject real fast. And I like I genuinely couldn't stop laughing because I was like, this is like the exact opposite problem. Like, I listen to these podcasts where like, these women call in for advice, and they're like, he just won't say I love you back. And they're like, Honey, he's just not that into you. And I'm like, You are like the exact opposite. Like, I can't get them to stop saying I love you and I'm not into them. Anyway, so not to, you know, derive joy from our friends dating woes, but also, it just made me laugh so much. And it was very funny, just like her say going, I did it again.
Megan
I mean, stop was been so amazing and interesting.
Stephie
I know. I was like, Well, you're a baby. So I mean, it makes sense. But also, just like, I gotta break up with this one, too. Before professes his love to me. Anyway, so give me a good giggle last night.
Next week's episode
Megan
We'll be back next week with another new episode.
Stephie
Until then, leave us a review on Apple podcasts and follow us on social media at IRSIpodcast. You can also send us an email at idratherstayinpodcast@gmail.com We'd love to hear from you.
Megan
Bye
Transcribed by https://otter.ai