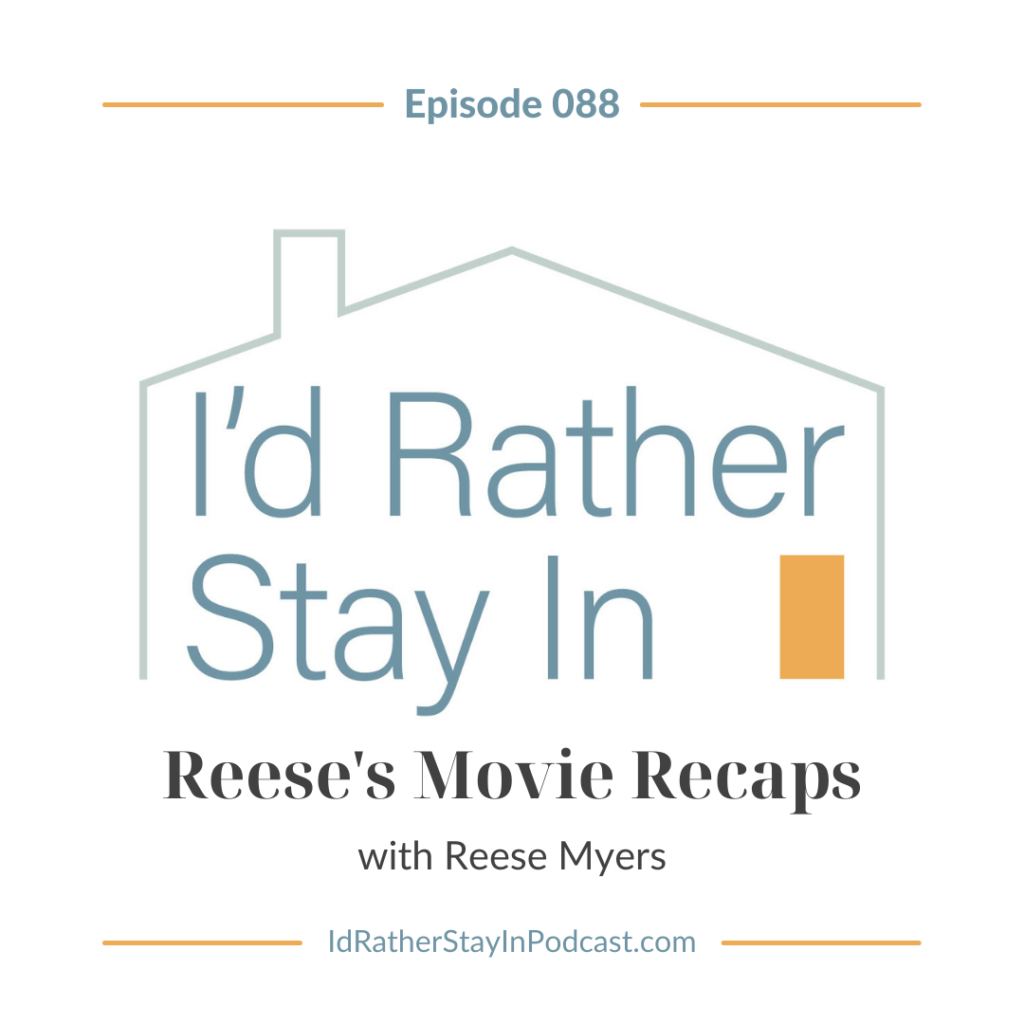 Hello! Welcome to episode 88 of I'd Rather Stay In. This week, Reese is back and recapping movies for us.
Quick links
Episode transcript
Megan
Welcome to I'd rather stay in with your hosts Megan Myers and Stephie Predmore. This week we're chatting about movies with our special guest Reese Myers. Stay tuned.
Stephie
Do you love listening to I'd rather stay in and want to support the podcast? Well, now you can visit our website or the link in our Instagram profile and click Buy me a coffee or visit buy me a coffee.com slash IRSI podcast. For the price of a cup of coffee, you can help us cover the costs of creating this podcast. There are no monthly memberships and you could support us at whatever level you'd like whenever you like, whether you buy us one coffee, many coffees or simply continue listening as always, we're so grateful for your support.
Hello,
Megan
hi, Stephie.
Stephie
beggin I had a very frustrating experience today. I was like you know what, I'm gonna go get my flu shot. And I looked it up and the Walgreens right by our house had plenty of appointment slots. And I was like, Okay, I'm just gonna go get it while I'm thinking about it and made an appointment, submitted all my stuff. Got to the Walgreens was like, Hi, I have an appointment for a flu shot at 230. And they were like, Oh, yeah, we're not doing any of those for like another couple hours or so like, come back later. I was like, but I have an appointment in 10 minutes. And they were like, Well, I mean, you can make an appointment, but we just do walk ins. So I just stared at her. And I was like, I have an she's like, well, we're really backed up and like our pharmacist, like hasn't had lunch and we're just really backed up and yeah, you can make an appointment, but like we just do walk ups. And I just stared at her. And then I turned around and I walked out. I
Megan
I don't see how walk ups will be better for being backed up
Stephie
then just right. Like, just take the people that have appointment times. It's very confusing. I don't understand it.
Megan
Also, I don't know. It's just weird.
Stephie
I actually have I like shared it on my Instagram stories. And I actually have a friend from college who messaged me and apparently she works. She works for Walgreens on their vaccine scheduling platform. And she was like, I'm going to share your story at work because this is unacceptable. I was like, oh, here's the exact Walgreens that was you can tell them which one it was. And she was like, Oh, I will. I mean,
Megan
thank you. If it's the one over by the Kroger, that's a pretty crummy Walgreens,
Stephie
it's, it's terrible, but also terrible. It's so bad, but it's the one closest to the house like what like all of my prescriptions have been there for years. Like at this point, I actually don't really know how to change all of my prescriptions to another Walgreens like or, like another pharmacy. Like that's not a Walgreens. So that's the only reason I just haven't because the task sounds too hard. And and so, but I had multiple people in my DMS that are like, Oh my god, I never leave Walgreens and like, not people who live in town, people who live across the country, messaged me messaging me and going I never leave a Walgreens not pissed off. Because they're so horrible all the time. Every time I have to have a prescription filled, they're terrible. Like, why are they so bad?
Megan
I feel like the one bar our old house was not bad. But they're not great. And it's not I mean, I understand apprenticeship press, especially probably working in a pharmacy. That is probably a really stressful job.
Stephie
Especially now and I know all pharmacists are really backed up like everybody's having issues like I've seen the TIC tocs about it I know but I just for this one in particular is just so irritating. But like there's not really a CVS that's particularly convenient how and I'm just anyway, that was my frustrating experience. But I have to like make a pediatrician appointment for Eden to get hers. So I might just say can you just do mine? Just take her that because I'm like, No.
Megan
Yeah, I think we're just going to try and pile everybody in the car and just trip all over to the doctor's office just runs through
Stephie
literally. Although another friend did message and say that hyvee is actually great for vaccines. So that is I guess an option. But anyway, I just had to discuss that frustrating like it just made no sense. Like if you're backed up to Take people at their appointment times or make them wait. If they don't have an appointment time, like, duh. I don't know. Logic just did not prevail there. How are you?
Megan
I'm good the other day. Apparently I was very aggressive in undressing myself to put my pajamas on. And I scratched my leg to the point of bleeding,
Stephie
girl. I have questions.
Megan
My nails aren't even that long.
Stephie
You're like, I just have to get out of these pants.
Megan
I don't know what happened. I just I've just taken about into all of us and you're just like, we're like, so much pain. I was impressed with myself. I suppose.
Stephie
You're like, Is there an award I can win for not being the brightest.
Megan
injuring myself, it's fine. It's funny, because I was thinking today I'm wearing jeans that like, you know, have the knees cut out or whatever. So I could have been seen it all day, staring at you. There's There's my wound that I gave myself.
Stephie
Oh, bless your heart.
Megan
Yeah, I mean, you know, when I was a kid, I was always like, maybe someday I could be a dancer. But obviously, I have no grace at all, although maybe if I had become a dancer, I would
Stephie
write like maybe if you'd gotten in dance classes young enough.
Megan
Yes, I would not do weird things like this or like be one of those people who turns a corner and runs into it.
Stephie
Yeah, I do that a lot. Although, although I saw Tick Tock that was saying that a lot of times like, because I just always have random bruises that I don't know where they came from. And I saw Tick Tock that that is actually extremely common and people who have ADHD and there's like a reason for it that I can't remember right now because I have ADHD. Um, but yeah, it's like a thing. And I was like, oh, there's a reason why I'm just constantly covered in random bruises. And Alex will be like, babe, that's a really bad bruise. Where did you get it? And I'm like, I straight up don't remember.
Megan
Interesting. So yeah, I do that I used to get bruises a lot more often, actually. So maybe I'm getting better.
Stephie
Or you're finally learning some spatial awareness.
Megan
Perhaps the bruises were never like in the places where I know that I hit myself in the corner of a wall or something, though, so.
Stephie
Oh, no, no, the mine. Mine are usually all over my legs. I'm like, What? I don't I don't know where that came from. I don't think it came from my 10 pound cat jumping on me in the middle of the night.
Megan
It could be actually.
Stephie
I mean, maybe my sleep deprivation definitely comes from my 10 pound cat screaming at me at 5am for no reason. Bless. plus, plus plus. So you guys, our listeners really enjoyed our episode that we did with Megan's son, Reese. So we've brought him back.
Megan
Yes, he's been begging to come back. And the other day, I discovered that he has this I'm not gonna necessarily say talent
Stephie
was an anti talent.
Megan
He has a very interesting way of describing movies. So we thought we would have him come on and tell us about some movies that he has watched.
Stephie
And we're going we're gonna fact check him while he talks. Just in case, just in case like we're gonna pull up like the Wikipedia page of the movies we're talking about, just so that we can be like, I haven't decided if I'm going to throw in like a noise when he gets something wrong, but we're gonna we're gonna see if you guys all enjoy how Reese describes things.
Megan
So welcome, Reese.
Reese
Hello, thank you for having me again.
Stephie
Welcome back. Actually, I was trying to think of when the last time you were on and I'm pretty sure it was pre pandemic. Um,
Megan
I don't think it I don't know if it was pre pendant pandemic, but it was before we moved. It was at our old house, so it was more than a year ago.
Stephie
Yeah, it was definitely It was a while ago. I'm looking. I'm looking at that to see because now I'm just now I'm just
Megan
insatiable. curiosity.
Stephie
I do kill you. Well, yeah, it is. Wait, hold on, so Okay, so it was like, it was like mid March of 2020. So it was like, kind of pre pandemic. It was like right when we all thought it was gonna be like a three week thing.
Megan
Yeah.
Stephie
Oh those days. So that's to say it's been a while since switch it. Well, it's not been a while since we talked to Reese, but it's been a while since you all have heard from Reese.
Megan
Yes. You might have noticed his voice has changed somewhat. He's getting
Stephie
so big Reese. You're gonna be 14 in a couple of weeks.
Reese
I know. I can't wait.
Stephie
I just kind of feel so much older when you're 14.
Reese
No. 14
Megan
it's kind of a weird birthday here. Nothing happens.
Reese
Yeah. On my birthday. I never feel like I get older.
Stephie
Well, that's because it doesn't happen overnight.
Reese
Until that one day where I got taller than my freezer. When I noticed
Stephie
you just blinked you're like wow, I'm taller than this thing. spine when you turn 616 is a big one because then you can get your driver's license but thank goodness we have a couple years until that happens. Okay, so Reese, are you excited to describe some movies for us? Yeah, sure.
Megan
So the first one admittedly you have not seen however you were describing it to me the other day and I decided I had to include it into this next year. And I would like for you to tell us what you know about the movie Die Hard.
Reese
Well, I know that it is one of America's best Christmas movies there's a lot of action I'm pretty sure there's a bald guy that like lives in vents or something there's guns for sure. I think I think there's there's they're in a building and there's a lot of people that's all I can that's all I really know
Stephie
you know race I'm gonna be I'm gonna level with you that's about all I know about diehard as well other than other than Alan Rickman is also in the in the movie Snape Snape Severus Snape He is also he's the bad guy he's the bad guy. That is about all I know about diehard
Megan
I would not say it is the most beloved Christmas movie but that is a very much other discussion for another day. He doesn't live in event though race like we'll get to the bad guy. Because the elevators don't work.
Reese
I've just seen him a lot in event
Stephie
I'm gonna give this one to Reese say that he seems to spend a lot of time in vents and so it seems likely that he has taken some like naps up there at least. Just say it. I'm gonna give this was no
Megan
time for naps. I mean, he is trying to save people who are taken hostage. I don't know why I'm defending this movie. I
Stephie
also there's a lot of that.
Megan
Yeah, there's like, five plus five.
Stephie
Yeah, there's five of them. Reese Do you know who the bald guy is?
Reese
Bruce? Bruce, this does it start with the W his last name. Yes. Bruce Willie.
Megan
That's very close.
Stephie
Bruce Willis. Um, I it's, it's he also in 24. Again.
Megan
No, that's Kiefer Sutherland,
Stephie
whatever. They got similar faces.
Megan
I don't know what I do not.
Stephie
I'm really bad. actors are really bad actors. Because when you said you were when you were like saying that Reese described this movie, like, because it's like one of Bob's favorites. And he was describing it as like, yeah, bald guy lives in a bunch of vents. And I was like, trying to make it be 24 and I'm like, that's TV show, but I feel like there might be some vents involved there. I'm fucking now.
Megan
Also Kiefer Sutherland has like a lot of hair. Yeah,
Stephie
I know. Seems like a whole thing. Whatever.
Megan
Alright, so the next movie I I don't even know where to go with this just you started talking about it the other day. And I'm just kind of letting you keep going. And I figured out what the movie was as you were talking. And I want to see if Stephie can figure this out. You pitched it to me as either the How I Met Your Mother slash How I Met Your father, whatever movie.
Stephie
I'm hoping I've seen it.
Megan
I feel like you've probably seen it
Reese
yet. So the movie starts off around this, this girl that works at a train station. And she doesn't really like her job, or she's just really bored. But the highlight of her day is every single day. The most hunkiest chunkiest hottest man in the world. Always picks up the ticket and then goes to the train. And, and she's always swooning over him. But then one day, I can't really remember either he fell on the tracks, he broke a leg or something happened. That went wrong, and then the girl had to save him. They ended up in the hospital somehow. And the family was there. The family thought that the girl who saved him was his fiance. But she wasn't but she really wanted to be his fiance. So she played off as he actually was. But she wasn't then she
Stephie
This is while you were sleeping isn't it? Is it is while you're I've actually never even seen it, but I was like, Wait a second. I think this sounds like the plot of while you were sleeping. Good job.
Reese
Yeah, and then he gets she gets closer to his brother or whatever.
Megan
Yeah. Well, don't give it away of stuff. He's never seen it. I mean, I guess you could probably predict what happened it
Stephie
was 1995 if I haven't seen it by now it's okay. If it gets spoiled, and then they like it was made before race
Reese
was the brother of the person that she liked in the beginning. started being her idea.
Megan
I really appreciate that you describe Peter Gallagher as the hunkiest chunkiest
Reese
plot this plot plot twist. Can I see the plot twist at the end? Sure, sure. Apparently, the hunky chunky man is actually his fiance was someone who was already married. I guess it's not really like a plot twist. But it was a little surprising to the family members.
Megan
Wait, what? I forgot that part.
Reese
Yes, she was. She was already married.
Megan
The way she had been married or she
Stephie
is this is this is a fact I am on a big decision. This at this point, Peters real fiance, Ashley Bartlett bacon, who happens to be married herself. See what arrives and also demands the wedding be stopped. It seems like a very strange. That seems like a very strange plot point. Because I'm not really sure. I mean, I clearly have not seen this movie and I'm just reading the Wikipedia synopsis. But it's just like this like one liner. Like, she happens to be married herself no other details as to why this is important, or why they threw that in.
Megan
I mean, I have not seen it in probably 20 years. So I could not tell you.
Reese
There's also another scene in the movie, where there's a cat at his at the hunky chunky man's apartment. And there's a lot of cat food in the fridge. And the girl thinks that he owns a cat. But his brother says he doesn't. And it's actually the fiance's cat. Turns out. I remember that as well.
Stephie
The fiance who is married herself. Yeah.
Megan
Did you like this movie reads?
Reese
Well, I mean, sort of.
Stephie
I read you remember a lot of plot points about this movie. So whether you liked it or not, it's clearly it's stuck with you.
Megan
Did you watch it recently? I don't remember when you watched it.
Reese
I watched it. Before we moved.
Megan
Oh, so that was a while ago.
Reese
Yeah, I'm really good at explaining things.
Megan
Okay, well, your next challenge,
Stephie
we'll see you're only two movies in. Yeah,
Megan
you have to, you need to give a little synopsis of the matrix we had. There's a new one coming out with we all we all need a refresher, probably. So you just recently saw the first one. I don't think you saw the other ones yet. So, the matrix go,
Reese
I'm actually kind of scared about this one, because I don't really remember a lot of what the movie was.
Stephie
I'll be honest, I think that's sort of one of the key things about the matrix, as you can see, and then you're like, I don't remember much about that movie, right?
Reese
But here we go. So there's, there's this guy called Neo whose name isn't really Neil, I think, or maybe he says, His name really is Neo, but doesn't. It's illegal or whatever, but he sells computer drugs. And he doesn't want people to find him. And his whole life, he's been searching for this guy called Morpheus, which is like, supposed to be a super God or whatever. And someone contacts him, saying that he can find Morpheus. And he's like, oh, shoot, that's amazing. I want to meet him. I think, or always, it's the exact opposite. And he's like, I don't trust you. I can't remember.
Stephie
One or the other. It's fine.
Reese
But a little blank here. Well, somehow, they meet Morpheus, I remember they get kidnapped. He gets he gets kidnapped by a bunch of women. Then he gets brung to Morpheus, and he's like, blue or red pill. And he takes the, the good, I can't remember.
Megan
It's the red one, the red
Reese
one, he takes the red pill, and he gets transported to the real world, which is actually been taken over by aliens because humans were too selfish and made them too smart. And now they're, they have farms of humans, like corn. And we're like, where the corn kernels on the corn cob. So they robots plant us, and then they we grow and then we get used for power. Because they're, they don't eat us. Something, something power they get, they turn us into energy somehow. And, of course, that's bad. We don't want that to happen. But before we can stop that, Morpheus needs to train Neo. And so they go and do some kung fu fighting, training packs. And then not really and then but later on Morpheus gets captured somehow. Because there was an ambush by the agents, which are also super gods, but even more super Gods than Morpheus. But he gets Morpheus gets kidnapped, and everyone was really, really scared, because you can't kill an agent. Because they're invincible basically. And Neo was supposed to be the one, but he didn't believe it. But he tried anyways, and he got Morpheus and everybody believed that he was the one.
And then I think the movie ended, but I can't remember. See that movie I was really unsure about. I watched it So recently, as well. It's kind of embarrassing.
Megan
I feel like when it came out, we all saw it. And then we were like, what? just happened?
Stephie
It's one of Alex's favorite movies.
Megan
It's definitely one of those movies you have to watch more than once, I think
Stephie
Oh, really? 100% but like, it's also one of those movies like there's a handful of movies. No matter how many times I watched them. I cannot remember how they end. Like I can watch it 100 times and I'm still like, I can't ever remember how this movie ends like does something eat my brain? very unclear. This is one of those movies Yeah. All three of them
Megan
it's kind of open ended because they like you know have already planned the sequel when they made it so it's like an open ended ending where they kind of resolved things but not really yes I would like to know what computer drugs are
Reese
it seemed like he was dealing drugs but they were just looked like motherboards okay something such as he had like a Computer Chess like a bunch of bunch of wads of cash and he put it in a backpack and somebody rang on the door that looked like they would totally do drugs but they do computer drugs so it's okay
Stephie
Wikipedia describes him as computer programmer Thomas Anderson known by his hacking alias Neo Okay,
Megan
so he's probably selling like hard drive secrets or whatever
Stephie
something as a hairline he is quote puzzled by repeated online encounters with the phrase the matrix
Reese
basically computed rooms
Megan
okay. Would you like to hear the list of people who did not get cast as Neo I would love to hear this? Because I can't imagine it being anybody that Keanu Reeves now. So it was offered to Will Smith. What? He turned it down to make Wild Wild West.
Stephie
Oh sad for Will Smith.
Megan
It says according to Wikipedia says he turned it down because of skepticism over the film's ambitious and bullet time special effects. He later stated he was not mature enough as an actor at that time. And he would have messed it up.
This one would have been hilarious. Given his later trajectory, Nicolas Cage turned it down because of family obligations. The studio tried to get Brad Pitt and tried to get Val Kilmer they both said no. And then it originally went to Leonardo DiCaprio but then he changed his mind and he said he didn't want to do a visual effects movie right after Titanic
Stephie
so okay i in defense of all of these people uh huh minus maybe Nicolas Cage in defensive all of these people I will say that like I can only imagine like hearing the synopsis of this movie even when not done by Reese Myers himself. And like reading the screenplay for it would probably like make you raise an eyebrow and be like this was a little weird. Like I feel like you're definitely kind of going out on a limb with this one.
Megan
Yeah, but it's also the kind of I mean obviously it turned out to be huge.
Stephie
I mean yes, so like I
Megan
think it's kind of like the same movie where like when Ridley Scott was like, I'm gonna make Blade Runner and everybody involved in Blade Runner had to be like yeah, this sounds like a great idea. I think it's that kind of thing where it's just like so different from everything else and I'm realizing as I'm saying this you probably have not seen Blade Runner.
Stephie
No, I have not um, but people
Megan
who have seen Blade Runner would understand what I mean. So and I think try to think back to like when this was actually made what year was it?
Stephie
1999 because that's the year that Wild Wild West was made because I just looked that up spoiler alert it did not do it as well as the matrix
Megan
No, it did not. Yeah, he wrote a song for it so um, but like so 99 like obviously this was like there were blockbusters but it would this was before all the like all of you know obviously all of the Marvel movies and all the like super super special effects movies and all of those things. So it was definitely like most like a turning point in cinema.
Stephie
Yeah, you know, we did they did stuff that no one had ever done before. And I mean to like Leo's in Leo's defense, like Titanic did a lot of things that no one had done before. He was probably just tired. He probably needed a now coming off of Titanic and then doing the matrix would have been very exhausting. So he probably was just needed a nap.
Megan
It would have been very interesting because he's so much younger. Yes, he
Stephie
would have been a baby face. Yeah, I
Megan
mean I just rewatched Romeo and Juliet and that was came out like basically around the same time as to Titanic maybe like a year before, I want to say. And he is like, still baby face like Romeo and Juliet. So. Yeah, I actually think if it was Nicolas Cage, I actually think he would have kind of killed it. Because he's just so weird. Anyway, he
Stephie
is very weird. He is layered.
Megan
I feel like it would have been a very different movie, but I feel like he would have like really done it.
Stephie
It would have been very interesting. It would. Oh, man, that was an excellent, excellent walk down. town who could have played Neo lane. Love that for us. So this next one is cars.
Reese
So cars starts off with this hot shot, new car that basically are out of the garage really fast. And really cool. And it's on it's on the Piston Cup, which I think is like the Daytona 500. Kinda. It's got a 500 laps and it gives you a big cup.
Megan
Yeah, that's the Daytona 500 or does it the Indianapolis 500. There's like a whole bunch of them.
Reese
Yeah. But there's, there's three main main guys, there's one guy which is Lightning McQueen, the main character, who totally will not win in the end. And then there's the blue guy. For dynaco. I forgot his name, but he's also really fast and probably better than Lightning McQueen. But then there's the green guy with the mustache. And he's really rude. And he, he only thinks of himself. But in the race, Lightning McQueen pops his props his tire, and doesn't want to go in for a pit stop. And then he breaks he pops his other tire. He still doesn't want to go in or, or no, he pops his tire in can't go back in. And then all all of his tires are just just pop. And he's almost at the end. But it looks like he's gonna lose because he doesn't have tires. But he goes, is very, very close. But it's a three way tie. I don't know how but it's a three way tie between those three cars. And then they have to do another race. So Lightning McQueen gets taken away with his fancy semi truck who's whose promises that he will not fall asleep. But he does because it's
Megan
I'm going to pause you for a second there and you're gonna have to really jump ahead in this plot. Cuz gonna
Stephie
say you're really in the weeds here.
Megan
Can you sum it up in like three more sentences.
Reese
Okay, so then the he goes to this old rinky dink town.
Stephie
Just really love your use of the word rinky dink continue.
Unknown Speaker
Well, he goes to that rinky dink town, and then all these people don't like him. Except for Mater. He's cool. And they, they, in the end, they like help him out, get to the race, and he wins because he's the main character of a Disney movie. That's the conclusion in three sentences.
Megan
Okay. This is gonna take like an hour if you can't go in the way. It's definitely gonna be like, if you've never seen cars, he will give you all the details. You will
Stephie
get all of the details but none of the names just like the blue guy and the green guy with the mustache is voiced by Tony Shalhoub, which I had no idea.
Megan
Tony Shalhoub does the little yellow tire guy. Oh, he does.
Stephie
Oh, yeah. Okay, I forgot that. I couldn't remember who was which one was Luigi. Yeah, I thought he was the the green guy. I have not seen this one in a while. Clear. Really?
Megan
Yeah, there's the tire guy. And then there's like the forklift tire guy, which is Guido. So, yeah. Um, but he's just to this movie about 50 times. So I'm glad that he knows that
Stephie
he has a lot of detail not to stereotype, but he has a boy. Well, well,
Megan
he was, uh, you know, it came out.
Stephie
Like, right, it's a prime time for that.
Megan
Yeah, it came out in 2006. And he was born in 2007. So, right now you need to have your kids watch movies. It's true. Um, so you just watched this movie Reese. So what can you tell us about rush hour?
Stephie
This will be my first hearing. And
Reese
I love this movie. I watched this first one about a week ago. Hopefully I can remember
Megan
stuff. You watched you watched both of them? Or just the first one?
Reese
All three of them? Oh, you had a rush. You had
Stephie
Okay, marathon,
Megan
try to just stick to the first one.
Reese
Okay, that might be a little more difficult. But so the first one starts. And it's about about this guy, who is Jackie Chan. And he's a, like an assistant or protect her body guard of the ambassador of China. That's with Britain that want to go to America, I think or want to, like, help America. And so they go, they will call on here. He's getting there. They go on, they go to America. And right then is the ambassador of China's daughter gets kidnapped in America by this bad guy, who runs the who runs this like, super gang in China. They're like, they're called the triads. And they're the biggest crime group in all of the world. And he's one of the leaders, I think we're one of the participants, but kidnaps the little girl. And of course, the ambassador's really worried and wants to find is the girl and so he says he's in America, the FBI will be on beyond the case. But he wants his detective body. Oh, it's his. It's Jackie Chan is the detective. But he wants his detective to go and help the FBI out on the case. But the FBI doesn't like that. So they get some random rookie cop that's not got too good of a backstory or resume. No reputation, not got too good of a reputation to keep them to make sure that Jackie Chan does not like being involved with the case because they don't like him for some reason. So they do that. And Jackie Chan finds out that he is keeping him from the case. And they go and solve the case. And apparently, the British man who is supposedly really rich and cares for the daughter doesn't care and only wants that money from these artifacts that they've been stealing away. And the money for the for the daughter. But they catch them in the end. And then he says then Chris Tucker, who plays the rookie cop says to Jackie Chan, that he wants to go to China, I think and then they go to China together for the second movie. That that's it.
Megan
I have to say that the Wikipedia entry for this movie is not that great.
Stephie
Very confusing.
Megan
I'm a little confused reading it and I feel like Reese's summary was actually you know, more. It didn't get a lot of details, but it was more easily to understand. Then this Wikipedia entry. The Wikipedia
Stephie
entry is a little confusing. I'm not gonna lie. As someone who's never seen the film I'm a little like, other than at the top when it says it's a American buddy action comedy film.
Megan
Plot twist. It's Jackie Chan. This came out like Was this the first movie that Jackie Chan was in in America? Oh, and then everybody was suddenly obsessed with Jackie Chan. He was in so many movies right after right around the same time or right after this
Stephie
and just like a shitload of movies right around this time. Yeah. of American movies of American movie. Obviously he was in Houston movies in Hong Kong. Yeah. Um, it looks like maybe. Let's see, I'm looking at his IMDb
Megan
This is 97 97
Stephie
Okay, so just because I'm looking at the producer credits, I will look at the acting credits. Here we go. Um, yeah, it looks like maybe it's a little hard to tell, but it seems like it might have been if it wasn't his first it seems like it was like maybe one of his first American movies that he did. So there you go. This man has done a lot of things.
Megan
Apparently he was in a rumble in the Bronx.
Stephie
He has 141 actor credits and 64 Producer credits. Yeah, he is busy.
Megan
He is also the a member of the Hong Kong election committee and a member of the Chinese people's Political Consultative Conference.
Stephie
In 2015, Forbes estimated his net worth to be 350 million and as of 2016, he was the second highest paid actor in the world.
Megan
That is awesome.
Stephie
So that also people also ask how is Jackie Chan so rich?
Megan
done a lot of movies is constantly working.
Stephie
My goodness.
Megan
Yeah, there's also
Stephie
apparently people also ask who's the poorest celebrity?
Megan
That's a weird thing.
Stephie
Sinbad makes the list case you were wondering.
asked us Nicolas Cage.
Megan
He did it he did rush hour and they did Shanghai noon and they did Shanghai knights and rush hour to the tuxedo the medallion around the world in 80 days. I feel like he did another one. That was like another comedy one with like a lady. I don't know. Is that a lot of movies? Like it's really impressive actually. I hope he's getting rest.
Stephie
I hope he is also taking some naps.
Megan
I'm worried about him.
Stephie
Man. Okay, so we've been talking a lot about like, vehicle movies and movies with lots of action and things of that nature. So in that vein, tell us about fast in the furious. I don't know if you've seen multiple of them. But similar to rush hour, we're gonna stick to the first one if you have seen others.
Megan
I believe he's seen all of them. So it might be difficult for him to stick to the first.
Stephie
There's a live
Reese
actually I've seen I think I've only seen the first the night and Hobbs and Shaw. I've seen more than I've seen the second one as well. I feel like he sees
Megan
more than that. I'll stick to the first one. Okay,
Reese
so this movie centers around eight undercover cop. I forgot his name. Do you guys know his name?
Megan
Paul Walker the actor? Yeah,
Reese
I just forgot his the character's name.
Megan
I have no idea I've never seen
Reese
my first name's Brian. But so Ryan O'Connor. Okay, Brian's Brian's a cop, an undercover cop that likes to drive cars. But sometimes isn't very good at it. He goes he goes to this street meet a car meet with lots of money involved to I'm guessing bust some people put them in jail. So he goes there and he bets the the This person in whoever it looks like making the most money, which is Dom toretto, who is played by Vin Diesel. He challenges him to a one one on one to the, to the end treat race. Who can ever get there first? And he says, If I lose, he gets a 10 second car. But if he Brian wins, he gets his respect. Would you see a 10 second car? Yeah means like a fast car under 10 seconds. Like you know, sprinting is like, under 10 seconds is good for the hunter does
Megan
sure you mean like, like zero to 60 and under 10, or whatever
Reese
thinks is that what it is? Yeah, sort of fast. And under 10.
Stephie
very fast, very furious.
Reese
And Vin Diesel laughs in his face, and says respect. And then I think he says, idiot or something. But are like respect, you not going to get respect here. And then they race and Brian breaks his his car and the floor floor falls out. or somehow whenever he puts on his nytro. And it makes a lot of sparks. And then the police come. And they they try to to get him. But he can't. But don't they almost get down to Reto. Because his car like he gets he's out of his car. And so he's running. And then Brian picks him up in his car, and they become best friends forever. So they go to his house, and there's a party. And they, they party it out. And there's one girl that likes him and another guy that really hates him. But he has a has a lead. But then then something something happens. There is a massive truck that's that's been robbed by that has a lot of it has a lot of like vehicle and equipment stuff. And so he goes to investigate this, this person that, that I forget his name, I think it's written or something, but it's a Chinese person, Chinese male that runs a gang. And he goes,
Megan
it is a Vietnamese, and his name is Johnny.
Reese
Well, I'm getting mixed up with rush hour that I think they he goes in, and he finds a lot of boxes of electronics. And so that means that he is almost certain. He's like 100 is like 98% sure that he stole the that he robbed the truck. And so he tells his, his cop friends and they go into his house, and totally embarrass Johnny in front of his family and take him with handcuffs. And his father's like, I hate you now. It's how you were the best son. But now you're not it so it turns out, he didn't actually do it. And that Vin Diesel in his group did and he finds out and he's like, he's like a man trying to be not like a cop, because he doesn't want to be found out. And he's like, I know you're getting all this money. You can't get all this money just from street races. So cut me in on how are you how are you getting this money. And so he cuts them in and they're going, they go to steal another truck, but and they bring guns and there's like three cars surrounding the truck. And there's only one truck driver and the truck driver has a shotgun, a two shot shotgun. and still they can't rob the truck. The one guy almost dies. And they find out that he's a cop before this. So he's not allowed to go. But one guy's arm gets stuck on something and they're trying to save them, but they can't. And so then, of course Paul Walker comes over and saves the day. But then diesel still hates him because he's lied to him and told him that he wasn't a cop, but he was And then that's that's the end of one I think like actually that and
Stephie
I can't confirm most of this because the well I guess I'm on the I guess I'm on the franchise page I go to the Fast and Furious film page but it's this is Brian Walker and undercover cop is tasked with discovering the identities of a group of unknown automobile hackers led by Dominic toretto It's a lot shorter than your synopsis job well I did the actual like film one and yours is probably about the same length because but although this one gives far too many details about the specific cars that quite frankly like they don't care about,
Megan
like talk he tells you the I just says it just specifically says which which
Stephie
each car at night Brian brings a modified 1995 Mitsubishi Eclipse Dominic arrives in his Mazda RX 799 before
Megan
Toyota Supra but you know, that popular
Stephie
they're just the waitresses, fathers MK three Volkswagen Jetta against trend is Honda S 2000. Like, dude, nobody cares. I guess. Car people,
Megan
a lot of people care. That's why there's like 1000 of these. My,
Stephie
the guy I dated in high school was a real like car guy. And he very much loved this movie. And I had to watch a lot more car movies than I ever give a rat's ass about. And the three years that he dated like I'm still traumatized from it. So I've never really watched this movie.
Megan
In one a stinkers award for the most intrusive musical score.
Stephie
Well, that's, uh, oh, we're making fun of it. But there's literally about to be a 10th one being made in like the next couple of years, I think. So, like, what does it say? Yeah, there's a part one untitled 10th film 2023 part two of untitled 10th film, wouldn't that just make it the 11th? Film 2024? The 2024 When is the final film?
Megan
Also, it does not include Hobbs and Shaw in there as one of the movies. It's, it is a spin off. Yeah. So although these movies have made $6 billion, my god
he does a lot, a lot of money. We do not have enough time to get through this whole list of movies, unfortunately.
Stephie
Well, I would really love to hear him describe Back to the Future. Okay,
Megan
can you do it in five minutes?
Reese
I'll try. I'll try.
Stephie
I want to hear you do Back to the Future. And then I want to hear you do Ocean's 11. But you have to do each of them in under five minutes. Okay,
Megan
so you only have two minutes and two minutes and 30 seconds to do Back to the Future.
Stephie
I was going to give him five minutes for each but your mom is a tough you said
Megan
five minutes for both, which means a total of five minutes.
Stephie
Okay, fine. We won't get into the the semantics, you have two minutes and 30 seconds go. Just see
Megan
how succinct you can be in your recaps.
Reese
There is a high schooler that knows how to skateboard and play guitar. But there's a big speaker that the doc made and it's too loud. So he gets blown away. And then the doc tells him to meet at the twin pines mall at midnight, I think he goes there and he says he made a time machine out of a DeLorean and he's like, Yes, I was gonna make that
Megan
already too detailed.
Reese
I try to make it short, not short. And he puts his dog in there and sends them to the future. And then and then sends him back. And he's like, Wow, that's amazing. Let's go and he's like, okay, so they go to whatever his parents were like in high school. But he met but he messes up Marty McFly messes up and makes his mom fall in love with himself instead of his dad, which is kind of weird, but then he If he starts disappearing, because that means that his parents won't be together. So if his parents will be together, then he's not going to be alive. So he tries to get them back together and they go kiss at this dance, which makes them fall in love any punches some bully that makes his parents rich and successful. And then in the future when his parents are rich and successful, and he's got a he's got a girlfriend. Well, you already did have a girlfriend but he has a the same girlfriend. Doc pulls up into the driveway and, and says, We've got to go back to the future I think. But he said within Marty says there's not enough road for this or like to go and he says, doc says roads who we don't need roads or something like that. Also in the movie, there's a lightning bolt that powers them to go back to the future. Yeah.
Megan
Okay, ocean's 11. Go go,
Reese
okay. I don't remember that. Remember this one as well, like, as well as the others. But there's this guy that gets out of jail, because because it's his end of time, but he went in jail because he robbed a bank, but he's not supposed to rob bank because that's illegal. But he goes back to his buddies we robbed the bank with that somehow aren't in the bank aren't in the jail. And he says, hey, let's rob a bank again, cuz I didn't learn the first time. And they go and start getting all these guys to rob the bank. And they get they get like, smart guy, and athletic guy, and all these things. And they want to rob though it's not a bank, it's a casino. They robbed the casino because the guy that went to jail, has a wife, but not anymore because they divorce and he doesn't like the person that his wife got into. were like, married or his fiance and with whatever engaged but so he tries to like, humble him by robbing his casino franchise, I think. And so they do that. And they get they get lots of lots of money. There's a couple complications. Overall, it's smart and funny. I think sometimes. That's it.
Stephie
That was that was actually not a bad. My favorite part is when you said he said once he gets out and decides to to commit another robbery because you didn't learn the first time. Also, did you know that in this movie, Brad Pitt is eating something in every scene?
Megan
I do know that. It's a fun fact. Because in Ocean's eight Cate Blanchett who is Brad Pitt's? You know, equal or whatever in their their movie is also eating and like everything. I haven't seen
Stephie
Ocean's eight. I will admit.
Reese
Ocean's eight that the girl who's the main character is the sister of him.
Megan
Yes, it's supposed to be but she's supposed to be George Clooney sister. Yeah, not Brad Pitt's.
Reese
The whichever ones.
Megan
George Clooney is the main character of Ocean's 11.
Stephie
He is Danny Ocean. Yeah, it is oceans because there's 11 people on the team. Yeah. It's why it's Ocean's 11.
Reese
And then in Ocean's eight, there's eight people on the team. That's why it's called Ocean's eight.
Megan
Yes, correct.
Reese
What is going on? Ocean's eight. Danny's dead?
Megan
Yes. Supposedly. What? I mean, there might make another one you never
Stephie
know. I just say sort of save what tricks they could have up their sleeve? Yeah, I feel like yeah, I feel like in a movie franchise like this. You can't like totally right. any possibility off. Anything could happen.
Megan
Right? I mean, They made new Indiana Jones movies like 30 years later, so
Stephie
if that's not proof that anything can happen in this world Reese,
Megan
right, George Clooney might be bored living in Italy and having kids you know. Maybe he wants to make movies again.
Reese
Was that the last movie? Do we not have any more time?
Megan
Yeah, we are kind of out of time. I'm running up against an hour here so I think we're just gonna have to jump right to our joy.
Stephie
Jump to joy. Maybe we'll have to have you back. If everybody loves this episode. Maybe we'll have you back for another round.
Reese
You guys better love this episode. I know I sure did.
What's bringing us joy?
Stephie
Okay, Reese what's bringing you joy this week?
Reese
Um, my what's bringing me joy is a hot pockets not because I eat them, but because it was the thought that I could eat them. One day, when I move out.
Megan
We do tell them that we will not buy him hot pockets and that when he moves out, he can have as many hot pockets as his own money can buy. Because I feel like if I bought him hot pockets, that's all he wants to eat. And then he would just pester me about hot pockets. Like he does was talk about.
Reese
I don't do that. And ramen. I'm a grown man.
Megan
You do have hair on your lip.
Stephie
makes me sad. Although you do pester about eating a lot of ramen, so
Megan
it's true.
Stephie
Tommy, I'm lying Reese. You can or not
Reese
your line. I just did. I do like ramen. ramen is one of my favorite foods.
Stephie
We know.
Megan
Was that yesterday? Do you had ramen yesterday, right? Yes. Yeah, you he woke up really late. And then he had a gigantic bowl of cereal. And then immediately after he made himself ramen.
Stephie
I mean, it's like the night that you guys went out for your anniversary, and I watched them and we had dinner. Like a full-ass dinner. And then 15 minutes later, he was begging me if he could make ramen. Yeah.
Reese
I mean, if I could eat ramen right now, I would eat ramen right now.
Stephie
To to be fair to you, though, I did say that you could have it if you ate all of it. And you did.
Reese
So a man of my word, or a man
Megan
if it's food that he wants to eat all this very true.
Stephie
Oh man, Megan, what's bringing you joy?
Megan
The Great British baking show is back.
Stephie
Oh, that intro was weird, guys.
Megan
It was weird. And maybe it plays better. In the UK?
Stephie
I'm not sure. I'm not sure if it does or not, though, because they were talking about it in my binge mode Facebook group. And everyone was like, That was weird. I feel like
Megan
if it was maybe like American week, right, it would have sort of made sense. But like for the intro to the whole season. This was just weird. And also, that song came out so long ago that it was like, there was a time. So the way I feel like the way trends work is like it came out. There's like, a time span of like two years where it's okay to make jokes about it. And then, like 15 years passes, and then it's okay to make jokes about it again. But now it's still not fine. But now it's back to not okay to make jokes about it. Like Billy Ray Cyrus references are not funny,
Stephie
right? Like, he's a non error. No, it's just like a non entity now. I mean, that's not very nice to him. But
Megan
I mean, it's kind of true, though. So, um, but I'm very excited that it's back. I'm very excited that it is released every week. I really liked that they are doing that instead of torturing us in the United States. Not being able to see it while everyone in England sees the whole season ahead of us. So that's nice. And I already have some thoughts about some of the bakers
Stephie
so little weirdos to season two.
Megan
There I mean, there's usually a lot of weirdo usually
Stephie
there's like usually Cuz there's always like one. Weird there's always like one super weirdo. And then there's like an awkward weirdo. And then there's like an older woman and usually an older man. And then there's always a gay guy. And then there's like the mom of young kids like I feel like they just like cast it out. But I just feel like there's some of them are weirder than normal.
Megan
I mean, you have to consider and one of the guys was like, I learned how to bake during quarantine. have to wonder if there's just not as many people applying anymore because it's been on for so long.
Stephie
Maybe or maybe they were like, this guy who learned to bake during quarantine will be a nice like wildcard.
Megan
All also he's good for the TV because he looks nice.
Reese
gets kicked out first week.
Megan
He was not kicked out. The first week, one of the weirdos was kicked out the first week. The awkward one was kicked out.
Stephie
But I thought I knew exactly. It was an awkward one.
Megan
We didn't get to learn about his model train store, though. bless his heart. But I feel like there was it was weird episode because they focused? Like in the first episode, I feel like you're supposed to get like a taste of everybody who was there? Yeah. And they really focused a lot on like, three people. Yes. And there was one person that I don't think they even like, gave her backstory, like, What is your name? Like they barely talked to her at all? And I'm like, Who is that person?
Stephie
I mean, maybe that means that she'll stick around for a while, because then we'll eventually have time to get to know her.
Megan
I hope so.
Stephie
I don't know. Maybe it's like, when I used to watch America's Next Top Model, like I used to watch it with, like the girls on my dorm room floor in college. And one of the girls was like, you couldn't tell who's going to be kicked off every week, or like who's going to be in the bottom two every week because they focus so heavily on them and like all of like the confessionals and stuff. And it's so true, like, so yeah, maybe maybe they're like heavily focusing on the people who won't be there very long.
Megan
I don't know. They're probably I mean, they are heavily also heavily focused on people that make for good television. I mean, yes, that is true. So, but to the detriment of a few other people. But we'll see. It's only been one week. What is bringing you joy.
Stephie
I'm one of our favorite podcasts. dropped an episode today. Maintenance Phase, dropped an episode today about Rachel Hollis and it is excellent. And it was bringing me joy.
Megan
It was very good. I listened to it immediately this morning.
Stephie
I'm like, quarters of the way through. I think at this point.
Megan
I was so sad. It's a it's a two parter. And I was so sad because they I was listening to it and it's like an hour and a half long or it's over an hour. I don't remember exactly how long it is. And they were getting down and I noticed that it was only about 10 minutes left. And they hadn't gotten very far and the timeline that was like, Oh no, like how are they gonna wrap this up? And then but then they were like, we've been talking for three hours this is gonna be a two
Stephie
what my favorite moment so far, maybe there will be another favorite moment in the rest of the episode that I haven't listened to yet. But my favorite moment is when if you guys don't know like the drama with Rachel Hollis just google it because it's it's extensive. or listen to this podcast episode of it's a good primer. It's so good. Um, but also that podcast is just great. But like Mike because it's co hosted and so every week they kind of switch off taking who's like taking the topic and like explaining it to the other person. And so Mike is the one explaining this this week. And he's talking about, LIKE Rachel's, like whole, like, tick tock posts about like defending how she was like, Yes, I'm privileged, like, I have a lady who cleans my toilets because I work really hard and like I all the women that I admire, like the most they all worked really hard bla bla bla and operate. The other co host was like, oh, what does she say she like, really admires like Harriet Tubman. Mike just loses his shit, because that is absolutely one of the people that this privileged white lady was like, I just really want to be like Harriet Tubman. I am like Harriet Tubman. Some people are so predictable. So anyway, it's a great episode and it brought me joy to see it in my podcast feed this morning and I highly recommend you listen to it.
Megan
I really appreciate it the way I feel like it's actually mean so far? They also were presenting like good things about her.
Stephie
Yes. They were torturous tonight that's fair. Which I which I, which I think that my, I think Mike and Aubrey and then Mike's other podcast, which is you're wrong about which is my other favorite podcast, I think that they do a very good job of like trying to be fair to the people that they're talking about. So even when they're like, Yo, this person is really problematic. They also, they're not just like, well, they're problematic blanket statement, like they also dig into, like things about this person's past that may have contributed to their problematic behavior. Like, you know, they had a really traumatic childhood, or like, they try to be as fair to them as possible. While also like, saying, hey, this person did some problematic stuff that we really need to like, take a closer look at. Yeah, I always I always appreciate that about them. But they aren't just like that. They're problematic, goodbye, they need to be canceled, or like, we need to like look at everything.
Megan
There was also at one point in the show where he's, you know, they're talking about something that she said, and then he is like, oh, did you like realize that she, like, has this lie? Like within like the first 30 seconds of what she said, She's like, What do you mean, she's like, he says, she says that she's Southern, and I was like, What? She grew up in California. They just covered that. But then he points out like that's the one of the reasons why we get so invested in like her or like lularoe, or any of the other MLM type things. We just get so sucked in, by what they're saying. We were like, that can't possibly be true. I need to research.
Stephie
Right? Yeah, it is truly wild. It's truly wild. So that's crazy. That's my joy this week. Yeah.
Next week's episode
Megan
Next week, we are talking about snacks.
Stephie
I can't wait. We like to snack. And you know how we love to talk about food. So stay tuned for that. In the meantime, leave us a review on Apple podcasts and listen to us on your favorite platform. You can also follow us on social media at IRSIpodcast or send us an email at idratherstayinpodcast@gmail.com we'd love to hear from you. Bye
Transcribed by https://otter.ai