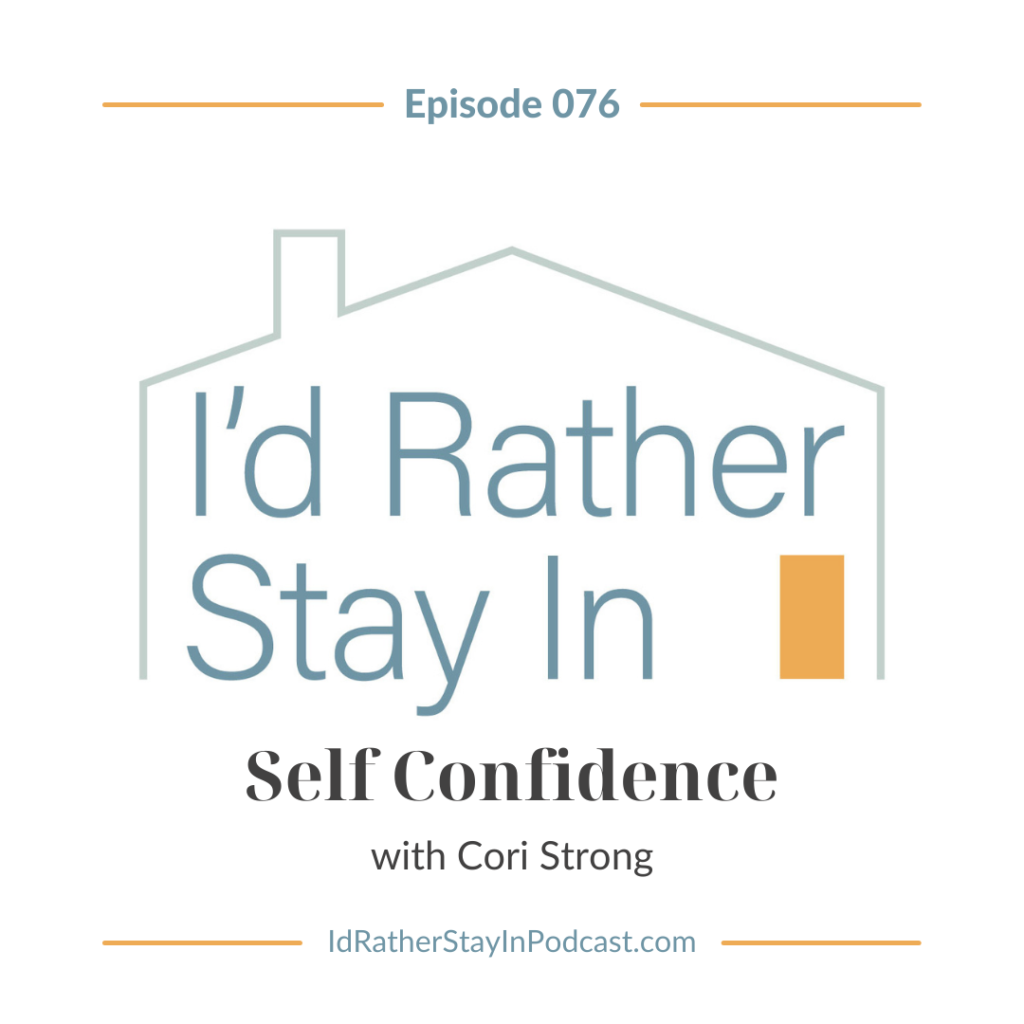 Hello! Welcome to episode 76 of I'd Rather Stay In. This week, we are joined by boudoir photographer Cori Strong to talk about self confidence.
Quick links
Episode transcript
Unknown Speaker
Welcome to I'd rather stay here and with your hosts Megan Myers and Stephie Predmore. This week we're talking about self confidence with our guest Cori Strong. Stay tuned.
Unknown Speaker
Do you love listening to I'd rather stay in and want to support the podcast? Well, now you can visit our website or the link in our Instagram profile and click Buy me a coffee or visit buy me a coffee.com slash IRSIpodcast. For the price of a cup of coffee, you can help us cover the costs of creating this podcast. There are no monthly memberships, and you could support us at whatever level you'd like whenever you like, whether you buy us one coffee, many coffees or simply continue listening as always, we're so grateful for your support.
Unknown Speaker
Hello. Hi, Stephie and Megan, it's been a while. It has been a while. Although it's only been a month. Really when you think about it feel feels like so much
Unknown Speaker
has happened. I really does. I definitely feels like it's been longer than a month. Yeah. I don't know if everyone else feels that way. But it definitely feels like it's been longer than a month since we last recorded. So you know, we're doing great. We absolutely know what we're doing. We are professionals. Fantastic. Yeah, good. We're doing good. Yeah. What is new with you, Megan.
Unknown Speaker
I mean, our basement flooded. So that was a fun, joyous experience. You know, it was a good month for us overall. Aside from that, and I mean, even that was not as bad as it could have been. But yeah, you got that all cleared out. But we also got to go on vacation. Yes, you did. I forgot about that. I know. Right? Sally? Yeah, time has no meaning. Um, so that was good. Got out of town for a while I went swimming and saw some friends from Texas. We met up in Arkansas. Yeah, my garden is growing pretty well, it kind of just, you know, plodding along from through the summer.
Unknown Speaker
And I
Unknown Speaker
cat wants to know what's going on. He's forgot what we're doing as well. Um, I've also been doing some self carry type things. I went to the doctor today and got a tetanus shot. I love that for you. Awesome. But you know, you got to do those things.
Unknown Speaker
That's awesome. I am proud of you for doing those things. They're not very fun, but they are important to do and a good reminder that that is self care. It's not just a bubble baths. Right? Yeah. Take care of our bodies. So proud of you friends. Yay. How about yourself. Um, you know, I don't even remember what happened this month, other than the fact that our basement also flooded. But again, not as bad as it could have been. We had some friends that definitely had way worse flooding. We had just sort of like an unprecedented amount of rain here over a very short period of time. And it is we had a friend who had feet of water in her entire basement and the roto rooter guys had to come and pump it out. And so it could have been worse. So we were able to take care of it with our little shot back or Well, let me let me put it this way. Alex was able to take care of it. I asked him how I could help and he said stay out. So I did I went to bed. That's how I truth be told, that was probably the most helpful thing I could have done because I'm not particularly helpful in those situations. So I'm good under certain high pressure, high pressure situations. That is not one of them. So
Unknown Speaker
it was not really I mean, at our house there was not really a whole lot that two people could do if we only had one shot back. Exactly. I would have so away so yeah, yeah, once we moved all of our stuff out of the way then I was kind of just basically like, hey, by the way, you need to take breaks. Drink some water, eat some food probably be good idea. Yeah, so that motional support.
Unknown Speaker
Yeah, that was that was fun. But yeah, I don't really remember I've got some new craft projects lined up and pretty excited about spring low key, you know, hot I don't go outside a lot. par for the course. Yeah, I mean, low key is good. I'm okay with Loki. It's Yeah, I'm okay with that. So I will take it. Yeah, I've got some big things on the horizon over the next couple of weeks. I'll tell you guys more about that later, but yeah, it's been good. Cool. So this week, we're going to talk about something that a lot of people and I think women in particular often really struggle with. And that's self confidence.
Unknown Speaker
Yeah, I think, you know, you and I both we've had conversations pumping each other up, because very recently, yeah, very recently, sometimes we're like, what's up? Yeah, so I think everybody absolutely has this. So for this conversation, we've invited on boo duar, photographer Cori Strong to share with us her own self confidence journey, and to talk about how she tackles this topic with her clients. Welcome, Cori.
Unknown Speaker
Hello, and thank you so much for having me. I am freaking excited to talk about this with you guys today. Yeah, absolutely. Cori, tell us a little about yourself. Well, I
Unknown Speaker
am a major introvert. I think I'm in good company here. I'm a 35 year old Mom, I have two biological children, two children, and a third baby. And I am one of those multi passionate creative. I am a learning design author, pretty at a really good connection with other creatives in the world.
Unknown Speaker
I'd love that. Yeah, you do. You do a lot of very creative things that I just always loving, following along with. So before we get into talking about what you do for a living, tell us a little bit about your own journey with and through self confidence.
Unknown Speaker
How much time do we have tied into the condensed version of it. So I don't think I ever really had competence, the child, I was really shy, really, highly sensitive. And I was very passionate about things that other kids weren't. I always felt like an outcast. And then I recently wrote about this in my magazine. I am probably fifth grade. And this boy behind me and music class, keep us chatting with another boy. And you know, they were talking about all of us girls. He's like, Well, what about Cori, you'd like Cori, and the boy behind me was like, she's fat? No, I don't. Yeah, it was at that very moment that I realized my body was I just playing, creating, it was something that other people judge, and then all of a sudden, my whole world change. And I had extremely low self esteem. And basically, from that point, on to my mid 20s, I had a really, really toxic relationship with my self image. And by self confidence. You know, it wasn't till my late 20s, when I started therapy, it's sort of learning about my own personality, how I how I show up in this world, that I started to gain some confidence. And now I'm 35. And I have a much better understanding of who I am what I love in the world. And I know what I don't want. And I think that is that was like the key for me, in learning to love my body was learning to love myself as a person for
Unknown Speaker
you do boudoir photography, which I think is super fascinating is how did you get into this field?
Unknown Speaker
So I started my own photography business when I was I think I was 23. And my first child was about one at a time. And I picked her up from daycare one day, and one of her teachers, who was probably nice, pulled me aside, and she's like, Hey, I know you're a photographer, would you come over to my house and take some pictures of me and lingerie for my husband? And I never heard of before. But I was affected major. And so of course, I grew up or I sprained my face. Or I would have to scour magazines, fashion magazines. And so, you know, I was familiar with lingerie ads, that's about it. So I wasn't sure. I will say that. I had, I was hooked after that first shoot. I mean, okay, I can work with a woman. She's gonna follow my directions. I don't have to deal with either tantrum, or parents sort of family touch and not really wanting to be there. And most of all, I loved the transformation that took place. With each of my clients. It's such a short amount of time. It was like it was mind blowing, couldn't believe the power that type of photography had.
Unknown Speaker
Can I just say I think it is amazing. Like I think it's a testament to probably who you are as a person that your daughters Like, teacher felt comfortable enough with you to be like, Hey, will you do this thing that sounds totally bananas to come out of my mouth as like your child's teacher to ask you about right? Um, and then but then also that you were like, Sure, let's try it.
Unknown Speaker
Want to feel comfortable with you. And we'd already had a rapport, you know, a somewhat friendly relationship. So I wasn't stranger, that she was very much a relational.
Unknown Speaker
I love that. And so there are some pretty like obvious connections, I think between boudoir photography and self confidence. But I'd love for you to talk us talk to us about this overlap and how you encourage self confidence in your, in your clients. And for listener context, I have actually done a shoot with Cori. So I know a little bit about how she does this. And it's amazing, and I am excited for you to hear her talk about it.
Unknown Speaker
Okay, yeah, this is so important. I'm so passionate about this part. So the way that I work in my business is, I really want to give time and attention to every client. So you know, talking with your own friends, you realize how vastly different every person is, and what one person likes, or let's say their everyday style, another person hates. And so I learned this early on that I need to give attention in time to each client so that they can figure out how they want to be portrayed, what they actually like. And, you know, that goes for everything from their hair, and makeup, their wardrobe, wardrobe. And styling is just an extension of your own personality. Every person is at a very different point in their own journey with their self confidence, their body, their sexuality, all of these things play a factor in what their cheat looks like. So I can't possibly give a one size fits all experience, because it would be doing a massive disservice to every woman. So the way that I really work on off competence happens before the actual shoot. So Stephie, you know, you've worked with, you know, we have a phone call. And I allow us an hour for this phone call. I mean, this is such an intimate experience that I want to give time for every person tell their own story. And people know, right off the bat what they want. Other people really haven't taken time. Think about that. For example, the moms who have other turning around and everyday, like keeping those little children alive about what she actually wants. So it's a whole exploratory process. And I do work on mindset and perspective with clients in a way that makes it possible and doesn't push too much. But overall, I like to meet every client where they are at personally, and then design a photo shoot experience around that.
Unknown Speaker
Yeah, it was definitely I like getting on the phone with you and having that, that conversation. It helps me know, helped me know, like a little bit more like what to expect going into the shoot. But also just like to know that we were on the same page with what I was looking for. And that you weren't going to be like, Alright, well now you just need to completely stripped down on like, stand here naked. And if I'd be like, what, um, I don't know that I'm ready for that. Like, like, we were on the same page going in. And I think that that that definitely helps a lot. And I know, I, I left my shoot feeling like I was a fucking goddess. I wasn't writing that high for the next week. So that was that that was it was definitely a really a really cool experience.
Unknown Speaker
I absolutely love that. I that is the most common thing that people say after their two. And it's just credit ball. It's like what other experience gave you that? I mean, there are so many ways experience can change someone and change their life better, but it's pretty awesome. You know, you spent hours with me, and you leave and you have that confidence. I yeah, yeah, it's totally true.
Unknown Speaker
So do you see a variety of challenges when you're working with clients in terms of their self confidence? Like do you are there certain personality types where It's harder for them to open up to you or is it? I would imagine there are certain people that are much more shy about it. But they also might not be the kind of person who signs up for this kind of thing. But I'm wondering how you might change a little bit of what you're doing, like how exactly you do make them feel good in their skin? Like, I'd like you to go deeper basically?
Unknown Speaker
That's a really good question. And so with my personality type, I naturally mirror people. I do not do this on purpose, but I did. I like to meet people where they're at. And so I get a huge variety of people, I'd say, the people who are a little bit more reserved or nervous, for having trouble opening up, tend to have some trauma in their background. Whether it's abusive relationship, or sexual abuse, I've had quite a few flight clients that have had abuse in the past. And it's a little bit more unnerving to them. For them to think about things tucked in, it's an experience. And then, you know, during the consultation, and even the morning of with clients and hair and makeup, we're still talking over their ideas, because again, like Sophie said, we want to be on the same page. Yeah, I want to make sure that the client is comfortable with everything. So if someone is just wild extrovert, or anything, I'm like, Okay, okay, yeah, I can throw ideas that someone is very reserved, and maybe shy or nervous. Or if they don't have any idea of really what style they want on mood, I'm going to take a much softer, slower approach. And that might mean, in hair and makeup, we're looking over ideas together, we're talking about what they liked, specifically, with an image that they've saved, will go through my Instagram feed or my website. And I'll let them tell me what they're drawn to. And then I'll ask follow up questions, so I can get a better understanding of what in particular they're drawn to. So I think I really like to take things slow with people. I always joke that by 80% therapist when you first refer, but I think people really enjoy that attention and being seen and heard. So I hope that answer your question.
Unknown Speaker
Yes. Yeah, that's a really good way to put it, I think. Yeah, it is.
Unknown Speaker
So I'm curious, you know, obviously, you know, we kind of talked about like, going in, when you go into the session, and then when you leave the session, I think, you know, with your clients, you probably, you know, you see a big difference, I know, I felt a big difference of like walking in versus leaving the session. But then, you know, you do a very, you have a very personal approach to your entire business. So, you know, for listeners, like she does the phone call, you have that, you know, you have the hair and makeup, you have the shoot, but then you come in for a reveal session, and Cori shows you all of your photographs. So it's not like she's just like, emailing you files, which is common for photographers and is and is great and works for a lot of businesses, but Cori actually like, does a whole thing. And she has you come in and shows you your photos and walks through, you know, your whole set of photos with you. And I would love to hear particularly like for some of those clients who were a little bit more reserved and a little bit nervous. And I would love to hear like the change that you see in them during that reveal session when they see those final images. And they like see themselves the way like through your lens the way that you see them.
Unknown Speaker
Yes, the reveal is my favorite part. And when I first started photography and boudoir, I would just do an online gallery because I didn't know anything else existed. It felt so impersonal. It felt like oh here your file. And so reveal function. It's like this wonderful celebration that we get to have together myself in the client. And I find I have found that the clients that are most nervous in reserve get the most out of this. So a lot of my clients who were quieter, a little bit more nervous or have a lot of body image issues. Break out of here, and they are so grateful and what I really love is When someone comes to me during their photo shoot when we're first starting, and they say that they're not really crazy about a certain body part. For a lot of people, it's the stomach or side profile or something like that. And then they see their picture. And they go, Oh, my God, I actually love how I look there. Like, why was I so hard on myself before. And for someone to see that, to see a part of themselves that they had pre previously hated, and, you know, really awful things for themselves, to see that reflected back in a picture in a totally different perspective, is life changing. So I think, that entire process of no going through the images, either, and I am, I am their best cheerleader, because I truly, truly do believe in that. And we get to relive that such together, and we get to talk about the outfits and how much they had. But then we got to talk about the stuff. We've talked about the information, I always ask, How do you feel before the break? And how do you feel now that you've gone through the entire experience, and really hard for people to put in words, I mean, there are people are, like laughing and calling themselves others are in here, and self righteous. So it's really it's a really cool process. And I wouldn't change it for anything in the world.
Unknown Speaker
self confidence, obviously, is not, you know, a single day thing, but it's really a lifelong journey. So how have you seen this play out in your own life, and then also in the lives of the women that you have worked with?
Unknown Speaker
Such a good question. When I was younger, I thought that self confidence was things that you would have debt, and when you had it, you wouldn't have to worry about any cake. And that's not the case. It's not how humans work. So for my own my own personal experience, I really learned from therapy at my life coaching to accept myself every single day, the low points, because that, too, belongs. So on eighth, and I'm not feeling confident. I wish I felt great. And I nurture that part of myself. And I try and think, okay, I'm having a down day, what do I need? Why need, I thought it might need some quiet time reading or journaling. Most of the time was he being an introvert, anytime process my feelings, figure out what the heck I'm feeling. And then I like to write about it. And then I feel much better. So I think being really aware of the thoughts that I'm having is number one, to working through them and just allowing myself to feel. And then knowing that feeling confident every day, and every minute of every day is not a reality. And if that's something that we're constantly facing, we're just constantly going to let ourselves down. So I think we really just have to look at the patients we have for ourselves and say, Okay, why am I holding myself this standard? It doesn't even exist, it's not reasonable. So I think I would say that his own personal philosophy, and as far as self confidence that I've seen in my own clients, it's pretty incredible. I'll take a few rain cases. I had someone come back to her reveal, touching and saying that after her photo shoot, she realized how poorly being beaten by her boyfriend. And she edited things today of her revealed, she knew that she was worth so much more. And I was just like, Oh, my God, I was floored. And so I think like it really gives women a perspective, shift. And letting them know that they can do scary things for one, because this is scary experience for a lot of people. Show them their own power, gets them back. Like it gives them that sense of and we can lose that in work, relationship, children, all of those labels. I had another client who asked her to, probably six months after she realized that she was not happy in her corporate career. And she ended up going on kind of this quest to find out who she was and ended up leaving that career. And she said, It all started with her big marches, really coming into her own power and figuring out who she was. And that was the catalyst for all of these other amazing things. in her life, so I always think if you can do something, one thing, that scares the shit out of you, and you make it out alive, you're kind of retraining your brain and you know, okay, I can do all of those other scary things. And it's like, it's that fear of it that can hold back. But when you get through, and you have that amazing feeling of making it on the other side, that's pretty self confidence comes from, it's not something that you muster up, and then you take action, you take action, and then you get the confidence and taking that action. Yeah,
Unknown Speaker
I love that. I also love You know, I am a huge fan of therapy. And so, you know, I like that you mentioned that it's something that you are, like, continually working on in therapy and things like that, as well. Because, you know, I think I think therapy is about so many different things. And, you know, I know I work, I'm working with my therapist right now on like, affirmations. Um, and those have been really helpful when I am having like, doubting myself kind of moment, or I'm not feeling so great about something. Like, I go like, Okay, what would Genesis tell me to do? Like, okay, what are my affirmations? Like, that kind of stuff? So? Yay, therapy? That's my point there
Unknown Speaker
that, like, I feel like therapy is the ultimate care.
Unknown Speaker
It really is. It really is. So, yeah, go to therapy, guys. How many times? How many times do I say that? I say it a lot. Um, so you know, I, you kind of touched on this, but I want to kind of circle back because I think it's really important on those days, where you just don't feel the best about yourself. You know, I like what you said about, like, just kind of riding the wave. But talk to us, you know, about how you kind of approach how you approach those days where you're just feeling a little hard or you catch yourself, you know, kind of beating yourself up a little bit?
Unknown Speaker
Oh, yeah. And that, that definitely happens a couple times a week for me. Okay, when it comes to my actual body, and appearance, I packed myself first. And I say in my mind, that I don't actually agree with that. I don't agree with this thought. So, too often, we take our thoughts as absolute truth. But what we don't realize is that these thoughts are just conditioned beliefs. And so first attach myself. And then something I've been doing lately, as I'll either say, in my mind, or write down the weights, my body has helped me that day, or something I'm grateful for, have to do with my body, for example, My legs are strong and muscular, and I get to run with my kids. Something like that. I change it to make it about what my body can do for me, versus how it looks. Because I think when we focus on our bodies of parents, and loving our parents, and all of the body positivity, we can, we can actually become hyper focused on our body, the way it looks versus what our bodies do for us, we exist in this world for so much more, and our appearance. So that is my go to doing right now. And then I do something for myself that I know makes me feel good. That can be watching for a little bit, or learning something new or doing 30 minutes of yoga, or, like trying out something new that I've been wanting to do or getting in danger. That's cute.
Unknown Speaker
I think those are all really good tactics. Partially because, you know, a lot of times people think that they maybe focus on themselves too much, but they're not focusing on like the deep things about themselves. Like that's where we get all the negative feelings are just like, stuff that just flies in our faces and just kind of like quick reactionary things, but we don't necessarily sit with it. Yeah. And that's why I think it's so important like what the things that you're doing writing things down working through it, that's just really huge. Yeah, it really
Unknown Speaker
I think a lot of people are really resistant, journaling and writing down their thoughts because you're scared of what might come out, and you're hurt too much. And I was me for years. I'm here, but once I actually started it I felt so much better even after one riddling session. And now I'm like, I'm obsessed with it. I do it every single morning. And if I'm having a really tough time that day, I might do it today.
Unknown Speaker
I love that. I think that's, I think that's really great. Yeah. I also like the focusing on what you're like what your body has done for you, even if it's something like, seemingly small. I think especially for those of us with chronic illnesses. Like, I know, there are days where I struggle with my body, because I'm like, a, like, it just doesn't do the things that like a healthy body is supposed to do. And so there are days where I'm like, but it got me out of bed this morning. And that feels like the lowest hanging fruit. But sometimes that's it's the reminder that I need like, okay, we're still we're still good. We're still in the game, we're still functioning, you know, like, any of those things where sometimes it's even less about like, my physical body. I'm more like, oh, like, my body feels like crap. But hey, I'm still funny, or I think I'm funny. Or, you know, like, my brain is like, it's on, we're on. We're sharp. We're cracking, like all of these things. So yeah, I like that, that like kind of focusing on less about the physical, like, how your body looks versus what it's done for you. Yeah,
Unknown Speaker
yes. And I have so many clients with autoimmune diseases, chronic illnesses. And it's so easy to begin to present your body. I hear it from friends All the time. And I, I have issues as well. And I think when you can, like I have a little list of things that bring me away, and I can't remember who did this years ago, when you're feeling down, you just run through your list, pick something, and it just immediately lifts your mood and reminds you that there's so much more in this world, in our bodies.
Unknown Speaker
Absolutely. So tell us about your new passion project?
Unknown Speaker
Ah, yes, man, okay, this was a six month project in the works and started, because it was a really tough thing to market and advertise because of the intimate, sensitive nature. And, you know, we have a bunch of white men running our social media companies. And so we are kind of at the mercy do their rules and restrictions. So long story short, I had had so many different ads shut down, I have to be extremely careful with images, I put an ad, I have to be careful what I say in my ads. And I was like, Okay, I had this image in mind, I'm like, this is never gonna get flagged, it was my client in a long sleeve black body too. I'm not sexual pose at all, it was beautiful pose, you could only see her legs. And the copywriting with about Fine Art booth art. Again, like nothing like sexy, and there, you can't even use the word sexy. And not only did it get rejected, it also bought my entire ads account were good. And they were unwilling to hear my rip deal. And I was livid. And I had to take a lot of action. When I'm upset. I have this idea that, Okay, I'm going to do a project, I'm going to put out a call for everyday women. And they're going to come into this video. Very simple, broad undies, like, I think lamped up. Just gonna photograph them exactly as they are. And then I was going to have everybody write a little excerpt about their own relationship with their body, and growing up in the US society with these insane body ideals. So I did it. And over a few months, I photographed many different women and put together a magazine showcasing all of their images and their stories. And I just watched a couple weeks ago. The feedback has been incredible. I had a couple advertisers in the magazine. And one of them is a chiropractor. And she said that right after the magazine launch, one of her clients came in and said, Hey, I read your own article and The magazine, and I just wanted to share with you my own journey with my body. And this is a 65 year old woman, and she had had so much shame around her body. But seeing other woman's worry, gave her permission to check her own. And that's what we're seeing. That's what I wanted people to see, I wanted everyone to be able to see a little glimpse of themselves and these other women. And so all of a sudden, you're not, you're not suffering alone, you're not going through these beings alone. You have a community that I think when you realize every single woman is experiencing that shame around her body, okay? Nothing's wrong with us. Something is wrong with our society, our culture, like that is the thing that needs fixing, not our bodies. It's an incredible, incredible product. And I'm so proud of all the women that were in it, including me.
Unknown Speaker
I was Yeah, it was really fun. So how can people connect with you? How can they find the magazine issue that you're just talking about? How can they learn more about what you do?
Unknown Speaker
Well, my favorite places Instagram, you can find me at Cori, C O R I underscore strong underscore photography. And if you go to the link in my bio, there are a few different options there. As you'll see, you can read the magazine, the title of called our bodies are not shameful. My website is linked on there. I have a bunch of different resources for you. And then my website is www.koozai.com.
What's bringing us joy?
Unknown Speaker
Awesome. Cori, thank you so much for joining us today. Thanks for talking to us about your own experiences and you know, sharing with us some really great Grilli, great tips. It's It's been a pleasure to have you all thank you so much. So as we wrap up the week as always, let's talk about joy. What is bringing you joy this week? Cori?
Unknown Speaker
I would say just reading with my dog in my sun room in the morning. It is the best. Sounds magical
Unknown Speaker
because your kids are old enough to not be bothering you.
Unknown Speaker
Like I created the routine and now they know me it's like mom cozy room for an hour in the morning.
Unknown Speaker
That's amazing. I love that says the woman with a toddler. I'll be there Friday. It's not today but I'll be there someday. I don't have a toddler and I think that sounds amazing. We just need to get you a sunroom Megan had a sign that says leave me the fuck alone. He would just stand outside the doors probably what happened? I'll just stand there with my nose pressed against the door. Let me hang out with you.
Unknown Speaker
Yes, that sounds amazing though. Do you have lots of plants?
Unknown Speaker
I do. I have plant tangy. I killed a couple so I have a plant that it's all it's all hellos and Posey vibes and plants. Oh, that sounds lovely. Love it. Stephie What's bringing you joy?
Unknown Speaker
Um, well, I'm gonna say I you might have this down for yours. But I'm going first so I'm going to steal it. Um, you sent me a post today that somebody had shared on Facebook where they took all of their like vintage, like Fisher Price like the little people houses and buildings and stuff. And they turned it into the tone of shits Creek. And I know Cori and they took all the like little Fisher Price little people and they turned them into all of the characters in the show. And they had like, all of the different like the barns and they had like a Sesame Street one that then they turned into like cafe tropicale and the apothecary and like all of these things, and it was so extensive and fucking amazing. And I have been thinking about it all afternoon.
Unknown Speaker
Oh my gosh, I can't believe you still made such a bitch. It's fine. It's really cool because he it's really detailed. So like he made tiny little vegetables for the front of the apothecary. He made res photo studio, which is hilarious, including like a giant box of mouse pads. There's like mutts barn. There's the garage. Yeah, the hotel Of course there Stevie's apartment. It's so Good and amazing. I love it so much. I will
Unknown Speaker
have a link to it in the show notes. For you guys because it was pretty, it was pretty fantastic.
Unknown Speaker
It's pretty epic. He spent a long time on it. Five months, he spent five months redoing all of these old play sets, but it's, it's fantastic.
Unknown Speaker
I wish I had that kind of creativity. Like, I am definitely creative in certain ways. I am not I never would have thought to do this, nor would have I had nor would I have had the artistic ability to do this. And so it's just like, fantastic. Big Yeah.
Unknown Speaker
Big fan. His
Unknown Speaker
name is Todd Cameron. So big ups Todd Cameron.
Unknown Speaker
We love you, Todd Cameron. Oh, man. Well, Megan, I will allow that to also be your joy
Unknown Speaker
will allow it. I appreciate it. Since I did share it with you. It's true. It was a low it was a low blow of me to steal it.
Next week's episode
Unknown Speaker
It was so epic. It brought us both great joy this week. It really did. Coming into the last minute there to true is true. Next week, we are going to talk about gratitude.
Unknown Speaker
Yeah, sometimes you just got to say thanks. So in the meantime, leave us a review on Apple podcasts and listen to us on your favorite platform. You can also follow us on social media at irsipodcast or send us an email at idratherstayinpodcast@gmail.com we'd love to hear from our listeners. bye
Transcribed by https://otter.ai