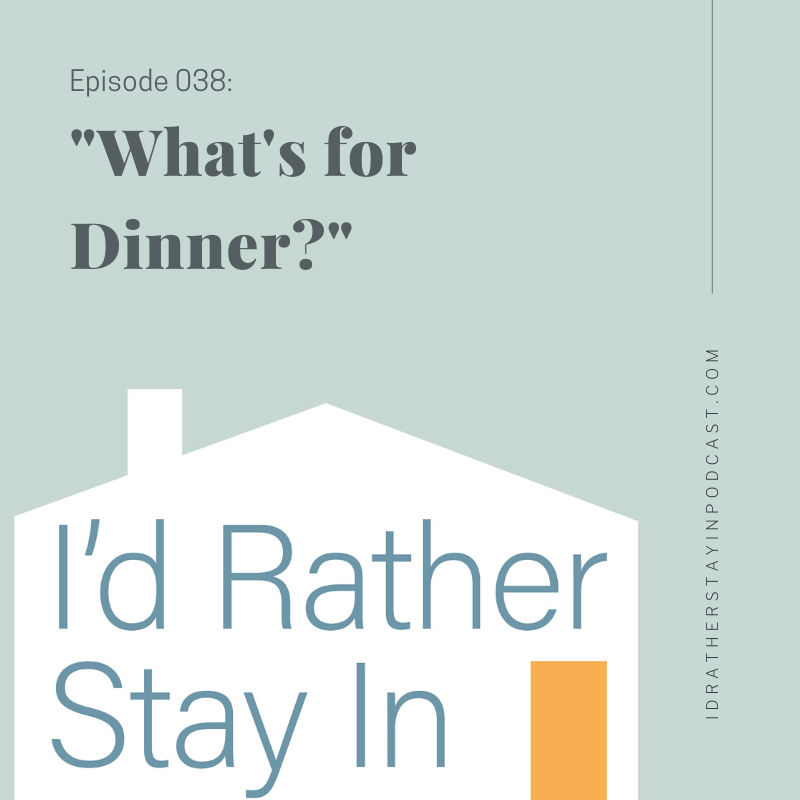 Hello! Welcome to episode 38 of I'd Rather Stay In. This week, we're putting on our planning hats and chatting all about meal planning and how we try to avoid eating nothing but popcorn and frozen pizza for dinner.
Post contains affiliate links.
Why we try to meal plan
When we are STRESSED, dinner is the first thing to go out the window. By having some sort of meal plan, it (usually) helps us avoid defaulting to just eating frozen pizza every night.
We also are more likely to follow through on the plan when there are groceries that we don't want to go to waste.
It should be noted that we both go through cycles on how good we are about meal planning. We're still figuring things out as we go through life changes, deal with opinionated kids, etc.
Ideas for making meal planning easier
Have a weekly theme plan. Example: Pasta on Mondays, tacos on Tuesdays, pizza on Fridays, etc.
You don't necessarily need to make the same recipes every week, but having a theme for each day of the week can help make the planning a little more turnkey for you.
If you have freezer space, use it! Make a double batch of a recipe (such as soup or casseroles) and freeze half for later.
Use your kitchen gadgets. Your slow cooker, Instant Pot, air fryer, etc, are all great tools that can help make dinner prep easier. Don't shy away from getting these if you really will use them and they'll make your life easier.
(Apparently now you can get an air fryer lid for your Instant Pot, which we find fascinating but have not tried ourselves.)
Start small. Don't try to meal plan a whole month straight out of the gate if you've never meal planned before. Start with a couple of meals each week and go from there.
Batch meal prep
We are endlessly fascinated by the people who do big batch meal prep – essentially prepping for an entire month in one day. (The business model of Once a Month Meals.)
We haven't tried it ourselves, but would love to hear if you have!
Meal kits
We have tried a couple of different meal kit brands. Stephie has tried Plated and Megan has tried Home Chef.
They can be really helpful when you're short on time, brain space, and ideas. Just make sure you skip the week in the app if you don't want kits that week.
Other stuff we mentioned in this episode
Our friend Julia from The Roasted Root has a great cookbook (Paleo Power Bowls) that we love to cook out of. Stephie's friend Stefanie also has an Instant Pot cookbook she enjoys and uses a lot.
Stephie has been watching Nadiya's Time to Eat on Netflix and it has a ton of great quick recipe ideas.