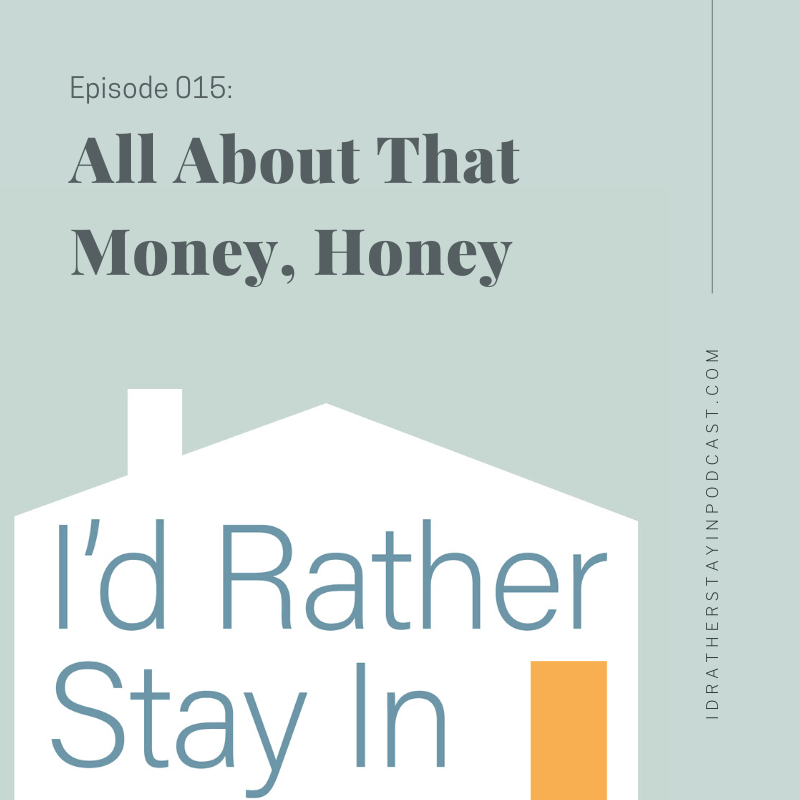 Hello! Welcome to episode 15 of I'd Rather Stay In. This week, we are preparing for 2020 and New Year's resolutions by chatting about all things budgeting.
Megan's path to learning about budgeting
When Megan and her husband got married, she discovered that he had accumulated a lot of credit card debt, in addition to student loans and debt from moving to Texas, to the tune of about $100K.
They have since paid all of that off, but it was a long journey to figuring that out over the course of about 9 years.
She learned about Dave Ramsey in a Yahoo group and starting following his advice for the snowball method of paying down debt, which really worked for them.
Additionally, she was able to start tracking their budget, meal planning, etc.
What's the deal with investing?
Megan contributes monthly to an IRA, which at different points has been in addition to or in lieu of contributing to a 401k based on her job.
Her husband also has a 401k and IRA, in addition to putting money into savings every month.
If your employer will match your 401k contributions, always make sure you are contributing at least the amount they are matching. Otherwise, you are essentially throwing money away.
Megan uses eTrade for her IRA and has it set up to do everything automatically.
NerdWallet explains the difference between 401k and IRA accounts.
Megan's favorite budgeting tools
Honestly, there's nothing wrong with going old-school with a spreadsheet and pen/paper.
Megan really loves using You Need a Budget. Mint is a similar tool, but we don't like it as much as YNAB.
We also recently learned about Charlie, which sounds interesting. Acorns is also an interesting app that rounds up your purchases to the nearest dollar and saves your "pocket change."
What about budgeting for food?
The USDA puts out monthly reports on the average amount that Americans spend on food.
Megan found these charts really helpful for knowing if she was remotely on track with regards to food spending.
If you do choose to spend more money on food, just be mindful of spending less in other areas and balancing your budget.
Meal planning is an important way to keep an eye on your food budget, but you need to shift your mindset to make sure you are using the food you do purchase efficiently and are not left with a lot of waste at the end of the week.
The Target Circle app has hella coupons on it and Ibotta has lots of excellent deals/rebates.
Depending on where you live, visiting farmers' markets may save you some money.
Also, Aldi is the shit these days. Just sayin'.
You can also bring a calculator with you. A way to stay within budget and make your kiddos practice their math at the same time.
Making trips to multiple stores can also help you take advantage of the best deals at different stores.
Other stuff we mentioned in this episode
Iliza Shlesinger is Stephie's favorite comedian and her new special, Unveiled, came out on Netflix recently.