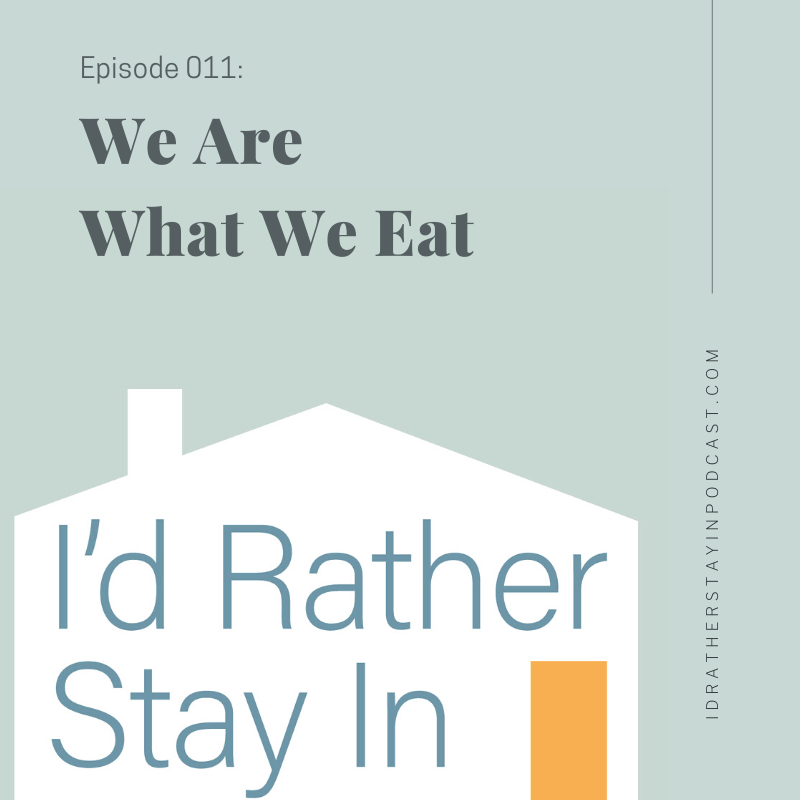 Hello! Welcome to episode 11 of I'd Rather Stay In. This week, we're taking a bite out of one of our all-time favorite topics: Food!
How we grew up eating
Both of us grew up in the Midwest, the land of meat, potatoes and corn.
While Stephie's mom cooked more than Megan's, we both grew up on a lot of ground beef (it's cheap!) and canned or sometimes frozen vegetables.
And don't forget the casseroles, you guys. Nor Megan's childhood dedication to picking out the tiny mushroom pieces from the cream of mushroom soup in said casseroles.
Also lots and lots of Hamburger Helper. (Check out the homemade Hamburger Helper recipe that Stephie grew up on.)
Studying abroad: Broadening our food horizons
Both of us really had chances to explore food in new ways through studying abroad in college.
For Megan, this was a trip to Israel that pushed her to try new foods, only to discover that she actually liked them.
For Stephie, it was learning about how different cultures approach food and highlight simple but delicious ingredients while spending a semester in Spain.
The world of food blogs
Reading food blogs was a way both of us explored the world of food even more.
Megan started by reading The Homesick Texan and Smitten Kitchen. Stephie also started reading SK as well as Joy the Baker and Belly Full.
Reading blogs turned into starting blogs and now…here we are!
Food as an "Instagrammable" trend
We won't lie to you – we can't with some of the "Instagrammable" food trends. We're lookin' at you, massive milkshakes. It feels like gluttony and waste for gluttony's sake.
If you're going to order all the things, please eat all the things! Don't just take a pretty photo for the 'Gram and throw it away.
Food has become so complicated and sometimes we just want to go back to food being simple. Eat what you want to eat. Make what you want to make.
Other stuff we mentioned in this episode
We are both obsessed with risotto. Check out Megan's recipe for zucchini risotto and Stephie's recipe for sweet corn risotto.
If you grew up with "Jiffy" mixes…then you know. That cornbread, though. (They also used to make frosting mixes, but it has been discontinued.)
If you ever find yourself in St. Louis, check out these immigrant-owned restaurants.
Kindred & Co is a great resource for all sides of the adoption triad. They're also throwing some great events for all sides of the triad to come together and learn from each other!
Just a few of our favorite lady podcasters include: