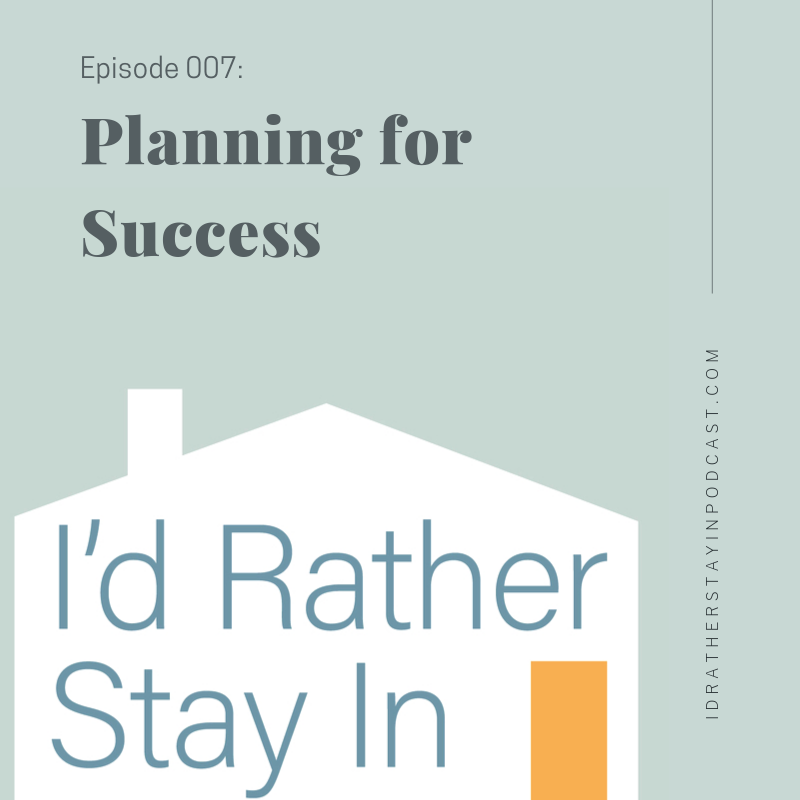 Hello! Welcome to Episode 7 of I'd Rather Stay In. This week, we're piggybacking off of last week's discussion on work-life balance and diving deep into our day planners.
Why use a paper planner?
From The New York Times:
"Aside from the nostalgia factor, writing by hand forces you to slow down and approach your planning with more mindfulness. Research even suggests that writing things down by hand helps you retain information better…"
and…
"…Ms. Reeve discovered a commonly cited perk of using a paper planner: the ability to keep everything in one place, instead of bouncing from app to app."
Psychology Today also outlines 6 reasons to use a day planner.
How and why we use day planners
Stephie primarily uses her planner to keep track of her daily schedule by using a planner with an hourly layout. She also has been using a dot-grid notebook in a modified bullet-journal style to track her daily to-do items.
Just as the articles above suggest, writing down her appointments/meetings and to-dos helps her to better remember what is happening.
Megan uses her planner less for scheduling her meetings and more for organizing and focusing on what needs to be done each day. She essentially uses it as a way to consolidate everything into one place.
She also tries to plan out/organize the next day at the each of each workday.
How to choose a day planner
Megan has already covered this in her aptly titled "How to Choose a Day Planner" blog post! Make sure to check it out.
Some of our favorite planners and brands
Stephie used the (affiliate link) Erin Condren LifePlanner for years but switched to a Plum Paper planner for 2020.
In addition to the LifePlanner, Megan has tried the Day Designer, Nourished Planner, and bullet journaling. In 2019, she tried Golden Coil and for 2020 she purchased an undated Mossery planner.
Other stuff we mentioned in this episode
We mention the bullet journal system a lot in this episode. But WTF is a bullet journal? (We also just discovered the bullet journal brand Archer & Olive.)
We've talked about this before, but it bears repeating: We love Asana for tracking work tasks and to-dos.
Stephie recently purchased some bullet journal stencils from Jayden's Apple.
There are hella planner and bullet journal hashtags with tons of inspo and ideas. Try #bulletjournalideas, #plannerideas, #plannerinspo, #bulletjournalinspiration.
We're both reading Over the Top by Jonathan Van Ness.