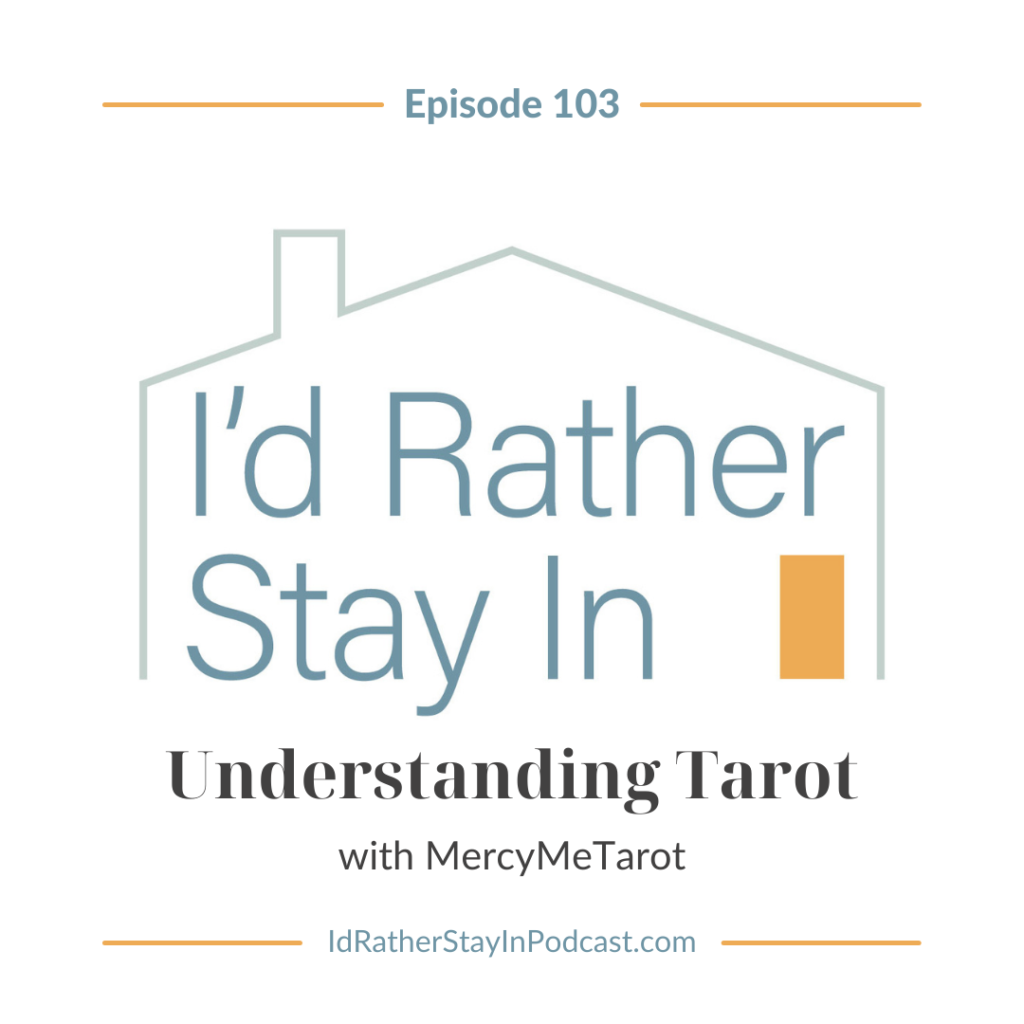 Hello! Welcome to episode 103 of I'd Rather Stay In. This week, we're seeking to better understand tarot with the help of MercyMeTarot.
Quick Links
Episode transcript
Megan
Welcome to I'd rather stay in with your hosts Megan Myers and Stephie Predmore. This week we're learning about the Tarot with our guest Mercy Me Tarot. Stay tuned.
Stephie
Do you love listening to I'd rather stay in and want to support the podcast? Well, now you can visit our website or the link in our Instagram profile and click Buy me a coffee or visit buymeacoffee.com/irsipodcast for the price of a cup of coffee, you can help us cover the costs of creating this podcast. There are no monthly memberships and you could support us at whatever level you like, whenever you like, whether you buy us one coffee, many coffees or simply continue listening as always, we're so grateful for your support
Hello, Megan,
Megan
good morning. Stephie
Stephie
I know it is morning I am just still not used to recording in like the middle of the day it is it is delightful. i My brain is firing. I'm like having my tea. It's a whole thing.
Megan
And we're like very low in Wheeling, dealing, like I know like, this is life, you got a vibe now,
Stephie
we do a vibe. Speaking of vibes, we found a book that fits with our vibe. And we thought that we would do a little bit of a book club. So before we head into our regularly scheduled programming, and we thought we would tell you about this book so that if you guys want to read along with us, you can the book is called tired as fuck burnout of the hands of diet, self help and hustle culture and is by Caroline dooner. She's the author of The Fuckit diet. So we're going to each read this book, we each have a copy we bought at our local independent bookstore highly encourage you to check that out as well. And we're gonna read it and then a few weeks we're gonna have an episode to talk about it.
Megan
Yes, I'm excited. I already started reading it, did you start reading it?
Stephie
I'm a couple chapters in but I'm not gonna lie to you. I had taken a couple puffs off of my pen. So I was slightly high when I read the first few chapters. So I may have to go back and look again, although I did have some stuff noted. So apparently, I was at least mostly in my brain. Um, but yes, it is a very, I think it'll be a pretty quick read. The font is like pretty big. The chapters are really short. She's a pretty entertaining writer. So I think it'll be a really good read. I'm excited to finish it. And excited to chat about it with you.
Megan
Yeah, me too. I already I like got out my highlighter and my little flags, and
Stephie
I can't find my posts at flags because my toddler ran off with them. So I just had to settle for my for a pen. But if I ever find my posted flags again or buy more, I will use my posted flags. I probably have
Megan
5000 posts at my house if you are lacking.
Stephie
She like legitimately like took them off my nightstand one day and then there was just posted flags on her on the stairs. Oh yeah, bear that there was like one hanging on to her when we got to daycare. And they were like this reposted flag on your child. And I was like Don't ask questions. It's just easier.
Megan
I mean, ask. Honestly, it's better than like a sheet of stickers because posters come off. This is true. So let her let her go to town with those posted.
Stephie
She got some stickers in one of her like Valentine's Day. goodie bags. And I haven't like shown her that they are stickers. Yeah, cuz I'm like, Oh, God. Stickers.
Megan
Just wait till you get like little stamp favors. Oh, god. Yeah, stamps everywhere. Mostly on her body, probably. But I mean,
Stephie
as long as they're mostly on her body, like, okay, but yeah, I anyway, so you guys can go pick up this copy of this book. Um, it's probably on Kindle. I have not looked to be honest with you. I would imagine it's probably available on Kindle. You could get it at your library. You can check with your independent bookstore and ask them if they can order it for you. That's what we did. Just took a couple days to come in. So run, pick it up. And we will chat about it sometime in March. Yeah. The end of the month, end of the month. Yeah, we're not going to tell you date because then we're beholden to the day. But
Megan
also we would have to like open up that tab and we're not
Stephie
not gonna do that. So in a few weeks, we will chat about that book together. So enjoy. But this week, we you know, we consider ourselves like slightly witchy in spirit. We've talked about this before, but not necessarily in practice. And we know we're not the only ones especially as we've seen arrived. In astrology and crystals and tarot,
Megan
we wanted to learn more so this week we are talking to Mercy Me tarot who runs her own Tarot reading practice. Welcome.
Mercedes
Hello ladies. Hello beautiful souls fellow witchy women. Thank you for thank you for having me on the pod. I'm really actually excited to talk to you today about all things tarot and divination.
Stephie
Oh, we are excited to have you here. Please tell the listeners a little bit about yourself.
Mercedes
Yes, so my name is Mercedes or I'm better known in the spiritual community as Mercy Me Tarot. I'm a psychic medium and tarot reader and essentially channeled energy to provide guidance throughout the spiritual journey. So you know, in layman's terms, essentially, I've always felt felt the ability to connect to people's energy. And even when I was a kid, I could sort of sense even what people's feelings were understanding their feelings, their desires, their motivations, and I still use that same practice and connect to the Divine or source to provide my clients guidance in the form of channel readings and coaching.
Stephie
Love it.
Megan
So first things first, just what is the Tarot?
Mercedes
What is Tarot? Just in general, first question right out the gate.
Megan
Like you got to start off from the basics.
Mercedes
That's true. That's true. Well, um, I would say in simple terms, sort of in layman's terms. Taro provides his storybook I tell I described to my clients, it's like a story book for your souls journey. And for me, what I always recommend it to be used for as a tool for self discovery and sort of discovery of the world around you, including this larger spiritual realm. And it helps you to connect to your inner guidance source, which is sort of the spiritual realm and all the energies you're connected to. So that's past life, energy, current life energy, ancestral energy. And you know, it can be used as a tool to provide answers to aid in like really important decision making, or just you know, living a purpose driven life. So, big weighty task there, but in terms of the actual tarot cards himself, not sure how familiar you are with them, or if either you have a tarot deck or if you've seen a tarot deck.
Stephie
I have I do not have one but I have a friend that has one actually.
Mercedes
Whoo, okay, a gateway friend who introduced you to the Tarot. So they were actually invented in the 1400s. And they weren't really use widespread for like divination or sort of like witchiness until the 1700s. And the Tarot itself has 78 cards. And essentially, it has imagery and symbolism and a story on each card. So if you look at each card, you can sort of see an image, a number, sometimes sort of a name, and it's separated into two categories. So it's separated into the Major Arcana, which are like big, Pivotal, cataclysmic moments, so karmic and spiritual lessons, and then the Minor Arcana cards, so 56 of those cards that are like sort of day to day like trials, tribulations, things you experience on like an ongoing basis. And then outside of that, the Minor Arcana also has suit so you might actually be familiar because the suits align with the astrological elements. So you have the one suits which are fire energy, so Aries, Leo and Sagittarius of the zodiac. And the fiery cards are like passion, energy, creativity sort of eroticism, and then which is like a nice way of saying sexuality. And then and then cups are water energy, which is Pisces cancer or Scorpio. So this is like love, emotions, feelings and intuition as well. And then the swords energy, which is air energy, so Aquarius, Libra and Gemini. And that's sort of intellectualism representing thoughts, even actions or words. And then lastly is that Pentacles energy which is earth energy, Taurus, Virgo or Capricorn, and that recognizes or represents the material world. So things that are tangible and often can be really helpful in reading to provide guidance on finance, career paths, or even like material possessions. And then the the way that most people get into Terra with it's because it's connected to astrology in the sense that both the suits align and then the minor and major arcana aligned directly to the zodiac signs and they share a similar meaning. Often people are introduced by connecting first to the qualities of their sun sign so I'm not sure if you ladies have done your full birth chart or or if you have your sun sign or if you are if you know if there's anything beyond a sun sign. But that's sort of the gateway to self discovery. Often when you know those find they're reaching a limitation with looking at like their daily horoscope, they'll, they'll look to something such as taro to sort of get more insight and just provide a new insight into something that we call in the tarot community, our path of highest good which is sort of where we're learning growing and aligning to what we define as our soul's purpose
Stephie
and we do Have our full like charts because we both because we both have the cosign app. Oh my co star co star whatever
Mercedes
that sponsors. Why are you sponsoring us co star? Yeah.
Stephie
I'm not gonna lie most of the time we use it to look at what the daily do's and don'ts are because they're so freakin weird. But in order to do that, we we did have to put in our like our chart, whatever.
Mercedes
I'm curious. I'm curious what's your what your sun signs are? I would love to, I should
Stephie
guess I don't I don't know. Minus Sagittarius. Okay, that tracks.
Mercedes
So I I don't know enough about mega save that tracks are not
Megan
very good tracks. But the interesting thing about Stephie is that I feel like Sagittarius does not track aside from the fire part of it.
Stephie
Yeah. So my, I don't even I'm never sure how to like properly say this, but like, my, my rising sign is Scorpio. And I definitely have a lot of things with Scorpio that I like there's like a couple things a Sagittarius. I'm like, okay, yeah, but then there's a lot of stuff with Scorpio where I'm like, that makes a little bit more sense. So I feel like I'm a little bit of a mix. Well, they
Mercedes
say that your ascendant sign or your rising sign, as he's described, is who you're most prominently for about the first 25 to 30 years of your life and it's who you present to sort of the external world. So if your Scorpio is your rising, I definitely get some big Scorpio energy from you for sure. Which is like someone who's who has an intensity and there's a passion and there's, there's sort of a depth of being able to connect emotionally and you know, I think you carry a lot of those traits, but the sun sign is essentially your path of what will at least which is what is proposed to be your path of highest fulfillment. So, you know, I think Sagittarian energy is actually an it's, it's out of the fire signs, I don't want to say this sounds horrible. It's the most tolerable in the sense where it's the most balanced, it's the most balanced, yes, it has like the fire, but it also has the ability to, to not sort of, to connect and sort of to pause and to have more, you know, fulfilling and intimate emotional exchanges right that the other fire signs are a little bit more focused on their own journeys for Sagittarius in many cases is actually great at at being sort of even like a relationship builder, and the collaborator, so I see that energy as well.
Stephie
So okay, so So I really love that you said that it's like a storybook. That's really that's a really interesting way to think about it. Um, a side question. Yeah, so with tarot decks, are they all the same? Like do they all have the same things aren't like all the cards no matter what tarot deck you get, are they all going to have the same things on them? So that's
Mercedes
a great question. They actually are not they so if you ever if you begin the process, I actually began a process to get into Tarot not even in necessarily within a tarot deck, but when I started reading, Carl Jung and he has a book called archetypes in the collective unconscious, and it's this theory about essentially, your subconscious these images exists to create and provide context and meaning to experiences. And Terrell essentially does that it's sort of this blueprint through images and symbolism, the Matic expression to sort of connect you to yourself and then connect you to this larger collective, but not all imagery is the same and the original tarot deck if you're sort of starting out the gateway tarot deck is the Rider Waite tarot deck that's really sort of the preeminent and it's in since it's now it's, it was launched in the 1900s was first developed the 1900s but is now commonly used by most tarot readers and that's basically the baseline. So that tarot deck is when many tarot decks are, you know, iteratively developed based on but most have, whether it's a unique theme, some represents certain cultures, because tarot and divination is is also rooted culturally in different ways such as, for instance, like Santa Muerte, which is sort of the Latin American expression of sort of divination. You'll see decks like the Santa Muerte tarot deck by Fabiola ilustrado, where he actually shows some of sort of the cultural representations from the perspective of sort of, you know, the Latin American culture and how it translates through Tarot. There are many different No, there's decks that are anything from something a little bit more, something heavier, more culturally routed to something fun and silly like I one of my favorite decks is a RuPaul drag race deck, which is like how can I combine two of my favorite things more definitely, I cannot think of another way. But there's all different tarot decks so and some tarot decks are to your question originally like to answer more directly are an exact representation of those same number of cards like Major Arcana, Minor Arcana, the three lines that the suits everything aligns up directly and then others are. They have their own Been on and I have another deck that's sort of an LGBTQ to sa friendly deck and they have four times the amount of lovers cards and they're all same sex. So it really depends on the Tarot deck and in whatever deck that you connect with is the right deck for you. So though for me I never say you know, even though the Rider Waite is the easiest to learn from because you'll see it referenced Most commonly, it really should be just a deck that you feel aligned to the you feel connected to and drawn to that you start with if you're if you're looking to begin and learn Tarot.
Stephie
Awesome. So you started to touch on this a little bit, but how did you get into Tarot reading?
Mercedes
So it's a I think my journey is probably somewhat similar to the journey of sort of others in the spiritualist community I mentioned earlier, Carl Jung is a Swiss psychiatrist. That was my entry way point into it. I think often, we start in the world of like traditional psychology, and then it's, it's, it doesn't quite scratch the itch, we sort of discover more about herself, but we want to better understand how we're connected to ourselves and sort of the world is collective consciousness. And once I discovered his writings, but then discovered Taro, in parallel path, it really felt like an epiphany for me was like this, this light bulb went off, I now had this blueprint, essentially, that could really provide context to what I was going through and what others were going through as part of this larger soul's journey of alignment with self. And you know, that same tarot deck I referenced the Rider Waite deck, I spent about a year or so learning before I launched my own Instagram account and started reading for clients. And I've read for about 300 clients just over 300 clients and really have now evolved my style over time, which is fairly common, to be more sort of longer term journey supporting coaching, but it's been just a labor of love and, and I've connected to so many amazing soul warriors throughout this journey. And it's just been this alignment of the process of self discovery with this process of learning tarot, and, and just being becoming engaged with this community. So both of you mentioned that you have an interest in Tarot. Have you ever explored it personally? No,
Stephie
no, I have done I've had an intuitive reading done before but that is the only time that I've like really dived into any any of it really. Other than like, when we were in North Carolina, and we were in this like, kind of witchy store and we were both so interesting, but we have no idea what we're doing. Crystal, okay, the same. Okay. Like show
Mercedes
me to the software section please. Exactly. Date which please do either you both have an interest in Tarot is something that that interests you excites you? Like what? What appeals you about it? If it does, or doesn't do that to that note,
Megan
I mean, I think I'm just curious about it. But there's no like, one thing that really like, draws me toward it, I think interesting. Because like, it's the same thing with like astrology in general. Like, I'm just kind of curious about what it all means, I guess in terms of way, like, I don't necessarily use astrology to help guide my life or anything, but I do you think it helps us with certain insights?
Mercedes
Interesting, yeah. This, the way that astrology as well is, it works. If you look at the different schools of astrology, there's Vedic Astrology, which tends to be a little bit more prescriptive in terms of like your birth chart is your north star and look at it now. And 90 years from now, this will predictably come true. And then tropical astrology, which is a little bit more, I would say flexible, but it allows you to sort of evolve and change over time as we do. And I find that to be, you know, a school of astrology that that is more applicable to most of my clients and just overall applicable to us because we do we do change over time and and you want to be able to have the ability to be empowered to make changes and not feel that no matter what actions you take, the decisions have already been made for you and you're sort of slated to live one set type of life you know, that wouldn't be very fun. So
Stephie
yeah, and I because I am like I'm kind of I'm a little on the skeptical side about astrology, but when it comes like I very much believe in the spiritual realm, which I think is sort of a natural extension and like growth from being raised in the church. And it's interesting because when I when I did that intuitive reading is probably a couple years ago now. She was like I sent like this like you are very like in touch with your like, I don't even remember the words that she used. But you have actually like when when we you and I have talked before you kind of like alluded to it to have like you're very in tune to like the energies around you and like yeah, to that kind of stuff, and it was it was interesting, because it's like something I'd never really thought about before. But I was like, I guess I kind of am actually. So, you know, I'm, I don't know, it's very interesting to me. And I was like learning about things anyway. So yeah, that's sort of where my interest is, has been with it.
Mercedes
Well, that's generally where it starts, there's an awareness that you are more connected to the energies around you, than you had previously thought, you start to feel that you're very receptive that you're some type of conduit, and you can use that for good. And I think, and you and I, yes, we've sort of touched, he's talking about this and environments in which we couldn't go into more depth. But the the opportunity there is, I mean, that you can use this, this, this gift that you have for really feeling depth, which is really the core of everything, if you have the ability to really feel depth, that means you can feel depth from others. And transmute that into being able to provide people support intuitively. And like you had mentioned that this, this reader had shared that you had this, this depth of having these, like, deep emotions and ability to really, you know, emotionally connect with others in a way that's intimate. That's basically the, that's the baseline of everything that I do. And what most spiritualist do is, it's just connecting to energy and energy is governs all of our lives. So whether someone's skeptical or not, but I always welcome someone to just discover, you know, how they're feeling. And if they're having a really amazing day, and they're feeling like they're in a great mood, and they leave the house, and they're, and this is, this is not a biopic of myself, but sometimes they do do this, you know, just smiling and waving at everyone and, you know, high fiving people on the street and just appreciating small moments. And that energy impact that positive energy, translates in many cases, to really just, you know, looking back and being like, Wow, what an amazing day I had, you know, I really, things just seem to work out for me, and just becoming aware of the recognition that that you have that within your control, and that you can also use that to support others is, you know, sort of the foundation of what I do, like I mentioned earlier. Cool. We're going to the deep we're going to deep dive in ladies dive in.
Megan
Over the past I don't know like, maybe eight years, I'm not sure. I feel like interest in Tarot has been growing. And I actually know a number of people who do tarot readings now, and I'm wondering if you have any insight on why you think it feels like it's gotten more popular?
Mercedes
Oh, for sure. I think, well, at any foundational level, I think it comes back to the initial question about, you know, the search for meaning and purpose, which isn't a new quest for humankind or soul kind but it's been amplified definitely in compounded by this pandemic, post pandemic reality. Because we've all become innately aware of the importance of enjoying the present, and living a purposeful life and just given the volatility of the world that we live in, and the ever changing nature of the world. We're all sort of seeking answers, seeking insight and wanting to just ensure that we're creating the impact that we want to create in this lifetime. I also think the gateway drug is, as I mentioned earlier, is usually astrology, I should probably think of a better terminology for that. Like, get into it, it's usually astrology. And it's when someone like I said, is feeling like they're not getting the depth of perspective they need from the horoscope, which is evolved a lot since like the newspaper horoscope of likes, it will rain today, and that won't be good for you to now being a little bit more instructive. And often know the steps someone takes is they'll first understand what their sun sign is, they'll start to sort of look at their daily horoscope and then prospectively to what you two have explored, which is your natal chart, and when that sort of reaches a ceiling and are not really getting the answers, they seek to look to answers from spiritualists, or even you know, through themselves through things like Tarot runes, pendulum or energy channeling or other forms of divination. So I think it's really been like the pandemic, compounding what was already a collective that was seeking insight as to how to live sort of a more purpose driven life. And then of course, from a demographic standpoint, the younger the younger generations, which I can say now because it was my birthday recently. So I know I can go kids these days, but the younger generation are like Gen Z in particular, are very much purpose impact driven like so. I think it's really just amplifying what was already like a WTF is happening to us environment, younger generation seeking more purpose and meaning. Baby Boomers saying I better figure out what my kids are doing. And then also, you know, just that like evolution from astrology is that sort of entry point.
Stephie
So what mister conceptions do people have about Tarot?
Mercedes
I think there's a there's a lot of them. I think, you know, this is probably shared pretty widely. I would say that most people think that Terra was just about, like predicting the future. So, you know. And Taro, actually, it provides a lens into the future outcome, but it's based on the current energy. So what I always say to my clients, and what I share on my Instagram account, and my tick tock is that it's about no not focusing on like this fixed predictive outcome as because that's connected to the current energy. So for instance, if someone says, you know, will I get a promotion at my job, and every day, up until that point, they've been diligent and turning in projects, and you know, ahead of deadlines, and they've gotten these amazing reviews, and the reading says, Yes, you will get a, you know, you will get a promotion of three to six months. And from then on, they're like, you know, what, I think I'll just take it easy for a while and decide, you know, not to have to work or miss deadlines, you know, that's going to change the energy and it will shift the outcome. So, there's a need to use Tarot as a guideline for self discovery, mastery, healing, improvement, and growth, taking the opportunities and the advice that are provided by by your guides by connection to Source as well as connection to your inner guidance, as opposed to it being sort of a fortune telling tool. I also recommend to my clients that they use it as a tool to build their own intuition. You know, you you want to, in many cases, just receive a confirmation of insight that you do have deep within if you're able to really harness and leverage those answers. You know, all of my clients and utilities as well have the ability to connect to source energy. So you can you can gain those insights as well without myself as a conduit. And what I really, you know, seek to do is help strengthen that connection. So others can sort of have a self study and be able to gain that insight, an ongoing basis without having to always seek support of a spiritualist Of course, I'm, I'm happy and honored to support those along their journey, but I want to help them gain that own ability as well. And then I would say there's one other that's pretty common there. Many people are afraid of certain tarot cards. I don't I don't know. Do either of you. Have you heard any of any of the names of tarot cards? That's that's maybe
Stephie
kind of intense. Like, isn't there? One that's like the Hanged Man or something?
Mercedes
Oh, yes. The Hanged Man. That's one that has a not so not so positive reputation. There's also one called death, which,
Stephie
literally, that's a real, that's a real lighter.
Mercedes
Yeah. Can't wait, hope to get that in my reading today. So there's, there's death, which is like hard stop intense. And then there's things like the 10 of swords, or the three of swords. It's like, no one wants 10 swords, I don't want no, I don't need 10 swords in my life. But if you actually look into the meanings of cards like this, even though they have this, like, sort of stigma or bad reputation, the death card, for instance, is a signification of both like endings, but also transformation and transition and and this card actually represents for me more of like a fear of change, or endings than the actual change itself. So you know, what I always try to recommend is just better understand, again, what the advice that's being given is from spirit. And for the death card, one of the greatest lessons that it relates to, for me is one about impermanence. So the importance of not really defining the value of anything, so person, place object based on its longevity, as that tends to actually detach you from the present experience with it. And then when you fear that you're losing it, it you know, it that it'll change, it's really just sacrifices, your enjoyment in the present. So the death card really just encourages us to welcome the fact that everything is cyclical, like everything that exists is cyclical, and to not only enjoy the more personally now, but except that if you just you know, allow yourself to, you know, be aware of that you make space for the new or regenerate, or a vibe, like in order to manifest that other things have to end You know, that's just, you know, the reality. I mean, that's, it's still a heavy message, but in many ways, it can also be positive, it can be the end of bad habits, you know, 3am Pizza snack, I mean, that's, that's a good habit, nevermind. You know, relationships that are not healthy for your limiting beliefs, or, you know, I don't know about the two of you, you know, it's you sometimes very early on, we develop these things that we say about herself. And you know, that those are what we call either limiting beliefs or like narratives, and they can be something as little as like, oh, you know, like, I just don't looking something more what you consider more superficial, like, I don't look at pictures. I'm not photogenic or I'm just too loud. Or you know, maybe like, my feelings are too heavy. I'm too emotional like and I hear these for my clients, these things that they've been saying in themselves since childhood, and the death card, even the 10 of swords. These are cards that encourage one to say, you know, I don't want to tell that story about myself. anymore. I bet that doesn't fit me anymore. I want to clear that for my energy because I think it's actually, you know, preventing me from being able to have this unobstructed connection with what is really the truest version of myself, which is like this healed, whole version of self. So, you know, there's that negative interpretation of those cards, The Hangman is also seen as negative, but the hangman is really just about like, pulling back your energy and looking at things from a completely different perspective. But only doing that because you suspended yourself from connecting to things that maybe are distracting you from having that perspective. Although when you hear Hangman, you're like, Oh, it's over. It's over here comes becomes a death march. But no, it's it's actually it's quite a beautiful, soulful message. But you know, when you first sort of read it on the face, it can feel ominous. So I always recommend don't like read the name of the card and think, you know, it's over. Once this Tarot reading as done, I should just give into my fate. I mean, it's always, sometimes those Major Arcana cards, like the death and the hangman, are actually so amazing to get into readings, they actually signify that you're going through something that's powerful, that you have this like powerful spiritual experience that you're undergoing. And in that, that spiritual experience, it's like, you get to really connect to things that are, you know, maybe beyond anything you've ever felt that you would connect to, and just again, become that truest version of yourself, because you're growing and you're changing. So yes, I definitely don't, not everybody has to become a true expert and know all the meanings of the cards and have all this background. But don't necessarily see a card like that and go, Oh, this is the last year reading, I'll have just know that there's a deeper meaning.
Megan
The way you describe the cards is like so it sounds so healing. Yeah. Really?
Mercedes
Yes. I will I I think for me, that's the challenge, when I first started reading tear was that I saw a lot of readers and again, no disparagement to any fellow readers, or spiritualist, there's space for all of us in the larger community. But what I found disheartening is that it was all about quick fixes, or answers that were about external reality. So, you know, readings on whether or not person had you know, how person feels in you know, in terms of a divine partner relationship, or whether something was going to change, but it was disempowering to the individual is getting the reading. And for me, what I would love to use this tool for him, and what I try to use it for with my clients is giving them the power to be a self healer, and to really connect to this most authentic version of themselves. And if you're able to, first and foremost, discover yourself through self exploration, and then move through this process of self acceptance. So I've discovered myself, maybe you don't like everything you find, maybe you do. But moving to this place of self acceptance, you're like, I absolutely love these things about myself. And those narratives are things I said about myself prior, those do not, you know, they don't deserve a place in this journey. And more, they're getting kicked off the bus. So then you move to this place of self acceptance, which is so joyful, and then beyond acceptance, which still kind of feels obligatory, like I just accept it, then moving into this place where you're really celebrating yourself, you know, and I try to, to bring my clients along that journey with me, because it's really will allow you to have the most meaningful life just figuring out who you are at your core, what's sort of unique and special about you how you connect with others, really, because this is a journey that's interdependent, we're all connected to each other energetically. And then coming to not only terms with who you are, but really like appreciating and celebrating your unique gifts, because we are all so unique. And we have so much to offer the world in the spiritual realm. And I think, you know, once we can get to the point of, you know, addressing some of these things that need to be healed, so to your point on sort of healing, you know, the, the healing, the shadow side that's described in the spiritual community is, things that are unhealed that are within us, within our subconscious, that for me always obstruct someone's ability to be the truest version of themselves. Because those wounds often create things such as fears, and when we're in a state of fear, we cannot really have our hearts open to love and, you know, often we fear not having enough not being enough that things won't get better. And, you know, we'll we'll stay in the state of not being able to be receptive to things that are really beautiful in our lives and not be able to be this true version of ourselves because we're really in this more fearful based state. So I encourage you know, anybody who's just starting out in terror or just exploring the spiritual world first really start with what's within you discovering yourself including things that may be existing you know, from this lifetime or past lives not sure if you ladies, how, how into the deep how which you get and in terms of your belief of past lives, but I always encourage someone to really just dive deep into it and, and, you know, figure out who you are. And I think one of my favorite quotes is a really beautiful quote. For me, I'm someone intersectional I'm, I love art, I love music. I love Tarot. But what there's a quote from Pablo Picasso, which is I brought up art, it talks about sort of the meaning of life, and it's really about finding your gift, but the purpose of life is really giving that gift away. So discovering who you are discovering what you have to offer your sort of unique sort of gift and how beautiful that is, and then really expressing that in a way that feels authentic to you is probably one of the most fulfilling ways that we can sort of achieve, what source sets out for us or sort of what our our path of highest good would ask us to do.
Stephie
Yeah, I feel like you know, you said that people think that Tarot is just like your fortune teller, like this is going to happen, where and it feels like it's much more sort of more about, like, unlocking, helping you unlock and discover the possibilities, like, what are the possibilities for yourself, and you're like, what you could be and what you could do more than, like, here's what's going to happen, like, here is what you're, what the possibilities of all that you have within you.
Mercedes
Absolutely, I love that that way, it's the way you describe that. And I think the reason that that is much more empowering, is that possibilities is you choosing the life that you want to create, as opposed to this predictive outcome of here is prescriptively. What happens when you're 50, you know, you'll marry this person, you'll live at this place for this many years, and you want to put this retirement home and you know, it'll be great, but they only do piano on Thursday. It's like that prescriptive. Life it's set out, it's like, you know, everything is ever changing and evolving. And when you talk about possibilities, there's room for imagination, there's room for dreaming, there's room for the individual creating that through their ability to impact their own energy. And that's really the the the base of everything is allowing your ability to manage your own energy, your own vibration, which is essentially keeping yourself at at sort of a level of equilibrium, that will give you the ability to manifest what you're seeking within this lifetime and, and create something as opposed to something sort of happening to you, which is one of my favorite, you know, another sort of favorite spiritual lesson I've learned is about really welcoming things as they're happening for you, as opposed to to you, you know, when we think of things that are happening on our behalf, it just even that slight shift in the language allows us to feel that this that we're being universally supported, and that everything is for our highest good, and also to seek the lessons in the things that are happening for us. So I definitely agree, I think that the the idea of sort of possibilities is a great way to frame it, because it prevents it from being sort of like this, like predictive tool, and it actually provides an empowerment to the individual who's actually getting the reading, as opposed to sort of giving all the power to a spiritualist, which, really for me, I'm you know, I'm all for democratization of power in all forms. So
Megan
without actually like, you know, doing a reading for us right now, can you kind of like walk us through what a typical reading is? Like? Like, what the steps are?
Mercedes
Yeah, definitely. So, um, so both of you, have you ever just in terms, a little bit of background? Have you ever requested a Tarot reading? Have you ever looked at your daily horoscope? So tell me how far I know Stephie you've had an intuitive reading? Megan, like, How far have you gotten into it? Have you ever looked beyond your horoscope, your birth chart? Just to sort of, so I know, sort of where what you perceive yourself and up to this point?
Megan
I have not really, like, done it.
Mercedes
Got it. Okay. And do you and you believe in the power of sort of maintaining a level of sort of energy balance? Or do or is that something that you that you've just started to learn about as part of like your exploratory process?
Megan
I would say yes.
Mercedes
Okay, so, so that's generally I always start the reading. So prior to the reading, I essentially clear my energy and then cleanse the energy of the space. So I use sage or Palo Santo, and in the spiritual community, or sort of in spiritual practice, we take a lot of, of, you know, our rituals from indigenous rituals. But of course, you know, giving credit to sort of the indigenous origination of those rituals. Palo Santo was another is you know, sage and Palo Santo again used ritualistically In many indigenous communities, but we first use it to purify and welcome in spirit's guidance, and essentially that allows us to clear the energy this base without any obstruction from any darker energetic forces. And then when I first begin the reading, I'll serve essentially connecting to the energy of the individual I'm reading for, and then connect to like, source energy. And source energy is used to connect as a portal to their guides to essentially provide insight and advice within the reading. And then as I meditate over the energy, I'm usually presented with some type of channeled message or symbolism. So it could be visual imagery. It can be even like song lyrics, just repeated words. And that connects directly to their advice from spirit. I often see the visual the visuals as well, but the individual themselves, so in different scenes, or even animals, animal tokens that have various spiritual meanings or hear words, and I'll connect that and share that, whether it's live via video or in written form. And then to begin the actual reading, I'll ask spirit for clear concise messages from their guides. I'll shuffle the deck and I'll present it to the individual to cut so if it's in person, or if it's by video or written, I'll cut on their behalf channeling their energy. All then ask spirit their questions. So I would say in this instance, spirits, angels and guides, please bless us with clear concise messages for Stephie. I asked that the messages serve Stephie on her path of highest good and provide her clarity and peace on our journey at this time. And then that's generally when I'll ask the client to provide their questions. So if the reading is written, the questions are asked in advance, but if it's video or live Alaska, the reading, if the question is related to another person of interest, I'll ask their initials or a visual image just to channel their energy, or their guides for the reading itself. So an example of some of the types of messages I've received with clients from a reading. You know, this is sort of a way that I would sort of describe something that I'm seeing within the cards, I'd say, you know, your first question asked about maybe a new relationship you've just begun. And your guides sense that you share a very strong emotional connection, but you're having a challenge expressing these feelings fully. And you want things to progress naturally, but maybe feel nervous that you don't have clarity in their feelings. And this creates a desire to control the outcome. And that your guides ask you to pause, enjoy this connection and what it brings to your life, including the growth you're experiencing, by addressing what causes you to seek this certainty. So you're really being encouraged to allow the natural flow of this relationship? Well, being sure to assess it's fit for you and your needs. And the importance of you getting your needs met in addition to your partners, but ultimately, you know, I see this being a relationship that's formative, a divine partner that you have the potential to create a life with. So I'll share this the reading all, I'll continue to go through the process of reading cards based on the questions are provided. And then once I answer all the questions was spirits messages, if not presented within the reading channel, the most likely outcome and advice cards to support the reading with something that's actionable. This helps bring the outcome to life. But it also requires, as I mentioned, and as we discussed earlier, you know, the client, taking this actual insight, and then taking action against it as encouraged in order to sort of bring it to fruition. And then lastly, I'll usually share any other messages that come through throughout the reading is closing messages, ask them if they have any further questions or require clarity to just fully understand the messages provided. And and sort of lastly, thank them thank their guides, source, of course in the heavens for allowing us the opportunity to connect and wish them the best on their journey. So that's sort of a reading in a nutshell.
Stephie
So do clients need to come to a reading with specific questions in mind? Or can they come to reading just sort of like, I just want to know what spirit or source has to say to me, it can
Mercedes
be either I, you know, I actually really, I cherish the readings in which someone comes in is very open and receptive to any and all messages because that's often when you get the most interesting messages presented. When someone just says I'm fully receptive to what spirit has to say, I get a myriad of of, you know, circumstances with someone being very open to someone being very direct and saying, I want to know exactly what's happening on this day with this individual in providing like a really clear yes or no. So I've done both. But you know, Taro can really provide you insight in a way that could allow you to sort of in broaden your perspective, if you do just ask a more general question, or yes, it can provide sort of a spiritual confirmation of something more direct. So it could be either way.
Stephie
So interesting, because I almost feel like based on our conversation that like being open to some of those more general messages might almost be more effective. I mean, I could be totally wrong, but just like, based on like what you were talking about with, like, you know, this isn't like fortune telling, like this gotta be open to like the different possibilities and within yourself like I, I feel like coming in with a very, very specific like, is this going to happen on X day at x time would be maybe just more maybe more limiting than saying like, Okay, I'm open to hearing what the universe has to tell me about x situation or just about where I'm at in my life in general.
Mercedes
I mean, this has become word you said you were partially witchy I'm starting to think like, Tell me your intuitive without Tom, your intuitive stuffy, I like the way that you describe what your what you just mentioned, there is this, this principle of expansion, right, and allowing ourselves to be open to and receptive to what the universe wants to co create with us the divine. I know, you said that you had sort of a, like a religious history, background or upbringing. Often cases, there's a there's different language used, you know, whether you say the universe, whether you say the divine, whether you say spirit or source, it all refers to sort of source energy. But there's this fixed outcome perspective in which you can get answers and confirmation but it's not as helpful in order to your points seek growth and expansion and allow you to really grow and develop and for me, that's the most fulfilling and thrilling part of being on the spiritual journey and connecting with others and, and helping them along their journey is helping them expand and, and, you know, we're all meant, we're all in a process of, of constant evolution and growth. And that's what excites me and, you know, is really nourishing to me, when I work with my clients, when I can see them grow, when I can see them being open to those possibilities, because often I think we have this idea of the way we want things to go or, or how our life should evolve. And when you have this fixed idea of how you have what you define, as let's say, success in an air, in your career, or even nuclear family, or in a specific relationship, we have this this fixed idea. And we said in order for me to be happy, and maybe that's determined by a societal construct, or some type of ancestral teaching, or even just, you know, the way that we are raised, we develop this idea of what is what we want and won't make us happy. You know, we many cases, we get to that point. And we've created this, this very fixed or rigid outcome. And we're not necessarily fulfilled when we're at that point, it's like, it's almost as if we were open and receptive to a different way to experience the world, we could have had maybe something much more fulfilling or, or just expand, to be able to experience things that are even beyond our imagination. So I think this allowing of receptivity is really crucially important. And just being open and curious, you know, and I think whether those whether the you know, listeners are, you know very much into the sort of spiritual world or if someone's like very much an open skeptic. Just being receptive in all areas of our lives is a very positive practice. So, I think that it's something that's, that's going to allow you to have a reading, just be more fruitful, because you can take that and actually use it as a guideline, but to unlock your gifts. So, you know, Have you have you done any exploration, you know, subsequent to that reading as to like better understanding your gifts in this area, like, have you ever felt when you're in a conversation with someone that you did understand how they're feeling or almost, or even had, like, a vision or a visualization of something at a certain moment in your life?
Stephie
I don't know. I mean, I haven't dug like super deep into it. But I definitely, I mean, I'll definitely be like having conversation with people. And like I just, I can often sort of sense that people are feeling I have had moments where I'm like, Oh, I think that I think that this is the thing that's happening and my friends are like, you're insane. That's like not you're reading too deep into it. Like whatever thing happens. And I'm like, Okay, well, I'm just saying that I told you that I thought that this was a real possibility. And hello, it happened
Mercedes
to you just as a fortune teller, crystal ball, like about how
Stephie
I'm an Enneagram one and I like I'm always right, so it's fine. It's fine intersections of all of all things in my life. But you know, I mean, talking about you know, I mentioned I was raised in the church and you know, I was raised in a church where taro like, this would not be a thing that you would talk about, like, it would be like, this is that is witchcraft. You do not talk about it. That is not it's not okay, like, you've got to stay away from it. And but like, the more I have deconstructed, and the more I have sort of broaden my ideas of God and Spirituality and all of these things and just brought in my faith in a lot of ways. Like I think about like, when I was growing up and thinking about like prayer, and like, you know that prayer was this very like, Okay, you're going to pray for this thing. I'm not going to pray for an answer to this question. And like, I just don't think that that's how prayer works. Like, at its core, and maybe it's because I have lived enough life and I prayed enough prayers that just like, straight up did not come did not happen. And that everything went a completely different way. So maybe it's just the way that my life has taken me, but I don't think that that's how prayer works. And but I don't think it you know, like, I think when I think about, like, how my, my understanding now of prayer and like, the, the idea of like, you know, the divine spirit, universe, whatever, like, just kind of speaking to you, they're really sort of one in the same of like, what do I feel like? I'm being guided towards, like, where do I feel like I am being comforted from? Where do I feel like I'm being pushed to grow in certain areas, like, those are the things that I that I think about when I think about, like, prayer or talking to God, or, you know, whatever, who video cases, I just remember talking to my mom, but it's, you know, a whole nother topic conversation. But, yeah, so I don't know, it's such an interesting, like, there's such an interesting intersection to me of these things, because I think that in so many ways, like the church wants to segment and like put walls around so many of these things, but I don't think that that's the case, I think that there's Blurred Lines in when we're talking about spirituality. And that it doesn't have to be like, one thing or the other.
Mercedes
Absolutely, I like, the way you describe the fluidity of it, because it allows it to be defined or interpreted by you as the individual. And I think for me, when I think about the church, or more organized religion, I, you know, I have a little bit of a visible reaction or so, you know, just given some of the, some of the history and some of the some of the areas of maybe not being so inclusive to many different groups. So for me, spirituality is, is allowed allows me to be able to connect with with source and spirit and and be able to have that element of feeling connected to this larger spiritual realm, but without feeling part of a club that sort of excludes, you know, certain individuals or other individuals. But exactly, but I would, I would love to hear your thoughts on because you describe sort of connecting, you know, to your mom, and, you know, to those who who have maybe passed on from our lives, I mean, to have either of you felt that you've been able to connect to someone from your ancestry? Or do you believe in the fact that we can connect to somebody, you know, in our ancestral line?
Megan
I haven't I haven't explored that.
Stephie
I totally believe it, but my mom never comes to me. And my dream shows goes to her best friend, What a bitch. No, I mean, truly, though, like her, my mom's best friend will call me and she'll be like, Oh, I saw Julie in a dream last night. And like she called his like, she called me a couple months ago. And she was like, out of the blue. And she was like, I saw your mom in a dream last night and had been a while and I said, Oh, my gosh, I haven't seen you in a while. And your mama said, I know, I've been hanging out with Stephie and Eden, and watching. And like, you know, and like, I'm like, anybody can come to me and tell me that directly rude.
Mercedes
But just know that she's gonna tell you.
Stephie
She's gonna tell me. So like, I don't know, I definitely believe. I definitely believe in that.
Mercedes
And do you believe that when we, you know, what are your What are your thoughts? I mean, this is a heavier topic, but what do you what do you believe in terms of what happens when you pass on? We believe there's an energetic, you know, residual energetic, sort of being that that is transmuted into something else are we reincarnated into a completely new soul? Like what are what are your thoughts on it? And again, there's no right answer, right? This is all part of sort of, like you said, this the self defined journey of self exploration and exploration of the spiritual world.
Megan
For me, I, I believe there's something and the reason so the reason I believe that is when I was a kid, I, whether I was awake or dreaming. I don't actually know. But I would think that I saw my grandmother sitting standing at the foot of my bed. Those creepy Kids Yeah, well, my grandmother died. When I was like a month old, so I never met her ever. And so that is why I believe like, there is something that be that is beyond. I'm not sure what it is.
Mercedes
That's powerful. I'm so powerful. So part I love the, the for me, instantly like I felt like a like a cooling and a sensation or even when you describe like her sitting at the end of the bed, there's a sense of like, being aware of missing out on you growing up and feeling the desire to connect with you, you know, even through the five d which sort of fifth dimension or like the spiritual realm to be able to be part of your life and and the fact that you were aware of that as a child says that mean, we may have two super witchy women on the pod today or three.
Stephie
Yeah, I mean, I fully I like would not be surprised someday if Eden is like, oh, yeah, I've been talking to Nana Julie, all these years. You heard me talking in my bedroom. He thought I was talking to poohbear nanananana. I was having conversations with Nana Julie all this time. So I would like not be surprised about that at all. I, my I think that my like conceptions of the afterlife and heaven. And you know, however we want to think about it. Like I think that that is constantly evolving. But I absolutely believe that there is something I believe that there is a world beyond this one. And, I mean, again, maybe it's because I need to believe that because of the people in my life that I've lost, and I need to believe that I will see them again. But I that's sort of my ongoing discovery and understanding of the afterlife, I think is constantly evolving, but I definitely believe that there is something there
Mercedes
what well, what in what you describe to in terms of your, your daughter, I mean, many cases kids are so receptive to past life energy to, you know, like spiritual energy in general. Because what detracts us or what obstructs us from being able to connect is this, you know, this ability to suspend disbelief, you know, we grow up, we get to a certain point we, we decide on maybe a traditional path or non traditional path or whatever the case, and then we, we, we grow with varying levels of skepticism, as we age. And part of that skepticism is thinking, in order for me to understand something, it has to be tangible, I need to be able to see it, but, but kids are the beauty of their imaginations is like, it's, you know, impossible to describe, because they see and feel and sense without this obstruction of like, you know, this this aging sort of evolved version of self where we have to ground ourselves in a material reality in order to feel safe. And they don't think in those terms they think in Technicolor they think in and that anything is possible, they think, but Santa Claus can go around. And again, I'm not know if they're already, you know, if you have any youth listeners that don't want to
Okay, yeah, I mean, I don't want to I don't want to sort of debunk that myth. But I will say that the you know, that ability to connect is something that's so powerful. And what I also do, in many cases, this journey to reconnection with self in many, in a lot of ways is in parallel paths, this journey to reconnection with who you were, as a child, and who you were, as a child was this very Yes, and meant, you know, you probably put your fingers in the light socket, and you know, maybe fell down the stairs, even though you knew it was slippery, new digital over again, and you made a lot of those sort of silly mistakes, but you also were just like, pure and expressive, and creative, and brave, and unafraid, and playful, and just took chances. And I think that that's what I try to have my clients connect with as well. Because that same energy is the energy that can connect you to your spiritual journey, because you truly believe you don't believe in these constraints, this rigidity, and you you have this idea that sort of anything is possible and that you can create anything for yourself even that that energy itself is very nurturing and nourishing, right? Because it it prevents you from having those doubts that maybe would actually cause you to not achieve you know what you said with those possibilities that you had mentioned earlier. So do you both? Are you both familiar with sort of inner child healing or this idea of like my younger self? Have you ever done that? If I could say something to my younger self, what would it be?
Stephie
Yeah, I've been in plenty of therapy for that. Yes.
Mercedes
You're like check my bank statements
Stephie
Yeah, I will. And you know, it's interesting because as we're sitting here talking about this too, I even like, thinking about Eden and her older sister like, so they you know, we live two and a half hours away from her birth family and from her sister, but like, there will be days like Taylor I call it their sister Juju. Like, it is just like they are the same energy, sometimes great, sometimes not great. But these two girls will just like have the exact same energy like mirroring each other. And like, Taylor and I will text each other and be like, Yo, is your kid like, just an absolute like nut job today? Because mine is like, or whatever it is. It's like, I even feel like there's just this like energy between people, whether you're with them in person, or they're hundreds of miles away from you, like just, they're the idea that like we are, I don't know, I just feel like the eyes this like idea that we are just our own person. And we're encapsulated in our own like, little bubble, like, it just feels so limiting to me, because I've seen so much to indicate that that's just not the case.
Mercedes
Yeah, absolutely. And I think I work people often the first level of awareness or consciousness of the fact that we have this interconnectivity, especially from an energetic perspective is usually full moon cycles. So people are full moon, so people will say, you know, on the full moon, people have to there tends to be this erotic energy, there's more accidents, and statistically, that's actually proven that there's, there's more car accidents, there's more of these like large Pivotal, sort of seismic life events that are taking place and shifts on that full moon, period. And then this new moon cycles are basically ushering in this new fresh energy, they actually show, you know, more people traveling more people giving birth. So you know, there's an energetic alignment of the collective this collective consciousness we're all connected to, and then to your point within your own energetic fields, those that we just share this this soul bond with, that we really have this connection with. And, you know, you two, you said, You've been connected for, you know, along your journey for a lengthy period of time, you know, I'm sure you both share that ability as well, like you have that telepathic connection where you probably, you know, in some days would know, when the other maybe wasn't having the best day or, or is feeling like their energy is off. Like, would you say that you you to have that connection between each other? I mean,
Megan
earlier Stephie said, we were like the state like we share a brain. Much like two halves of the same person. Yes. Yes,
Mercedes
well, that's perfect. It's perfect for a podcast. I mean, you could not get a better podcast, if you're like, okay, one brain and you're probably always on the same wavelength, you can always anticipate what the other is vote to vote to share. So that's actually probably literally the perfect science for this format. For sure.
Stephie
For sure, oh, my gosh, this has been this has been such a great conversation. It's been so enlightening and so interesting. So, you know, if people are interested in learning more, or if they would like to get a reading from you, how can our listeners find you?
Unknown Speaker
Yeah, so, um, in terms of those who are interested in reading, really, if you're looking for guidance, if you want to reveal you know, you, who you were, who you are, who you're becoming, if you need support to make decisions, or you know, extract life lessons or wisdom or self awareness, you know, I provide readings on a multitude of topics. So anything from love and romance, career path readings, past life, regression, ancestral healing, even just helping define your soul's purpose. As I said, I've helped you know, over 300 clients and my clients have a wide range from all walks of life, who are really just trying to understand their journey identify their you know, the path of highest good and and the steps they need to take to really align to that path. And if you're looking to book a reading with me, you can follow me on Instagram at Mercy Me Tarot. There's a link in the bio that provides you all the information you need. You can also follow me on Tik Tok YouTube. And if you do have questions, or even if you just want to learn more, if you just want to say hi and connect, send me a DM and just say, hey, hey, Soul Sister, and we can have a chat, not even to book a reading. I'm always honored to connect throughout my journey and be able to share this journey with others. It's been so nourishing and so nurturing to me. And I feel that that's, that's arguably our largest purpose is really just to be able to connect better with ourselves first, but also with others along this path. So you can follow me, as I mentioned on Instagram, that's where I'm most. That's probably where the largest audience I have is and where most people connect with me. And I hope to see you ladies there as well.
Stephie
Absolutely. Awesome. Thank you so much for joining us today. Mercedes. It was so interesting. It's so great to talk to you. And I know that I learned
Megan
oh my gosh, I learned so much. Yeah.
Stephie
As you know, we end each week with what's bringing us joy. So Mercedes what is bringing you joy this week?
Mercedes
So, you know, there's so many things that for me, I am encouraged by the bring me joy. I know I shared this story with Stephie. And I'll try to be brief which is, as you both know, at this point is not my traditional style, but You're like this podcast was seven hours but yeah so I had unfortunately I had a car accident on the weekend but and you're like okay wait she did not understand the assignment here is Joy Joy question but but so hear me out so i So generally when you have an accident for me this was a hit and run so the first instinct is to really like question humanity and the depravity of humanity and to think you know, are people acts and actually, it really renewed my faith in humanity as when this took place. There were it was in an area around my neighborhood there were many individuals that sort of ran out to see if I was okay a snowplow driver almost took out half the street basically just to come and see if I was okay. I mean, the the police officer who came was so wonderful I mean every person I've connected to has just been so supportive I had so many friends reach out to see if you know see if I was okay many clients as well and again, I'm consistently reminded of the beauty and humanity and that really brought me a lot of joy. What are what are your lady said joyful moments are moments of joy this week.
Stephie
mine mine is my own as much fluffier than yours.
Mercedes
unsurprising.
Stephie
So I recently like I don't know that since Christmas or something, discovered a local maker. Her shop is clay girl. Hey, and she makes polymer clay earrings and I owe a pair of her earrings today. They are it's super rainy and gross here today. And so I put on my raincloud earrings. They're little clouds. They have different colored raindrops coming out of them. I love it. Eden always loves them because she likes to like look at them and tell me what the colors are on the raindrops and stuff. But I just felt like they were the perfect like rainy day brightener earrings and I love that she's a local maker. I'll make sure to tag her shop in the quick links in the show notes. But yeah, love her. I also got Megan and I conversation heart earrings around Valentine's Day mine say fuck off in Megan's sake.
Mercedes
Well, first of all, could I just say before we move on Megamix I really want to hear yours. Well Stephie you can't you can't cue us up like that. Not say clay girl. Hey guys, I'm Seth. I need to get myself some of these earrings. Hey, girl. Hey, it's very cute.
Stephie
Yeah, she pops up for any local listeners. she I think she sometimes does some pop ups. That's how I found her. But she also has an Etsy shop. I asked that she's I think she's a teacher like full time. Always nice to support a teacher and their little side.
Mercedes
Thank you teachers for everything that you do. Thank you, honestly. Right,
Stephie
Megan was bringing you joy.
Megan
Over the weekend, we as a family had a lunch out. Usually when we go out to eat obviously, it's like dinnertime, and we don't go to restaurants that much anymore right now. But we went to a new to us restaurant. And it was really lovely. Like everyone was just like, you know, like you've been with my family Stephie like sometimes my kids are crazy. But like we all really enjoy each other's company. And like a really lovely way and it was really nice to like be out with the family and enjoy a meal together and the food was really good too. So
Stephie
I haven't been there yet. So I was gonna ask you how the food was.
Megan
Oh, it was good. It was really good and it's now Max's like favorite place we've been there once and he is like when can we go back?
Mercedes
Oh my gosh, you need to you need to mention it so they can become the official the official lunch and snack sponsor at the pod
Megan
My name is Shannon's and they like do I don't know like downhome Midwest scan and you know sandwiches and soups and stuff like that. It's not like anything fancy at all, but it's it's good. It's solid stuff. Yeah, I love that.
Mercedes
Oh amazing soul food soul food for sure.
Megan
We'll be back next week with another new episode.
Stephie
So until then, leave us a review on Apple podcasts and listen to us on your favorite platform. You can also follow us on social media at irsipodcast or send us an email at idratherstayinpodcast@gmail.com We'd love to hear from you. Bye
Transcribed by https://otter.ai