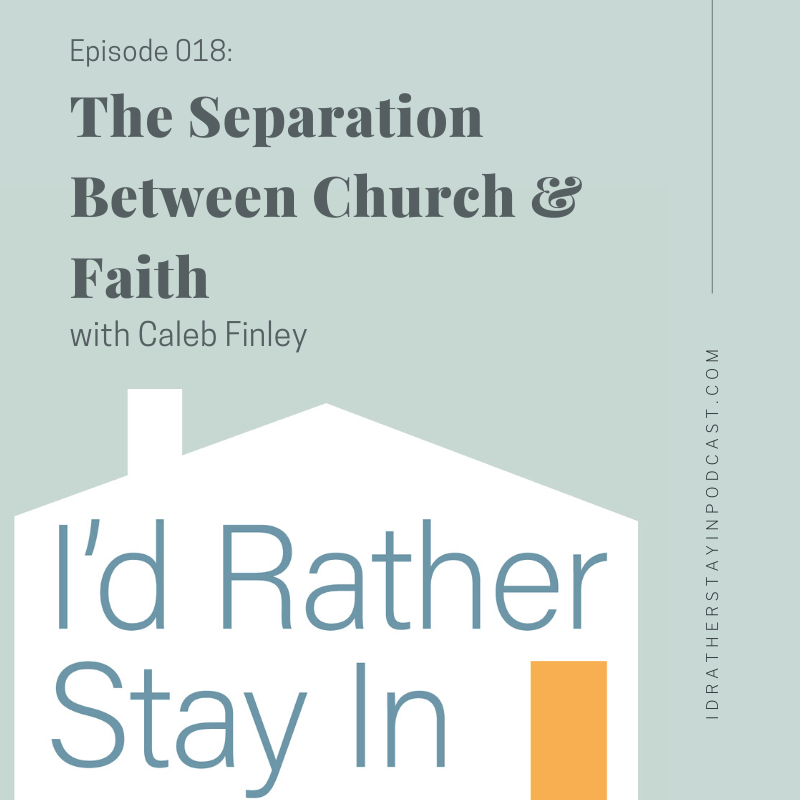 Hello! Welcome to episode 18 of I'd Rather Stay In. This week, we are tackling a more serious topic, along with the help of our friend Caleb Finley (@caleb_finley): Growing outside the "acceptable" norms of the church, particularly growing up queer in the church.
Pansexuality: what does it mean?
Per the dictionary, pansexual means "of, relating to, or characterized by sexual desire or attraction that is not limited to people of a particular gender identity or sexual orientation."
Another phrase that Caleb likes is "hearts not parts," though it can be controversial within the queer community.
The Bisexual Resource Center is a great resource for anyone wanting to learn more about pansexuality, labels, how to be an ally, and more.
The separation between church and faith
Even though the church is supposed to be a welcoming, loving place, politics and what goes on behind-the-scenes can damage what it should be and turn it into a place of hurt and confusion for many.
For some of us, we are able to separate out the human concept of church with true faith and who Jesus really is, while for others the scars may run too deep to be able to separate out those two things.
In the words of Caleb's cousin: "It's not where you worship, it's how you worship."
Caleb's experience of growing up queer in the church
Even though he didn't come to terms with his sexuality until his early-mid twenties, at a very young age Caleb recognized that he wasn't like the other boys at church.
In junior high, he started to find friends he knew he could trust, even while not feeling like he could express his full self. He faded into the background and suffered in silence for many of his formative years.
He also went to a very small, private Christian school – a place where he never felt safe.
After he moved to Nashville and was no longer under the microscope, he was able to explore his sexuality. He did a lot of research and reading, including listening to The Love Bomb with Nico Tortorella to discover that he identifies as pansexual.
He does still carry a sense of shame or self-doubt, usually around the holidays. Having grown up in a tight-knit family, it is quite difficult to spend the holidays without his family and to wonder if he could be bringing a woman to family functions and live a "heteronormative" life in their eyes.
He still struggles with his relationship with his family, as they have never come to terms with his sexuality and have not accepted his relationship or the life he lives.
Be a light to those around you. Love unconditionally. It will make a difference in someone's life.
Caleb's biggest piece of advice
Live unapologetically.
Other stuff we mentioned in this episode
Caleb says everyone must listen to Norman Fucking Rockwell! by Lana Del Rey.